External oblique
These muscle fibers from in the same direction as if you were to put your hands in your pockets, diagonally downward from lateral to medial.  When both sides contract, it flexs the trunk.  When only one side contracts, it helps you rotate and/or laterally flex the trunk.  The origin is the lower 8 ribs and it inserts into the Linea Alba which is a gigantic tendon.  The Inguinal ligament creates the inferior border of hte aponeurosis of the external oblique.
Internal Oblique
These muscles are one level deeper than the externals and run perpendicularly to the external obliques, that is to say, diagonally downward from medial to lateral.  They have the same function as the externals.  The origin is the lumbar fascia, iliac crest and inguinal ligament.  The insertion is the linea alba just like the externals.
Transversus abdominis
These are deep to the internal obliques and the fibers run horizontally.  The origin is the lumbar fascia, iliac crest and inguinal ligament and inserts into the linea alba, just like the internals.  This helps provide core support for the torso.
Note how we have the externals, internals and transversus overlapping each other with fibers that run like this, respectively, //// \\\\ —-
Rectus abdominis
These are the abs everyone thinks about.  The tendinous intersections are what separate the muscle into the well known 6-pack, but it's actually a 8-pack, it's just that someone has to have super low body fat percentage to see it.  The fibers run vertically and help stabilize the pelvis while walking, and of course help flex and/or rotate the trunk. The origin is the pubic crest and the pubic symphysis. The insertion is the xiphoid process and costal cartilages of ribs 5-7.
Use this Table of Contents to go to the next article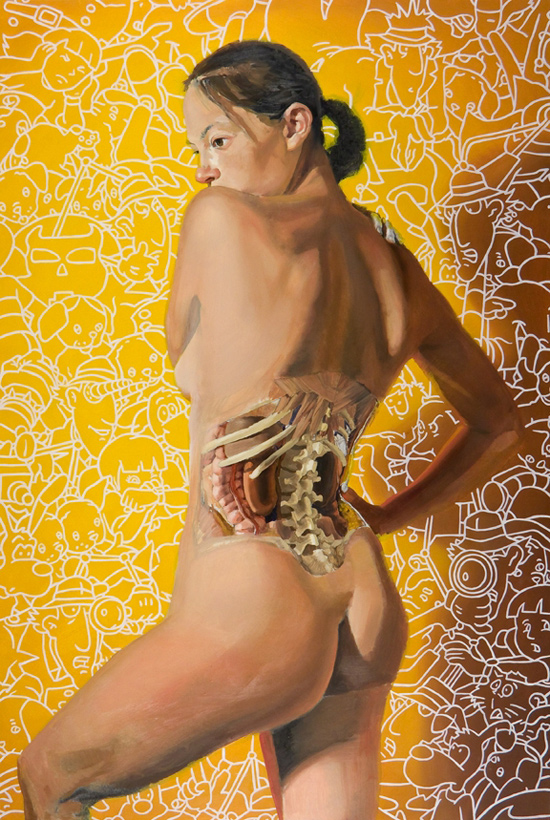 YOU ARE HERE AT THE MUSCULAR SYSTEM