Gen­eral things about cartilage
Car­ti­lage is about 60–80% water.  Imag­ine you have a con­tainer of car­ti­lage from oth­ers ani­mals: it would be very squishy and it tends to be resilient with hold­ing its shape.  There are no blood ves­sels or nerves, sim­i­lar to epithe­lial tis­sue. (I thought epithe­lial tis­sue was inner­vated though? i need to dou­ble check this)
Car­ti­lage is sur­rounded by a layer of dense irreg­u­lar con­nec­tive tis­sue known as the peri­chon­drium (peri=around, chondra=cartilage).  This is what keeps a "ball" of car­ti­lage from bursting.
Car­ti­lage is made of chon­dro­cytes (cre­ated from chon­drob­lasts) that are iso­lated in spaces/chambers called lacu­nae through a ground sub­stance of water and sugar.
Car­ti­lage is located in very spe­cific places, usu­ally between two bones.
We have 3 types of car­ti­lage tissue:
Hya­line car­ti­lage is made of col­la­gen and has a dis­tinc­tive glassy appear­ance.  It is found inside of joints and inside the res­pi­ra­tory sys­tem.  A baby is full of this before the bones are totally formed.
Elas­tic car­ti­lage made of, you guessed it, elas­tic fibers.  They can bend and snap back, like your outer ear, lar­ynx, and epiglot­tis.
Fibro­car­ti­lage is made of col­la­gen and is in between ver­te­brae.  Fibro­car­ti­lage is some­thing between Hya­line and Dense reg­u­lar con­nec­tive tis­sue because it resists pulling and has strong com­pres­sion attrib­utes.  Anu­lus fibro­sus are the ones in between ver­te­brae.  Menisci are the fibro­car­ti­lage specif­i­cally in the knee.
We have two types of growth:
Appo­si­tional growth = Chon­drob­lasts blast tons of matrix in the outer perichondrium.
Inter­sti­tial growth = Chon­dro­cytes secrete matrix/maintain/divide from the inside of the structure.
Car­ti­lage stops grow­ing for ladies up to their teens and men up to their late teens.
In adult­hood, when car­ti­lage gets dam­aged, it can only be replaced with fibrocartilage.
Now, mov­ing onto 

BONES
We know bones obvi­ously pro­vide sup­port, move­ment and pro­tec­tion.  They also store cal­cium and phos­phate and blood cells are formed in the mar­row.  Bones also play a role in energy metab­o­lism: osteoblasts secrete a hor­mone called osteo­cal­cin which is what trig­gers the pan­creas to secrete insulin.
1/3 are organic: cells, fibers (mostly col­la­gen) and matrix
2/3 are inor­ganic: min­eral salts (cal­cium phos­phate) which make the bone hard and what pre­serve it long after the ani­mal dies.
Bone cells
Osteogenic cells are stem cells that become osteoblasts.
Osteoblasts lay out a lot of bone matrix called osteoid.
Osteoblasts that don't pro­duce matrix any­more but sim­ply main­tain it are called osteocytes.
Osteo­clast (any­thing with –clast means some­thing that eats away) comes from white blood cells.  They have mul­ti­ple nuclei and secrete HCl acid to break down min­eral salts and secrete lyso­somes.  Basi­cally, every­thing needed to break down organic parts of your bone.
It's totally nor­mal to con­stantly break down and rebuild bone in response to stress (impact).  And this is called remod­el­ing.  When you add pres­sure in the form of exer­cise it adds more than it takes away.
Gross Anatomy of Bones
Com­pact bone = outside.
The inside is spongy (tra­bec­u­lar) bone and has lots of empty space.
The medullary cav­ity = hol­low space filled with yel­low mar­row. The yel­low bone mar­row is mostly fat.
Epi­ph­ysis = Prox­i­mal or dis­tal end
Dia­ph­ysis is the long part of a bone.
There's another bump on a bone when a mus­cle is con­nected to a bone.  So remod­el­ing occurs when you lift weights as well.
Micro­scopic Struc­ture of Com­pact Bone
The Osteon or Haver­sian sys­tem are kind of like tree trunks.  They are made of these stuc­tures that line up par­al­lel with con­cen­tric rings.  The lamel­lae are basi­cally the rings.
An osteon is made up of lamel­lae made of col­la­gen.  The col­la­gen fibers are all par­al­lel to each other but when you go to the adja­cent layer, it is run­ning in the oppo­site angle so that it's strong and pre­vents cracks.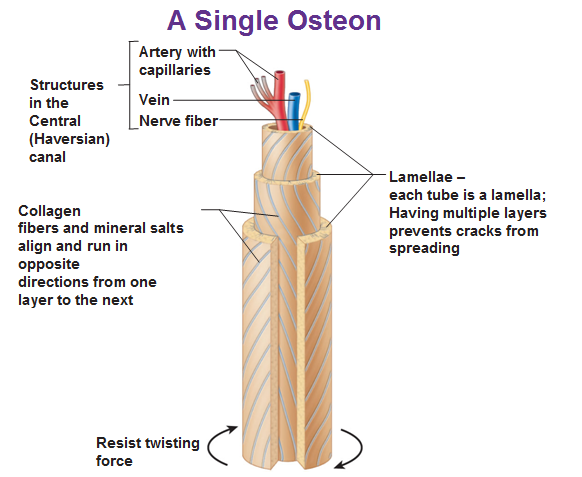 Cal­cium phos­phate lines these fibers (it's a min­eral salt).  So we take a bunch of osteons and pack them together and we get com­pact bone.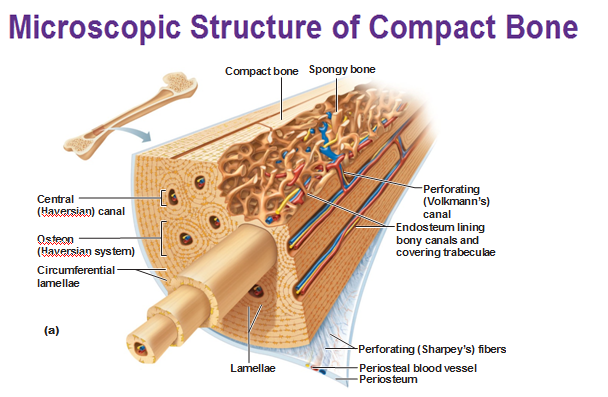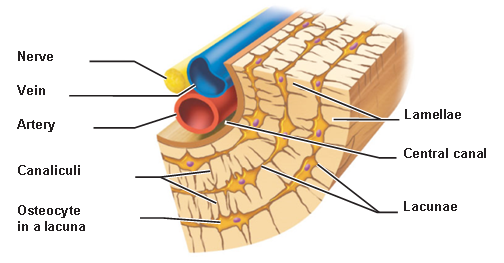 As each osteo­cyte lays matrix, it gets sealed into its own room and they reach out to the next osteo­cyte and  com­mu­ni­cate by gap junc­tions called lacu­nae even though they are very isolated.
Canali­culi are the small pas­sage­ways that reach out to other parts.
Spongy bone keeps bone light and doesn't have a cir­cu­lar shape but it is made of the same stuff.
How bones get longer in children
The epi­phy­seal plate at the end of a long bone allows a child to grow.  Between the dia­ph­ysis and epi­ph­ysis, car­ti­lage will be present instead of com­pact bone.
In a grow­ing cartilage:
Pro­lif­er­a­tion zone: Chon­drob­lasts push matrix into the bone and push epi­ph­ysis away from the dia­ph­ysis, mak­ing the bone longer.
Hyper­trophic zone = cal­ci­fi­ca­tion of cartilage
Cal­ci­fi­ca­tion zone = not bone yet but the cells are dying.
Ossi­fi­ca­tion zone = Osteo­clasts destroy the cal­ci­fied car­ti­lage and osteoblasts replace them with real bone tissue.
As you reach ado­les­cence, the chon­dro­cytes divide less often, the epi­phy­seal plate becomes thin­ner and the car­ti­lage even­tu­ally gets com­pletely replaced by bone tis­sue.  All growth stops when the dia­ph­ysis and epi­ph­ysis fuse and all that's remained is the epi­phy­seal line.
Estro­gen and testos­terone trig­ger the start of bone growth.  Growth hor­mone stim­u­lates the growth of the epi­phy­seal plate while the thy­roid hor­mone makes sure the skele­ton retains proper pro­por­tions.  Estro­gen and testos­terone later trig­ger the clo­sure of the epi­phy­seal plate when grow­ing is done.
Use this Table of Con­tents to go to the next arti­cle

The Basics. Start here. This is your Foundation.
Epithe­lial and Con­nec­tive Tissue
Skin, Hair, Nails, Sweat Glands
YOU ARE HERE AT THE SKELETAL SYSTEM

The Periph­eral Ner­vous System
The Auto­nomic Ner­vous System
The Car­dio­vas­cu­lar System