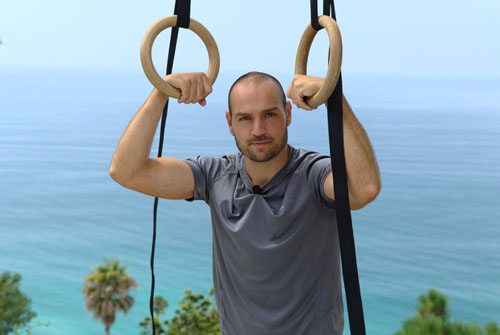 This is for anybody who wants to get strong and have fun with a gymnastics-inspired routine. It is highly bodyweight-exercise oriented (no external weights) and also includes lots of strength & skills one can train on the rings and the floor. This is one of the most complete routines you could get that will allow you to progress in a safe manner.
However, I recommend you should be able to do 3x5reps pull ups and push ups before jumping into this.
If you got that kind of strength though, then get yourself a pair of rings and start to have a blast with this routine!

If you do not have that basic level of strength yet, you may get better results by following this routine on /r/bodyweightfitness. It is a simple, but very effective, full body workout 3x a week that will get your basic level of strength up efficiently using bodyweight exercises.
Here is a taste of what you will learn:
Video Overview:
Program Outline
Warm Up
Fun Skills Practice

Rings (RTO Support, Inverted Hang, Skin the Cats, RTO Plank, Shoulder Stands, Muscle Up Variants)
Floor (L-sit, Crow Pose, Elbow Lever, Air Baby, Cartwheel, Backward Roll, Forward Roll, Low Bridge, 8 Headstands)
Handstand-specific practice

Strength Work

1. Straight Arm Day (Front Lever, Planche, Back Lever)
2. Bent Arm Day (Too complex to list)
3. Fun Skill and Accessory Day (Focus on skills and target specific areas.)

Cool Down Suggestions (Prehab/Mobility/Stretches)

Hangs (Beginner Hangs, German Hangs, False Grip, One Arm, Swings, etc)
Wrist, Elbow, Shoulder, Spine Prehab
Squat/Hip Mobility
Self Massage
Stretching Suggestions

More Info

Intro and Mandatory Reading
Equipment Requirements
Random Q&A
More tips for success
Appendix

Supportive Pages to help increase compliance/adherence

Abridged Mobile/Printer-friendly version
Record Spreadsheet Log (Google Doc)
Note: If any of the above sounds too technical, don't worry! I provide the detailed progressions and programming to help you attain these moves and more!
What are the equipment requirements?

Wooden Rings and a place to hang them, like from a pull up bar, playground, tree, etc.

They are so cheap nowadays, there is no excuse to not get them!
The higher of an anchor point you could find, the more fun many exercises become, especially if you're tall!

Chalk to help you hold a false grip. You may not need it, but it definitely helps.
Flat Aylio bands for shoulder mobility and warm up.
Constant refinement
This program is regularly updated to make sure it is a SUSTAINABLE program. I am constantly applying my research and updating it to reflect the reality of progressions work. It is of a very high caliber because it closely represents the template that I follow myself. It also boasts an impressive skills section which is a reflection of my fascination with melding gymnastics, yoga and everything in between. As much as we all want to build strength, I find skill work is what keeps everyone most engaged, happy and the variety gives more avenues to which one could experience leveling up. I have also had many beta-testers along the way so this has been tested on real, live people!
Resources Used

I've put my heart and soul into making this. It's a culmination of all that I've learned from both the online world and the amazing people at muscle beach. This routine is based off of resources written or demonstrated by:
The amazing people at the Original Muscle Beach
Steven Low of Overcoming Gravity
Ryan Hurst of Gold Medal Bodies
Daniel Vadnal of FitnessFAQs
Carl Paoli of GymnasticsWOD
Jim Bathurst of BeastSkills
GymnasticBodies Forum
r/bodyweightfitness
Joshua Naterman
Yaad Mohammad
Emmet Louis
Ido Portal
How do I use this routine?
When you buy the program, you will instantly receive a username and password and be able to access the program through this website. If you are comfortable with watching a video (and maybe reading a little) to understand what the exercise is, then you will enjoy this.
Support is available
If you are having trouble with something or just aren't sure if your form is correct, I encourage you to leave a comment and post a "form-check" video of yourself. Comments are enabled on all the pages so you could provide feedback and we could improve the routine together and I could help you at the same time.
Money back guarantee
If you don't like it for any reason, you could always contact me and ask for your money back within 60 days. No questions asked and no risk to you.
Recap of all the benefits
Thorough warm up
Dozens of ring and floor skills (including HS)
Strength-oriented straight arm / bent arm split
Gain extreme upper body strength
Tried and true progressions
Tested on real, live people!
Mobility/prehab section
Increased proprioception
Increased grip strength
Photo & video resources
Extended Documentation (17+ pages)
Money back guarantee
Personal support
Register below to get instant access
With a one-time payment of only $74.95 US, you get lifetime access! And with a 100% money-back guarantee, you got nothing to lose, so why not give yourself this gift?