Very deep inside the brain, sur­rounded by the cere­bral hemi­spheres is where we find the dien­cephalon.  This struc­ture sur­rounds the third ven­tri­cle and is pri­mar­ily made of brain nuclei (gray matter).
It is com­posed of three paired structures:
Thal­a­mus – 2 egg-shaped struc­tures, you can only see one side in the pic below.
Hypo­thal­a­mus – oddly shaped, below the thal­a­mus, in the dark blue.
Epi­thal­a­mus – pos­teroin­fe­rior to thal­a­mus and is mostly the sin­gle pineal gland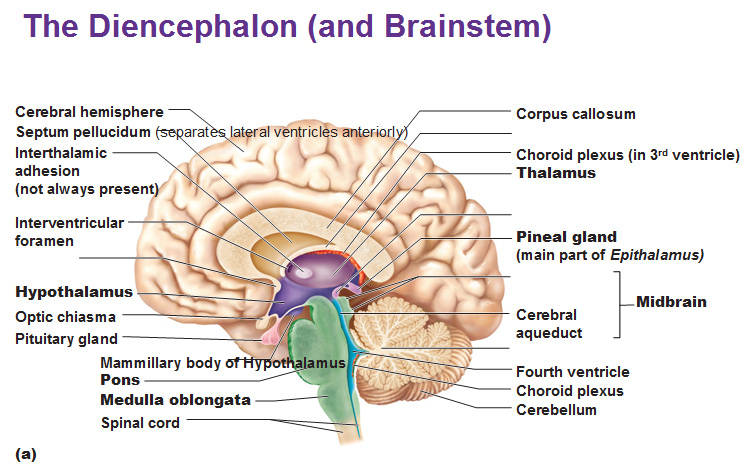 The Thal­a­mus in detail
There's a dozen nuclei on each side.  It's a relay sta­tion for every­thing sen­sory that comes from the brain.  It includes tons of synapses.  The thal­a­mus sends the sig­nal out­ward.  What hap­pens here is a lot of "edit­ing" (pro­cess­ing, ampli­fy­ing, ton­ing down) before it goes to the cere­bral cor­tex.  It is lit­er­ally the gate­way to the cere­bral cortex.

The hypo­thal­a­mus in detail
This is known as the "mas­ter gland" which controls/masters all the other glands.  The mam­mil­lary body can be seen with the naked eye.  The hypo­thal­a­mus con­trols the auto­nomic ner­vous sys­tem, emo­tions (it's right at the cen­ter of the Lim­bic sys­tem), ther­mo­stat, hunger/thirst, plea­sure, cir­ca­dian rhythm, entire endocrine sys­tem and mem­ory via input from the hip­pocam­pus.  The pitu­itary gland is held by a stalk called the infundibu­lum.

The epi­thal­a­mus in detail
The epi­thal­a­mus forms part of the roof of the 3rd ven­tri­cle.  The pineal gland is the main part of the epi­thal­a­mus and it secretes mela­tonin that induces sleep and has to do with cir­ca­dian rhythm.  It also induces puberty/labor and this is the area asso­ci­ated with the "third eye" accord­ing to chakra/energy systems.
Use this Table of Con­tents to go to the next arti­cle

The Basics. Start here. This is your Foundation.
Epithe­lial and Con­nec­tive Tissue
Skin, Hair, Nails, Sweat Glands
YOU ARE HERE AT THE CNS

The Cen­tral Ner­vous System
The Periph­eral Ner­vous System
The Auto­nomic Ner­vous System
The Car­dio­vas­cu­lar System