The endocrine sys­tem is all about hor­mones.  So far the glands we've gone over, such as the liver, pan­creas, etc, all have ducts that lead into open­ings.  The endocrine glands don't have ducts and have a whole dif­fer­ent process.  This col­lec­tion of small, duct­less glands secrete mes­sen­ger mol­e­cules called hor­mones directly into the blood­stream.  By dump­ing the hor­mones straight into the blood stream, they could just cir­cu­late through­out the car­dio­vas­cu­lar sys­tem and end up at a tar­get organ.  That spe­cific hor­mone will look for recep­tors on some spe­cific organ and act upon that organ to trig­ger a phys­i­o­log­i­cal response.  So that's how hor­mones are going to work at this level of your understanding.
Side note:This idea that we have specif­i­cally glands ded­i­cated to secret­ing hor­mones is an old per­spec­tive.  Nowa­days researchers are real­iz­ing the whole idea of an endocrine-specific gland is not accu­rate because EVERY organ in your body secretes hor­mones.   Every cell in the body secretes hor­mones.  This includes your bones, skin, etc. We know a lot about health but noth­ing nearly as much as we still have yet to learn. (In other words, we don't know shit, rel­a­tively speaking.)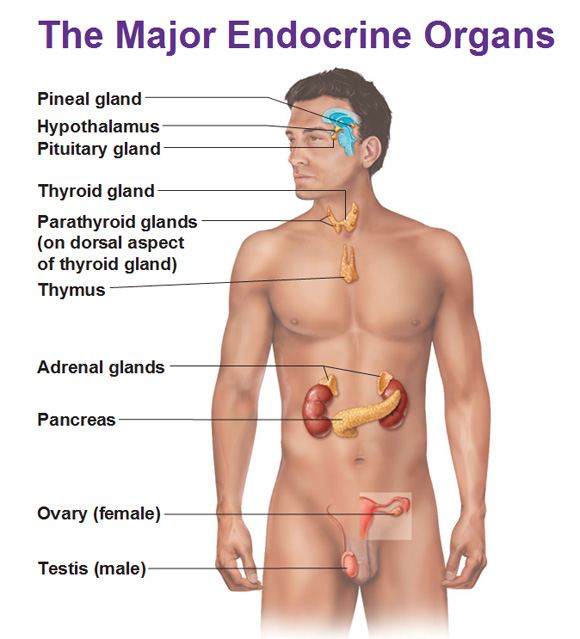 Just a quick run­down of the pic­ture above: These are your major endocrine organs.  We've already talked about the pineal gland, hypo­thal­a­mus, and we've also men­tioned pitu­itary.  We didn't get into the pitu­itary gland in detail yet but we will.  We have heard of the thy­roid gland.  Thy­mus, we'll talk about that in a lit­tle bit.  Adrenal glands, we've heard of those before when we talked about parasym­pa­thetic divi­sion of the ANS.  We've talked about pan­creas and its exocrine func­tion (the diges­tion part).  We've already talked about ovaries and testes in the repro­duc­tive sys­tem.  So that's why it's ideal to go over the endocrine sys­tem last.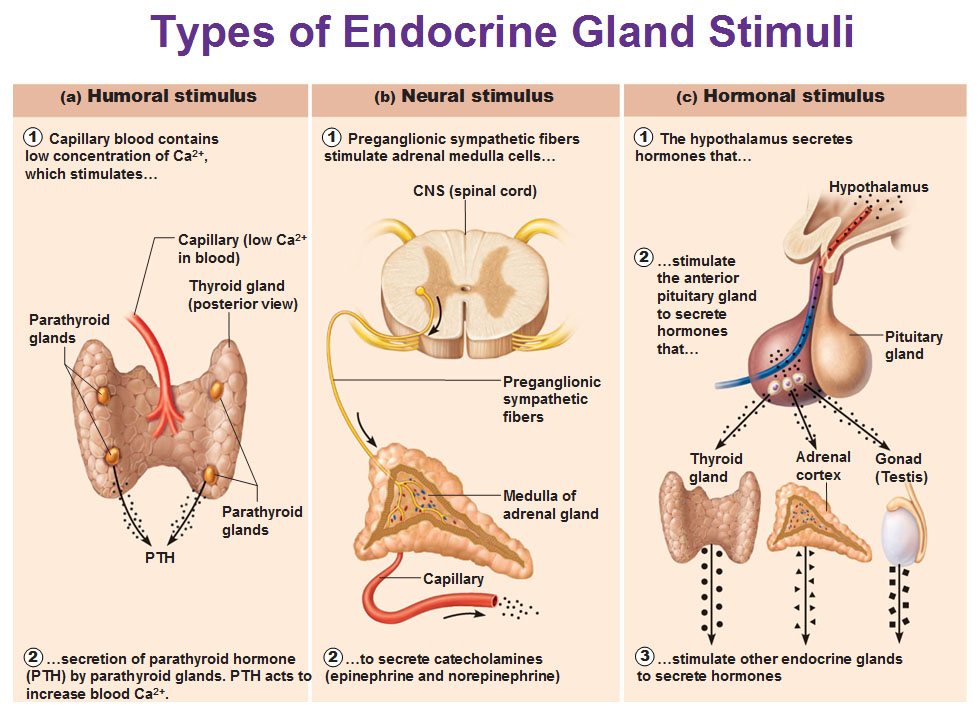 Above: This is an expla­na­tion of how hor­mones, in gen­eral, are released and do their job, which is usu­ally to trig­ger another organ to release another hor­mone.  Then that new hor­mone will cir­cu­late and come back to the orig­i­nal endocrine gland so that the gland doesn't have to send any­more hor­mones out.  This is a neg­a­tive feed­back loop.  A pos­i­tive feed­back loop is the reverse, in that it builds up stuff in the blood­stream and trig­gers the endocrine gland to get even more of that hor­mone.  No mat­ter how an endocrine gland is stim­u­lated, hor­mone secre­tion is always con­trolled by these feed­back loops.
The Pitu­itary Gland
Notice the pitu­itary has an ante­rior and pos­te­rior lobe.  This is our mas­ter gland.  Hypo­thal­a­mus has con­trol over the pitu­itary, so it's not really the mas­ter, but it's called that for some rea­son.  The ante­rior lobe has 5 dif­fer­ent types of endocrine cells that are going to make/release at least 7 dif­fer­ent known hor­mones.  Some of the hor­mones are still unknown.  Endocrinol­ogy is a very active field in terms of research for fig­ur­ing out stuff like this to this day.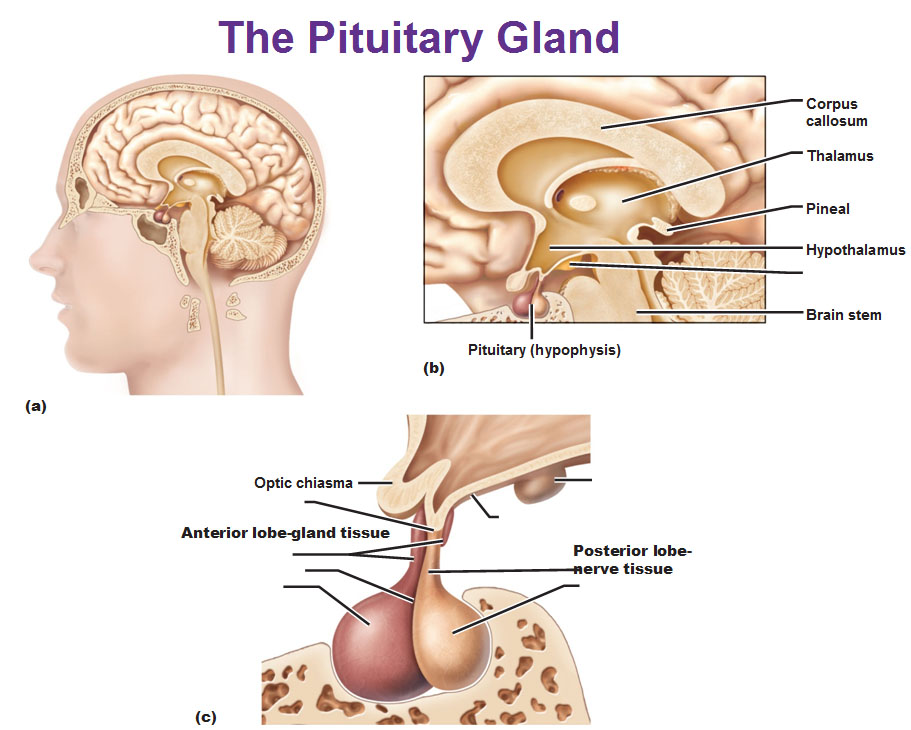 Ante­rior Lobe of Pitu­itary Gland
The pitu­itary could actu­ally pro­duce more than 7, but we know at least these:
Growth hor­mone stim­u­lates growth of the entire body but espe­cially those epi­phy­seal plates (located at the ends of the long bones in a child were those plates/strips made of car­ti­lage, and that was where you could make the bone longer.  The car­ti­lage would grow, get eaten away and get replaced with bone and repeat.) So the pitu­itary gland secretes growth hor­mone that goes to the plates to grow and then sud­denly you need a new wardrobe.
Thyroid-stimulating hor­mone sig­nals the thy­roid to pro­duce thy­roid hormone.
Adreno­cor­ti­cotropic hor­mone (Adreno sounds like adren­als, cor­tico sounds like cor­tex, –tropic means hav­ing an affin­ity for/being attracted to) so this is a hor­mone that stim­u­lates the adrenal cor­tex to get it to secrete corticosteroids.
Melanocyte-stimulating-hormone.  We've heard melanocyte before in regards to the skin.  This stim­u­lates those melanocytes but in the stud­ies this hor­mone doesn't sig­nif­i­cantly stim­u­late the pro­duc­tion of melanin for humans specif­i­cally but in other ani­mals it does.  Strangely enough of it sup­presses your appetite and increases sex­ual arousal.
Gonadotropins (sound like gonads, so it's in regards to the testes or ovaries and –tro­pis means being attracted to, so these hor­mones are going to tell the gonads to tell some­thing.)  These are fol­li­cle stim­u­lat­ing hor­mones and luteiniz­ing hor­mones (LH) which stim­u­lates the mat­u­ra­tion of sex cells (Sperms or eggs) and secrete sex­ual hor­mones (testos­terone or estrogen/progesterone).
Pro­lactin stim­u­lates milk production.
The hypo­thal­a­mus that con­trols the pitu­itary is going to secrete releas­ing hor­mones itself so that it could get the ante­rior lobe of the pitu­itary to release things.  Or it could secrete inhibitory hor­mones to turn off secre­tion of ante­rior lobe hormones.
The pos­te­rior lobe of the pitu­ary gland
The pos­te­rior lobe of the pitu­ary is actu­ally an exten­sion of brain tis­sue con­tain­ing the axons that store and release hor­mones pro­duced in the hypo­thal­a­mus and has a very dif­fer­ent struc­ture from the ante­rior lobe even though it's con­sid­ered to be a sep­a­rate organ.  Released from those neu­rons are antid­i­uretic hor­mones (diuretic is in regards to get­ting rid of water, which the kid­neys are going to do) that act at the kid­neys to help keep water.  Oxy­tocin gets smooth mus­cle to con­tract in the uterus.  More specif­i­cally, these uter­ine con­trac­tions hap­pen dur­ing child­birth and after birth this hor­mone tells the breast tis­sue to eject milk into those lac­t­if­er­ous sinuses.
Thy­roid gland
Not too much here as far as anatomy goes.  Thy­roid car­ti­lage is right in the front of the gland. We have a right and left lat­eral lobe.  The isth­mus is the con­nec­tion of the two lobes in the mid­dle.  You could see the rela­tion­ship with the aorta and how close they run.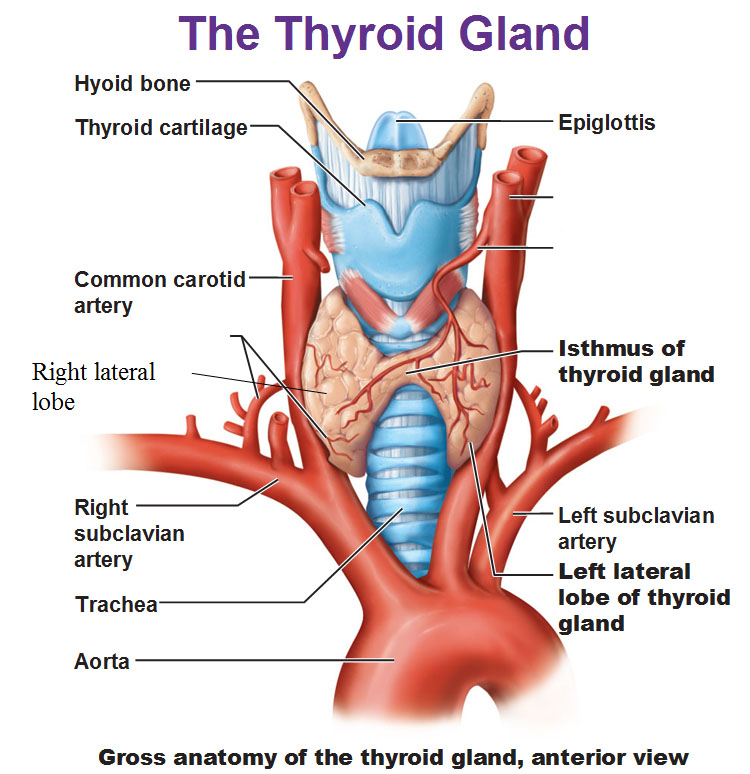 The thy­roid is a big heavy-duty, phys­i­ol­ogy topic, as most of the endocrine glands are, so let's look at it a little.
Fol­lic­u­lar cells pro­duce the actual thy­roid hor­mone (aka T3 and T4).  We've all heard of iodine before, right?  That thy­roid hor­mone car­ries iodine in it and is respon­si­ble for reg­u­lat­ing your basal meta­bolic rate.
Parafol­lic­u­lar cells (para mean­ing next to) are going to pro­duce cal­ci­tonin which is related to cal­cium. This low­ers the cal­cium lev­els in your body by act­ing on the kid­neys.  Cal­cium hap­pens to be one of the ions the kid­ney can release back in the body or keep it to go to the uter­ine sys­tem.  We need cal­cium for the bone tis­sue and for heart mus­cle contraction.
The parathy­roid glands
Below: If we turn the neck struc­ture around and look from the back, we will see the larnygophar­ynx, which is behind the lar­ynx.  So when we look for the thy­roid gland in this pos­te­rior view, we see the two lat­eral lobes of it with the phar­ynx on top.  On the back of those lobes we have these tiny glands called parathy­roid glands.  The parathy­roid cells are going to release parathy­roid hor­mone which helps increase cal­cium con­cen­tra­tion in the blood. Another type of cell called an oxyphil cell, whose func­tion still has not been deter­mined yet, exists there.
Adrenal glands
We already talked about the medulla of the adrenal gland so we're going to talk about the cor­tex which is the outer layer.  Remem­ber the medulla por­tion is part of the sym­pa­thetic ner­vous sys­tem and it secretes epi­neph­rine and nor­ep­i­neph­rine.  The adrenal cor­tex forms the bulk of the gland and it secretes cor­ti­cos­teroid hor­mones which have a rela­tion­ship to the stuff secreted by the medulla because they do very sim­i­lar things.
Aldos­terone even­tu­ally gives us testos­terone.  Cor­ti­sol and andro­gens also con­tribute to testos­terone pro­duc­tion.  If you have trauma with blood loss occur­ring, those adren­als will go nuts to keep your heart pump­ing when it senses your blood pres­sure is drop­ping.  If you have an infec­tion the adren­als will help it fight with all its might.  Fast­ing is pretty stress­ful on the body too and the adrenal cor­tex will def­i­nitely kick in to keep every­thing revved up.  Stress also moves that entire adrenal gland.  All adrenal hor­mones help cope with dan­ger, ter­ror or stress.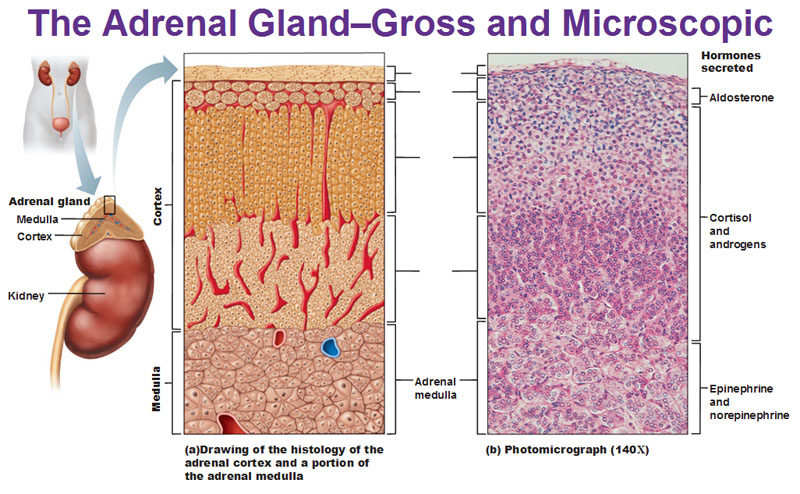 Pineal gland
We've talked about the pineal gland a lit­tle before when we talked about the epi­thal­a­mus but here's a lit­tle more detail.  Pinealo­cytes secrete mela­tonin, a hor­mone that reg­u­lates cir­ca­dian rhythms.  This process is also under the influ­ence of the hypo­thal­a­mus.  There are cal­cium ions located between the cells known as "Pineal sand" (aka cor­pora are­nacea).  Because the cal­cium is radiopaque, the pineal gland is used as a land­mark to iden­tify other brain struc­tures in x-rays.
Pan­creas
The pan­creas con­tains both endocrine and exocrine cells.  The exocrine cells are aci­nar cells that secrete diges­tive enzymes.  The endocrine cells of the pan­creas are a sep­a­rate groups of cells, scat­tered through­out the pan­creas, so it's not like there's a sep­a­rate sec­tion like with the adren­als with a cor­tex and medulla.  All these cells are mixed in together and the endocrine cells are located in the Pan­cre­atic islets (or the Islets of Langer­hans).  We have about a mil­lion of those islets and in them we have alpha cells and beta cells.
The beta cells secrete insulin that goes into the blood­stream all over the body and func­tions in all of your cells to allow glu­cose in so the cells can digest it.
Alpha cells secrete hor­mone called glucagon which sig­nal the liver to release its stor­age of glu­cose in the form of glyco­gen (which is just a starch; glyco­gen is a bunch of glu­coses stuck together to make a starch) because you need some glu­cose for some­thing like, if you haven't ate for a while or you need a burst of energy.
Thy­mus
This is in the chest sit­ting on top of the tra­chea.  The thy­mus is really work­ing more so dur­ing child­hood and really by the time you hit 40 it has been com­pletely replaced by fatty tis­sue.  The thymic hor­mones stim­u­late the devel­op­ment and mat­u­ra­tion of T-lymphocytes, a spe­cific type of white blood cell in the lym­phatic sys­tem.  You're exposed to most of your dis­eases for the first time dur­ing your child­hood and that is when you're build­ing up your immu­nity.  So that thy­mus is work­ing aplenty dur­ing the child­hood, devel­op­ing t-lymphocytes, but when you are an adult you aren't exposed to too many new things.  You may be exposed to a dif­fer­ent strain of a cold or flu virus but in gen­eral it's most of the same stuff by the time you hit 40.
Testes and ovaries
These glands are under the con­trol of the pitu­itary gland.  We've talked about these before about how they pro­duce sperm and eggs.  In between those cells that are becom­ing the actual sex cells are inter­sti­tial cells (that means in between) that are respon­si­ble for secret­ing hor­mones for our sex­ual lives.
In the testes, inter­sti­tial cells secrete mostly testos­terone, which is a type of andro­gen.  The testos­terone influ­ences the for­ma­tion of sperm (in sem­i­nif­er­ous tubules) and devel­ops your sec­ondary sex char­ac­ter­is­tics like your pub­lic hair, axil­lary hair, facial hair and grow­ing those repro­duc­tive organs dur­ing puberty and main­tain­ing them into adulthood.
In the ovaries, those inter­sti­tial cells are called fol­li­cle cells (some turn into cor­pus luteum) and secrete a dif­fer­ent ver­sion of andro­gen called estro­gen and prog­es­terone.  Prog­es­terone (P for Pre­pare) pre­pares the uterus for preg­nancy.  Estro­gen does the same thing testos­terone does for the male, it helps pro­duce pubic and axil­lary hair (no facial hair), develop and main­tain the sex­ual organs.
Use this Table of Con­tents to go to the next arti­cle

The Basics. Start here. This is your Foundation.
Epithe­lial and Con­nec­tive Tissue
Skin, Hair, Nails, Sweat Glands
The Periph­eral Ner­vous System
The Auto­nomic Ner­vous System
The Car­dio­vas­cu­lar System
YOU ARE HERE AT THE SPECIALIZED SYSTEMS

Spe­cial­ized Systems
The Endocrine Sys­tem (Pitu­itary, Thy­roid, Pan­creas, Adrenal, Gonads, etc)
The Lym­phatic Sys­tem (Spleen, Thy­mus, Lym­phatic ves­sels, nodes etc)
The Res­pi­ra­tory Sys­tem (Lungs, Alve­oli, Bronchi, Tra­chea, Lar­ynx, Nasal cav­i­ties, etc)