I usually update this page only when there is going to be a significant event, which is not too often in LA.
It's generally for everybody in Southern California
Last updated: Saturday, January 2, 2016
It's been A FULL YEAR exactly since I've updated this page.  For the past year we've been in a drought with no significant storms, save for a few random things here and there. But now, the time has come!  Sunday night, we get our first of series of storms.  Then Tuesday to Friday, we will be getting a total of 2-3 inches of rain. Some places will get 4 inches or more.  Anywhere above 5000feet it will be falling as snow, so think 1-3feet of snow up in the high mountains!
Also…. there's this fake meteorologist called Kevin Martin who is a crazy meth-head in San Bernardino on facebook that posts by the name of "Southern California Weather Force." He always posts shit as if he's the best and most accurate. He even names storms and says he's the most accurate. But then when he's not accurate, he removes those posts, LOL. From one amateur meteorologist to another… shit is hilarious. Found this gold article on him.
Previous Update from Tuesday, December 30, 2014
Tonight, Tuesday night into Wednesday (New Years EVE), we are going to be experiencing an ARCTIC BLAST.  No it's not a techno party. Freezing air from Alaska/Canada is swooping in and already making its way into our territory.
In regards to precipitation, the system overall is quite dry so the precipitation won't be the big highlight. Some places will be very windy. Most of LA will get just some drizzling and such mostly toward the evening. Rain totals seem really HIGHLY variable depending on location so it's hard to say how much rain, but it may be very little to a lot depending on where you live.
SNOW: The most precipitation is going to occur in the very far-inland areas (like Riverside, San Bernardino counties) and the mountains everywhere are going to see lots of snow-action. Anywhere above 4000 feet elevation will have snow. If you live in the Inland Empire, it may get so cold the snow levels may fall down to reach the floor after 10pm tonight. Big Bear will get about 6 inches, so again, it's not a moist system, but will you will be cold.
Wednesday night (New Years Eve night) won't have anything falling from the sky, but it will be THE coldest night of the year with lows dipping down in the 30's (or below) EVERYWHERE.  Thursday morning (new years day) will be extremely cold.
After New Years?
Clear skies. Nights will remain chilly throughout the weekend.  Daytime temps will be lower than average but a slight warming starts.  Sunday will be normal daytime temps for the season.  By Monday and Tuesday, highs may get into the 70's. 🙂
Previous Update from Tuesday, December 16, 2014
We had rain last night. We got about half an inch. And we have another storm coming through. Should I be dramatic? Sure, let's be dramatic.
On tuesday late evening (after midnight?), we are going to get another nice impulse of rain coming in. This time it will be a little more than what we got last night/this morning.  And the other cool thing is that we are going to get a LIGHTNING SHOW! That's right! Get your lawn chairs out and your kites and big metal rods and anything else that will attract lightning to hit you and enjoy the show!
So, while last weeks storm was all about the wind and rain. This one coming up tonight is gonna be all about the lightning.  Thunderstorm activity is gonna be real!
Up in the mountains hail and snow is gonna fall!  Stay inside and snuggle with your pets or loved ones and tell them not to be scared it's just some thunder (as if your dog understands any of that).
[forecast]
Previous update from Dec 11, 2014
Good morning ladies and gents.  It's Thursday morning and there are heavy clouds in the LA sky. A strong low pressure system is approaching. Some sources have said this is the fiercest storm in 5 years.  Others in 10 years.  Whatever the case, it's weather-geeks being dramatic… so here goes…
Sometime late tonight, Thursday evening, impressive rain fall amounts are coming.  We're going to get a nice 1-2 inches in the Coastal/Valleys/LA basin… and 2-4 inches in the mountains.
At first, we'll begin with light showers in the evening… and then rainfall rates will increase steadily as the front creeps in overnight and gets hardcore after midnight when most of us are asleep.  This jetstream-driven storm will be a bit colder than last weeks storm and it's going to deliver some impressive downpours, coupled with some hardcore wind at times. Thunderstorms and tornado-like vortexes (waterspouts) will develop over the ocean and some may continue onto the land.
There will be a 1-3 hour burst of heavy rain (likely between 2am and 5am, one of those typical LA one night stand storms), with peak rain rates somewhere between 0.5-1″ per hour. Things will taper off on Friday morning to afternoon. (Sorry SD, you're only getting remnants by the time it gets to you, just like last weeks storm.)
Impressive 72hr satellite loop showing the tropical moisture headed our way through an atmospheric river dubbed the "pineapple express" funneled by a jetstream that brings moisture from the Hawaiian islands…
Precautions for the season?
If you got holiday decorations on your roof or yard… these may get blown away or destroyed, so secure your stuff! (Especially any inflatable stuff.) Anywhere that's had a wildfire recently is susceptible to debris slides. Other than that, expect flash flooding and overwhelmed road drainage systems (especially if you live in the valley)… but again, most of the rain will be coming down while you're asleep, so that's cool, but not cool if you have to drive to work in the morning.
SNOW?
In the high mountains, the precipitation will begin as rain and won't become snow until the temps drop down overnight into Friday morning. I reckon the local lifts will open this weekend thanks to this. ::checks:: Yup… Bear Mountain will open on Saturday morning thanks to this storm.
Weekend?
For the weekend, brisk air with crispy clear skies.   Sunday will be the sunniest day. Go hiking! Go to your favorite view points! Take a tourist up to Runyon Canyon or top of the world. Take photos of the beautiful smog-free views because we'll actually be in between-storms. Another storm system will likely bring some more rain on Monday and/or Tuesday. (Maybe an over night thing again.)
Last update from December 2, 2014
Weather has been so boring all summer I haven't updated anything! So here goes… Finally something of significance now that wetter-weather is here…
WHAT'S THIS? WATER? FROM THE… SKY?
At the moment, this Tuesday morning, the moisture is saturating the atmosphere and widespread warm frontal showers have started up. Expect the REAL show to go full blast sometime around noon or 1pm today (Tuesday).
The storm is coming from the southwest and as such will orthogonally crash into our santa monica and san gabriel mountain ranges which run transversely east/west making for maximum rainfall along the coastal slopes and especially any south-facing slopes.
The highlight of this storm is that it will generate more rain than what WE are used to. It's a large scale elongated plume of subtropical moisture, so it's not going to be freezing cold either (compared to a storm that comes from the NW).
HOW MUCH RAIN? The valleys and coasts will get 1.5-3.0″ and the local mountains will get 3-6″. (The high elevation mountain slopes with the greatest orographic lift advantage can get up to 8″ in some localized areas.)
At the peak of the torrential downpour, rainfall rates will be half an inch an hour, making it easy for the NWS to issue a flash flood warning for all of Ventura and LA counties and mountains of San Bernardino county.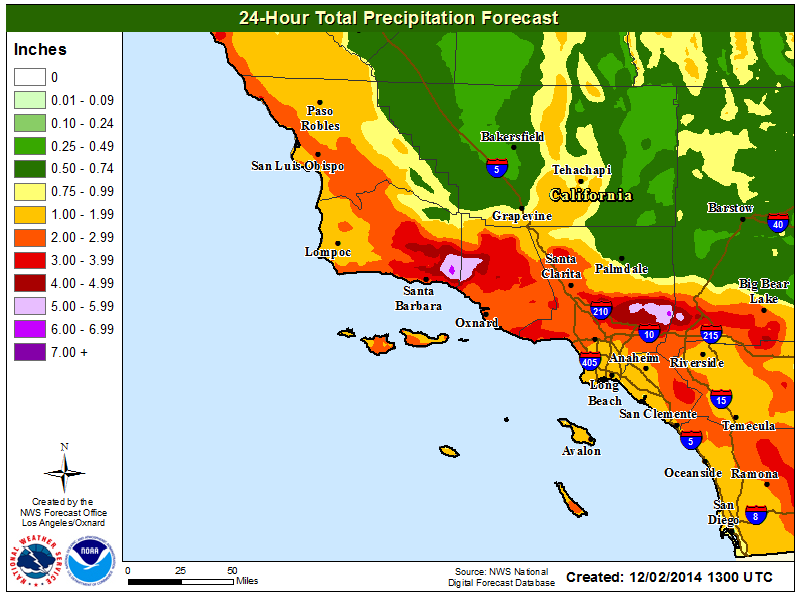 SNOW? Sorry, no fluffy stuff, even up in the mountains.  Maybe toward the tail end of the storm but it's unlikely cause this is not a storm coming from Alaska but from the southwest so it's warmer than usual and it'll be rain anywhere below 8k ft.
Tips?
Hope your windshield wipers work.
Don't forget your umbrella for once this time.
Expect lots of traffic, obviously, as everyone in a car loses their fucking minds from the slightest hint of drizzle.
What's after?
The storm will not come to an abrupt halt. There will be some continued short waves embedded in the flow, making for a continued chance of showers even on Wednesday (le gasp!).
By Thursday, skies will be partly cloudy/mostly sunny and temps will be near normal (69deg).
Weekend will have clouds in the sky and we'll be back with our regularly scheduled programming with our truman-show-like LA weather. Enjoy your beautiful god damned rain. Also, do some yoga to some chill ass music with the pitter patter of rain in the back.  We only get this chance what seems like a few times a year.
Will this help our drought?
We may reach our average rain fall for the month thanks to this storm, but we will need many, many storms like this to put a DENT in the drought. At the moment, the drought is predicted to persist or intensity for california.
Previous Update from April 5, 2014
Welp, Summer is here. The days are long.  Tuesday will be HOT. High of 91 forecast for downtown LA.  Go to the beach. Hang out at the rings. Wear sunscreen. Workout. Love life.
Previous update from Feb 27, 2014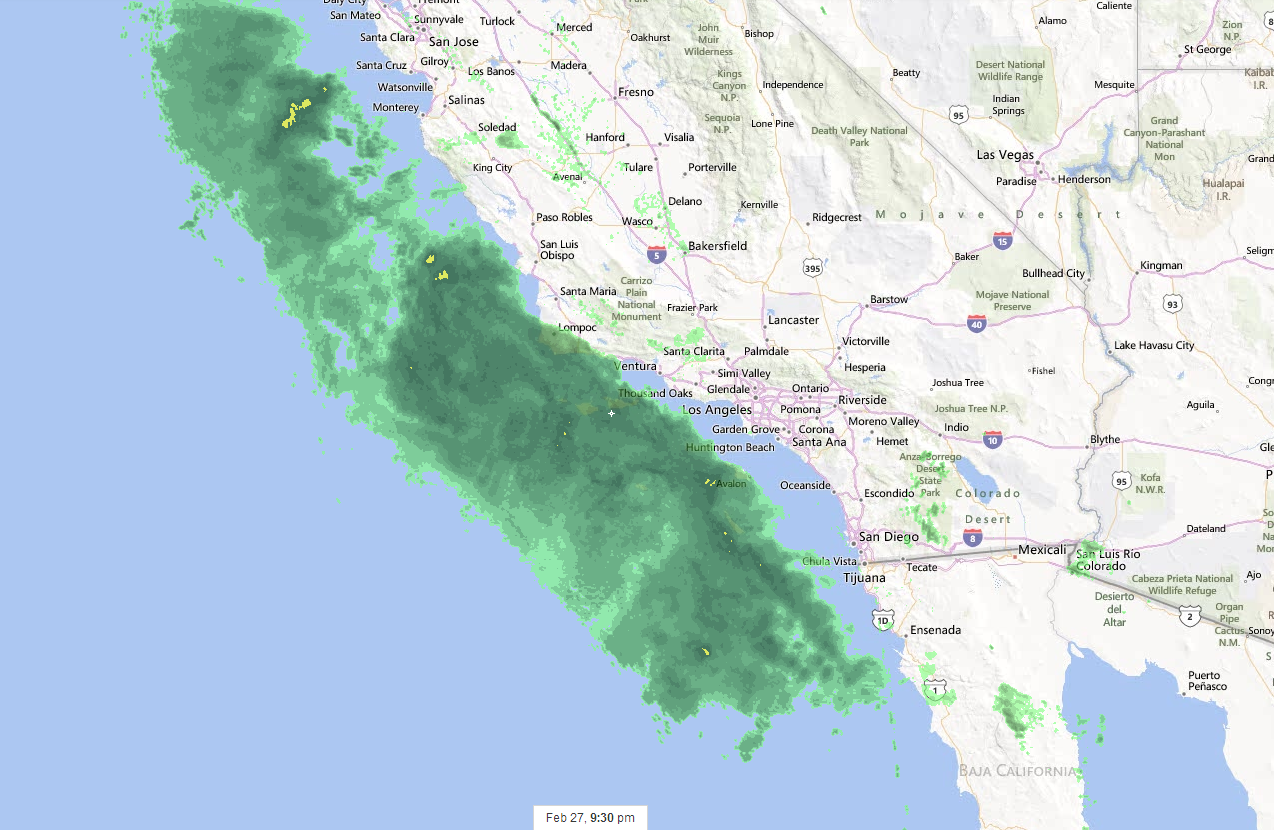 Update: The cool thing with this storm is that the potential exists for waterspouts to develop (tornadoes over water) with the possibility of any near shore waterspouts making their way onshore as weak tornadoes.  This is a possibility from the SoCal Bight to the Santa Barbara Coast. (The SoCal Bight is the coastline that curves from San Diego all the way to the southwestern tip of Santa Barbara called Point Conception).
Let's get ready to RUUMMBBLLEEEE!!!!  Finally I have some weather to actually report on and we could use the cats and dogs expression this week.
There will be two impulses.  First, we start with light rain tonight.  But it looks like it will start late enough that the evening rush hour shouldn't get all screwed up.  In any case, a good amount is coming tonight (1-2 inches, more in the mountains).
It will rain overnight tonight (Wednesday night) and as for Thursday, there will be a very slight lull in between storms.
Enjoy it because what's coming after is gargantuan.
To give you an idea of how big the storm is, this massive low pressure system coming from the Gulf of Alaska is covering 4.4 million square miles over the Eastern Pacific Ocean.
It will be hella windy, too. The low is being propelled by a jet stream that's traveling 180+ knots. Mountainous areas will experience gusts of up to 60-70mph at times. So hold onto your hats and bring out the big, sturdy umbrella cause that little dinky one is gonna be useless. With the combination of wind and moisture and all the energy in this storm, we're going to get pounded starting on early Friday morning.
HOW MUCH RAIN?
By Saturday we should have received 1-3 inches in the valleys and coasts (heavier in the foothills) and A WHOPPING 3-6 INCHES IN THE MOUNTAINS (more on the south facing slopes). To give you an idea of how much rain that is… we're getting more rain from this than we've had in our entire 2013/2014 winter season so far.
HOW MUCH SNOW?
Snow won't fall anywhere below 7000feet on Wed/Thu but by Saturday anywhere above 5000 feet will have gotten the fluffy stuff and plenty of it.  Places like big bear will receive 1-3 feet of snow (wow!) with lower mountainous spots like running springs and lake arrowhead (6-7k) receiving up to a foot of snow.
Dry weather returns after the weekend (no surprise there).
1-2″ of rain!!! Board up your Windows!!!
Remember folks, maximum driving speed in rain is 5 mph! (hahah)
Previous update from Feb 18, 2014
As y'all know, we have an unprecedented lack of precipitation in California. Just last week D4 was issued for 10% of the state. Highs will be in the low 80's for downtown LA on Saturday.
Previous update from Dec 16, 2013
MONDAY, TODAY, RECORD BREAKING WARMEST TEMPS EVER! 80!!! I MAY GO SWIMMING IN THE OCEAN WITHOUT A WETSUIT!
Previous update from Dec 7, 2013
Freezing weather! We went from having some warm weather last weekend to FRIGID record breaking cold this week!  Saturday is expected to have some showers and then the cold front behind it will bring GUSTY winds and FREEZING temps (below 32deg) for many areas.
Previous update from Nov 22, 2013
A hilarious collection of "rainy" weather
https://www.youtube.com/watch?v=iBlDU8e7om0
Previous Update from Oct 2
http://www.youtube.com/watch?v=ktAKHww9wPo
Wow! The San Bernardino Mountains received a couple inches and there's a chance of 1-3 more inches coming more tonight.  For October 9, this is super rare!  This is one cold/windy storm for this time of year!  Cool stuff!!!!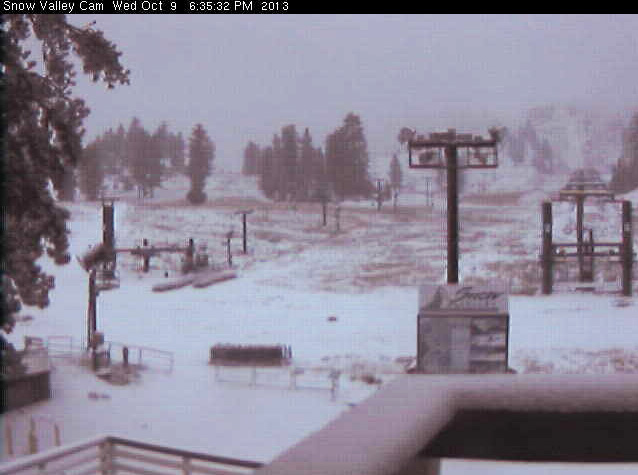 Previous update from Oct 2, 2013
This is something that's been in the forecast for the past week and the models have remained consistent in their forecast every day, so the amount of confidence in this event is very high. What is the event? A very STRONG OFFSHORE wind event, commonly called the "Santa Anas." This is COMPLETELY typical during this time of year. September and October are our very hot, dry and windy months. So be very careful with cigarettes or fire-starting in general and go secure everything in your backyard because things WILL tip over. Most of LA and Ventura county will be affected. We are expecting gusts of 60mph. Friday and Saturday will be very hot, with downtown LA forecast to be in the 90's, which is as hot as it gets usually! Why so many exclamation marks? Because, weather is exciting. You know what sucks? the NOAA is one of the many agencies affected by the government shut down. You may think "what's the big deal about that?" The national weather service is the one that warns you of tornadoes, hurricanes, blizzards, floods… you get the idea. They are very necessary to protecting life and property. But I digress… winds should calm down by Sunday… we'll have a low pressure system dipping down into the area on monday so temps will cool off most probably… and it's even possible we may get some rainfall by midweek. Time will tell though as forecasting weather a week ahead of time is very inaccurate with current technology. Either way, we know it will at least be cooler.
...HIGH WIND WATCH IN EFFECT FROM THURSDAY EVENING THROUGH
SATURDAY AFTERNOON FOR THE VENTURA COAST EXTENDING INTO MALIBU AND
THE HOLLYWOOD HILLS...

* WINDS...NORTHEAST 25 TO 35 MPH WITH POTENTIAL DAMAGING GUSTS
  BETWEEN 50 AND 60 MPH ACROSS THE VENTURA COAST AS WELL AS MALIBU
  TO HOLLYWOOD HILLS.

* TIMING...STRONGEST WINDS ARE EXPECTED TO OCCUR FRIDAY MORNING
  AND AGAIN SATURDAY MORNING.

* IMPACTS...WINDS THIS STRONG WILL MAKE FOR DIFFICULT DRIVING OF
  HIGH PROFILE VEHICLES. BE ALERT FOR THE POSSIBILITY OF DOWNED TREES
  AND POWER LINES AS WELL AS POWER OUTAGES. THE SANTA ANA
  WINDS WILL ALSO BRING EXTREME FIRE DANGER TO THE REGION.
Previous update from September 18, 2013
This image pretty much sums up SoCal weather: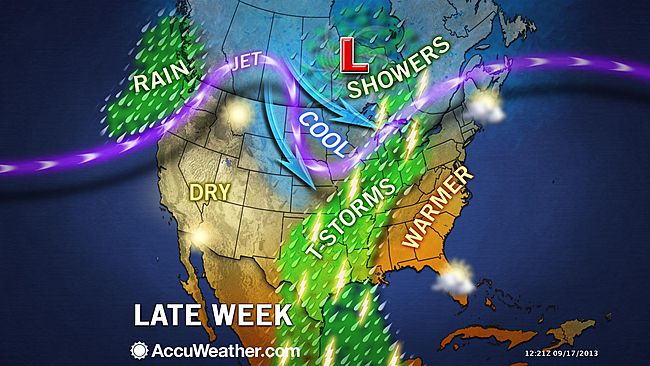 Previous update from August 31, 2013
Hot and humid? YOU KNOW WHAT THIS MEANS?
FREE HOT YOGA.  Everything is a blessing in disguise, if you try.
Check out these free youtube resources.
Previous update from July 20, 2013
Hey SoCal peeps.. We have another surge of Monsoonal moisture on the way just like last week!
What's that mean?
It means this weekend will be humid with an awesome chance for thunderstorms in San Diego and Riverside County on Sunday.
Time to get your yoga sweat on.
How strong is your drishti (concentration) amidst the sweat running down your EVERYTHING?
Find out this weekend.
Previous update from  July 11, 2013
WEATHERMANTRANIK here with the fun weather report.  Finally I have something to write about for LA:
Welp. I wanted humidity and yoga.  I'm gonna get it.
As you can tell by the air pressing against your skin, we are experiencing a surge of monsoonal/subtropical moisture.  This is most common during the summer and it usually happens only briefly.  (Known as the North American Monsoon "NAM").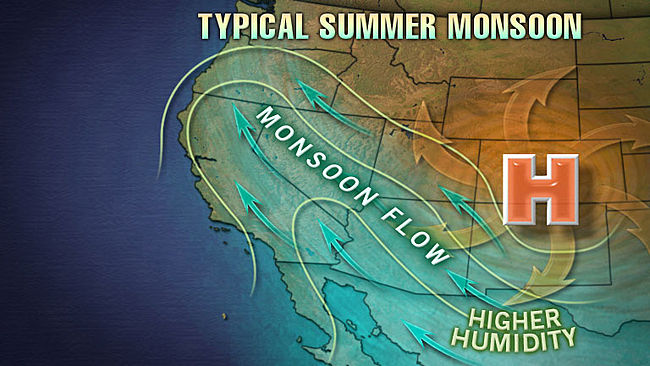 For today, Thursday, expect a repeat of yesterday: Mostly cloudy, uncomfortable sticky conditions, and hit-and-miss big drops that feel like bugs hitting my skin (or going in my mouth) when I'm biking.
HOWEVER, the atmosphere will be even MORE moist and juicy this afternoon and the a little bit more unstable.  The moist layer above us is forecasted to thicken this afternoon more so than it did yesterday.
So continued scattered light showers may affect most of SoCal today. (Note: the actual weather in these situations varies dramatically depending on locality so who knows what's gonna actually happen where you are? nobody.)
Whatever precipitation has been falling has been evaporating before it hits the ground usually, but for those of you awake at 5am may find your yards are wet.
This monsoon pattern will GRADUALLY weaken Friday as dry air comes back.
For those in the MOUNTAINS or DESERTS there is a slight chance of thunderstorms even potentially all the way until Friday evening which will make for SUPER PRETTY SKIES AND SUNSETS. (Go outside during magic hour!)
The good? The thick shield of cloud cover is limiting the daytime heating, preventing temps from going above normal.  SO yea, it's humid, but at least it's not 100 degrees, AMIRITE?
(For example, Temecula's forecasted highs until Saturday went from the high 90's to mid 80's, the trade off is the humidity so it may feel the same or worse depending on how much insulation in the form of adipose tissue you have.  Things heat up like crazy on Sunday though.)
The bad? Since this is the first rainfall in a long while, oil on the road can make conditions super slick so don't smash on the gas pedal and keep a distance!
More good? Yoga in the heat and humidity makes you more limber.  So go sweat a little!
More bad? The mosquitos are invigorated and looking for YOU.
Things start to get super duper hot (like it had been in the inland areas) on Saturday and onward.  However, there looks like more monsoonal moisture maybe heading our way come Tuesday or Wednesday, but our forecasts SUCK for anything 3+ days, so take that with a big dash of hypertensive(-inducing) salt.
Previous update from March 6, 2013
Scattered Light Showers will affect SoCal between Wednesday and Friday.  Precipitation totals will be around 0.5-.75″ which is NOT MUCH considering this is spread out over 3 days time.  Snow (4-8″) will fall anywhere above 5000 feet.  The strongest impulse of the storm will arrive as early as Thursday morning and as late as Friday day.  Most likely, knowing LA, most of the precipitation will fall Thursday night overnight.
Here is the hydrologic outlook for this winter season in California (it's not good).
Previous update from Feb 19, 2013
We had a very warm Friday and Saturday, but the cooling trend started Sunday.  You probably noticed yesterday it was quite overcast.  We got a frigid little storm coming our way.
Now it's Tuesday and there's a chance of rain but not much.  The real fun starts overnight where we have a possibility of 1/3 to 2/3″ of rain.  And in the mountains? Snow resorts are going to get dumped on with 6-12 inches of snow! The storm is so cold even places like the Santa Monica and Santa Clarita Mountains can see a light dusting of snow.  The storm should taper off on Wednesday afternoon but we'll see!
Oh and it's gonna remain quite chilly like this for pretty much the whole week.
Previous Update from Feb 8, 2013
FOR ANYONE THINKING OF GOING TO BIG BEAR OR MOUNTAIN HIGH FOR SKIING:
THE WINTER STORM WARNING IS NOW IN EFFECT UNTIL 10 PM PST THIS
EVENING.
* TIMING…HEAVIEST SNOW WILL OCCUR DURING THE DAY TODAY.
* SNOW ACCUMULATIONS…FOUR TO EIGHT INCHES ABOVE 4000 FEET…
WITH ISOLATED AMOUNTS UP TO TEN INCHES POSSIBLE ABOVE 6000
FEET…MAINLY ALONG THE COASTAL SLOPES. UP TO FOUR INCHES OF NEW
SNOW ARE POSSIBLE AS LOW AS 3000 FEET.
Previous Update from Jan 23, 2013
We got a 30% chance of showers between Thursday and Monday.  Note that I didn't say a 100% chance of rain so don't just tell people "YA I HEARD IT'S GONNA RAIN ALL WEEKEND." There's just a 30% chance of showers which is insignificant in regards to precipitation.
The highs are lowering gradually everyday.  By Sunday and Monday the highs are going to be just barely in the 60's so yeah, it's going to be cooler again, but it's not terrible. 🙂
Previous update from Thursday, December 20, 2012
Here's your Mayan weather forecast (end of the world is coming, remember?)
Okay no but seriously, we've been having much colder nights than usual for Southern California this week.  There's a couple cold fronts coming our way for the weekend to change things up.  This will be bringing clouds, cooler temperatures for the day time and a chance of some precipitation!
So there's a chance of showers/rain on Saturday and Sunday.  The highs will be in the low 60's but the low's will be in the 50's, so not bad!  You could thank the clouds for that! (The coldest nights are the clear ones!)
Previous update from Thursday, October 11, 2012
Well there's finally a hint of Autumn on the way!  On Thursday (MY MOTHER FUCKING BIRTHDAY), a little [thunder]storm of a showery nature (not big goblets of rain), will touch down on the SouthernCalifornia coast and bring a little sprinkle, a drizzle, a little sumtin' sumtin' to turn that dust on your car into mud.  A tenth inch of precipitation.  Mountain tops above 7,000ft will be painted white.  Variable, tranquil showers, on my mother fucking birthday.
All will clear out Friday… Saturday will be back to normal.  Sunday and Monday will start heating up ever so slightly.  Enjoy those crystal clear days.
Previous update from August 8, 2012
FORECAST: IT'S HOT AS FUCK.  But you know that already.  This happens in August every year. Want to read more shit verifying how hot it is? check out this article: July 2012 was hottest US month since records began
Previous update from Friday March 23, 2012
For this weekend: Looks like we're going to have some showers and rain coming our way for SUNDAY into SUNDAY NIGHT. The coastline and valley areas are expected to receive 0.5-1.0″ which is quite a bit of rain for a one-day-event.
Since this is a southerly flowing system (meaning, the system is going to spiral around and come from the south), the mountains… well, specifically the southern facing slopes may get substantially more rain (2-4″!) due to orographic lift (read below for understanding!).  Places like big bear will most likely get at least a foot of snow.
Long term: More low pressure systems are expected to move through for the next few weeks.  The next weather "disturbance" may be as early as next Thursday but it's too early to tell.
WHAT IS OROGRAPHIC LIFT YOU ASK?
When clouds encounter a mountain, they cannot go through them so they are forced to ascend due to the topography of the Earth.  As they ascend, they cool adiabatically.
What does adiabatically mean?  Air pressure decreases as you go up in altitude.   The cloud is losing energy not because of heat transfer, but because it needs to expand in volume to make up for the decrease in the surrounding air pressure, causing it to cool dramatically.
Okay, back to orographic lift:  The colder air gets, the less water vapor it can hold.  So as the cloud goes up the mountain and (adiabatically) cools down, the air will reach its saturation point.  In other words, the air will be completely saturated with water and no more water can be suspended in the air.  At this point, the condensed water vapor has no choice but to fall down from the cloud and precipitation occurs.
The direction of the wind determines which side of the mountain will experience this orographic lifting.  In the case for Sunday, it will be the south-facing slopes because the system is going to come from the south.  What are some south facing slopes?  Well there are several east-west transverse ranges in SoCal such as the Santa Monica mountain range and the San Gabriel mountain range that runs parallel to the 210 freeway.  That's one of the reasons why it's a desert on the other side of that mountain range.
Previous discussion from Friday March 16, 2012
Video taken from Runyon Canyon showing Saturday's impulse of rain just after sunset coming from the ocean
Forecast from Friday March 16, 2012: A very powerful and cold storm is here mainly just for Saturday.
Totals? The foothills and mountains will get 1-2 inches of rain and the high elevation mountains will receive at least half a foot of snow.
Okay here's the deal!  Most of the rain will be falling on Saturday.  The heaviest precipitation will occur around the late morning today and again around sunset time.  A few hours after it's been dark already, the precipitation will taper off dramatically into just intermittent showers.
It may be drizzling, just barely, around 2am and 3am on Sunday morning but by 4-430am, the showers will be inconsequential and the storm may be completely over with.
If you like riding bikes, try a new experience on Sunday morning at 4AM, join the the Wolfpack Hustle: Marathon Crash Race that happens before the LA marathon to take advantage of the 26 miles of road that's closed to cars early in the morning with all that FRESH AIR.  Note: Last year, 500+ cyclists showed up and it had a very similar weather pattern!  This time we expect 1,000+ to show!
If you like running, go run/jog/walk/jog/run/walk in the LA marathon on Sunday.
If you're looking forward to snowboard or ski, Sunday and onward will be amazing at the local ski resorts.
END TRANSMISSION
Wanna go in the ocean? I recommend you check the water quality report before you go in the water because most beaches are super clean while others are consistently questionable.
Are you interested in meteorology or weather? Want to delve a little deeper and find out what's really going on? Check these tips out: Weather Lovers: Get Deeper Forecast Info
To see the last weather video I had taken, click here.
There could be lingering moisture/instability in the mountains and antelope valley on saturday, but Dry wetaher can be expected EVERYWHERE by Saturday night.
http://www.youtube.com/watch?v=ktAKHww9wPo