Your diet is 80% responsible for the way you look. Exercise accounts for the other 20%.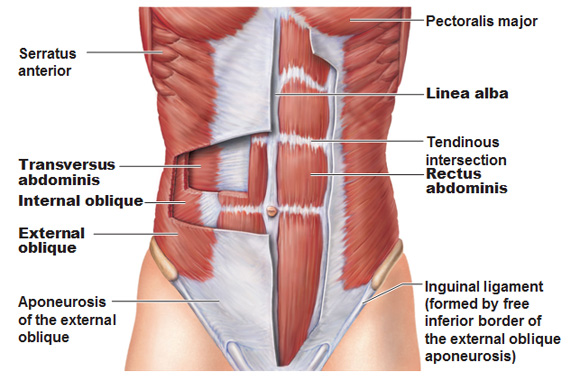 There seems to be a lot of misconception about looking cut, ripped, shredded, or whatever you wanna call it.  Listen, if you have a thick layer of fat surrounding your abdomen, you're not going to see the tendinous intersections that create the 6 (or 8) pack.  It doesn't matter if you have the ability to literally do 100 sit ups in a row or if you could deadlift 400 pounds.  Your abs may be massive (which I assure you, they probably aren't) but if there's a layer of fat over them, you're never going to ever see them!
Spot reduction is a myth no matter how many infomercials tell you otherwise.
Your body decides where the fat comes off and in what order. You can't change that. Muscle growth of the abs (or any other muscle) doesn't reduce fat there.  (Fat doesn't transform into muscle.  It only seems that way because as one loses fat the definition of the muscles show more.)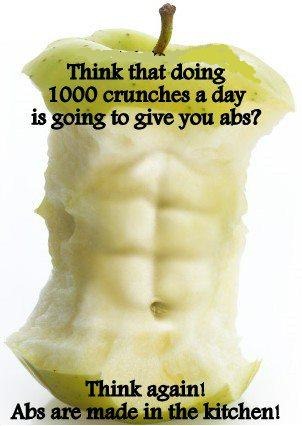 Please do not kill yourself with strenuous exercise.
If your goal is to lose fat and have more definition, then you're going to have to eat at a caloric deficit.  That means you have to go hungry once in a while.  Think of hunger as fat leaving the body. I know a lot of people that bust their ass off every day sweating buckets for an hour straight, trying to do the latest workout regimen that makes them feel like their abs are on fire or they are about to die.  If you do extremely demanding exercise, like say swimming vigorously for an hour straight, you're going to probably burn something like 500 calories if you're a 200 pound man.  If you're a 140lb woman, it's closer to 350 calories.  So if you swim for just half an hour, the figures are half that.  All that effort for what?  For burning a single candy-bar!
Then what do people do?  They say, well, I busted my ass off, so I could have a little sumtin-sumtin extra on the side, like that candy bar as a reward.  Or the protein bar immediately afterwards which is just a glorified candy-bar.  Well good job, you just brought yourself back to square one and wasted an hour of your life by eating back the calories you just tried to lose!  Sure, your cardiovascular system benefits from the exercise, there's no doubt about that, but you really need to get your diet under control if your goal is fat loss.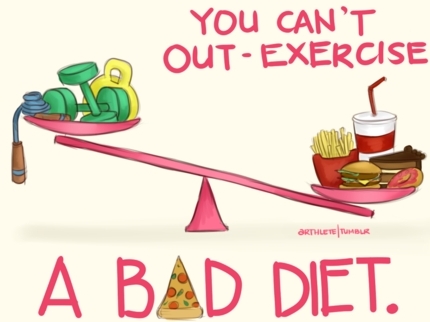 It is much easier to reduce your caloric intake by 500 calories a day and get the same fat loss as swimming for an hour straight.
Know that I'm not against swimming or any other exercise. In fact, I am an extremely active person.  On any random day you'll find me cycling, doing yoga, swimming in the ocean or whatever!  But I don't do it because it's going to give me a 6-pack.  It's not.  I do it because it's fun.  Do you do 'Insanity' and 'P90x' and killer-HIIT routines because they are soooooo fun?  Probably not!  You do it because you want to lose weight, right? Right.
Burnout is real.
How many times a week can you exercise like a madman?  You can't just keep exercising strenuously every single day.  You eventually need some rest to recover otherwise you risk injuring yourself.  Then if you injure yourself, your body forces you to be sedentary for a couple weeks (or worse) and that may drive you nuts.  Let's say you are that 200 pound man, and you exercise vigorously for an hour straight everyday, 7 days a week, and you burn 500 calories each time.  That comes out to 3,500 calories a week which is often said to be about a pound of fat.  So you exercised your butt off, with no rest days, for 7 days straight to get rid of a pound of fat.  How long can you keep that up?  You could do literally nothing, eat 500 less calories a day, and lose the same amount of fat as spending 7 hours a week doing intense cardio.
Strike a balance by finding exercises you ENJOY!
I'm not saying don't do any exercise at all.  Find an activity you enjoy doing and incorporate that into your life a few times a week.  If you're unsure what activity you enjoy, here's a comprehensive list of activities I put together to help you find your freedom!
Couple this with eating at a deficit and the fat will slowly but surely just start disappearing.  And it doesn't have to be some crazy exercise!  It could be as simple as going for a brisk walk!  Low-impact-steady-state (LISS) exercise is extremely effective at increasing the overall amount of calories you burn in a day, without stressing the crap out of your nervous system.  Besides, if you are overweight, you don't want to just simply start trying to run 3 miles.  That'll wreak havoc on your joints.  Reserve the high impact stuff for when you are a little lighter.
Be patient and smart!
You didn't gain all this weight in a week.  It took months or years of eating slightly-too-much for that fat to get packed on.  If you simply eat slightly less and workout a little more than usual, the fat will come off slowly but surely over the months.  Just don't get into a cycle of feeling guilt if you allow yourself to indulge once in a while.  You are not a robot and sometimes we overeat and that's fine!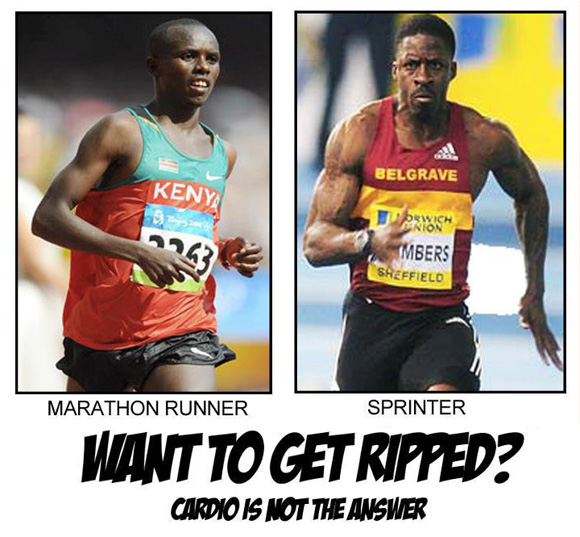 For a beautiful body, incorporate 'heavy' lifting.  This includes you, ladies!
Even though the diet is integral to losing fat, you must work on resistance/weight-training to get your muscles larger.  This is what is meant by the saying that abs are made in the gym.  That's right girls/women/females, you too must also incorporate heavy-lifting!  The term heavy is relative.  Whatever is heavy for you is what I mean.  If you simply keep dieting and losing fat, you're not going to look sculpted or toned or shredded or ripped.  You're just gonna look super skinny and lanky like your typical marathon runner.  You need to make your muscles (like your abs!) bigger through weight-training to get your body looking gooood.
If you have access to a gym, give Rippetoe's Starting Strength routine a try.  It basically uses simple compound exercises that works out many muscles at once, saving you time and making your workout super efficient.  If you don't have access to a gym, you could give my bodyweight routine a try, but it's not for beginners.
"But I don't wanna get big."
This statement is god-damned asinine and said by SO many women I had to include it here.  People don't just wake up one day and look in the mirror and look like The Hulk.  It takes YEARS to sculpt one's body.  YEARS. And even then, they probably won't be giant unless you're literally trying to be a bodybuilder. In fact, to say you don't want to lift heavy because you don't want to get big is almost an insult to everyone that is trying their damned hardest. I highly doubt you're even going to lift heavy enough to get larger in the first place.  Women are physiologically at a disadvantage to getting larger and it simply doesn't just happen unless you lift an appreciable amount of weight.  This isn't the Men's Health magazine of the 90's where people recommend high-reps for 'getting cut' and low reps for 'getting big'.  Those descriptions don't even make any sense and the advice was terrible anyway.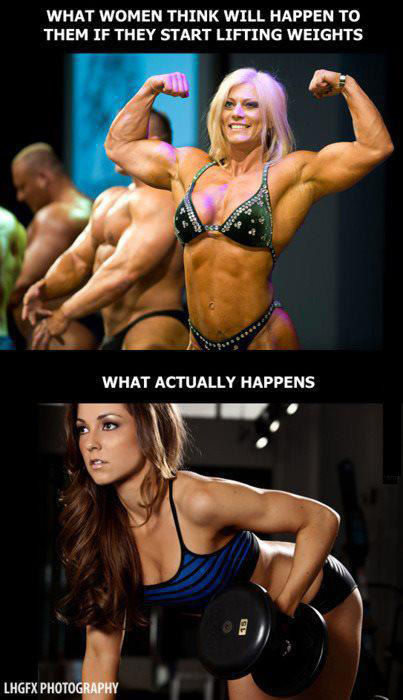 Anyway, back to my point.  If you want abs, you're going to have a very low body fat percentage.  To decrease body fat, you're going to have to curtail how much you eat.  It will help to incorporate a proper weight-training routine and some cardio but don't kill yourself trying to do it without adjusting your diet.
Update: Answering

redditors

questions

Question: Wouldn't the caloric deficit make me lose muscle as well?
Answer: Yes, but it would be mostly fat loss, especially when combined with exercise.   When one combines calorie-restriction with exercise, 93-97% of the weight lost is fat.  When one eats at a deficit but doesn't exercise, 70-75% of the weight loss is fat (and the rest muscle).  Making protein a priority and continuing (or starting) weight training will significantly minimize muscle loss. Some people can still grow (albeit slowly) on a cut.
Question: Is the calorie math [in regards to a 500 calorie deficit] really that simple?  I've been doing weightlifting for a month or so and I've had to up my calorie input by 1000 calories just to keep from falling asleep at work. Despite this, I'm still losing weight. Do I have some miraculous metabolism or what? My theory is that rebuilding muscle tissue requires a lot of calories.
Answer: Everybody is different. The 500-calorie deficit coupled with weight-training is mentioned in the post just to help beginners get an idea of one of the ways they can go about losing weight and building muscle.  The best way to know if this would be the right thing for you would be to input your stats into a calculator. This will tell you your basal metabolic rate, which are the amount of calories you burn in a day if you were in a coma (basically sleeping in bed all day).  It will also spit out your TDEE (total daily energy expenditure) which is the actual amount of calories you burn given your activity level (because nobody is in a coma all day). I would choose Sedentary activity level, btw. Read this if you don't think you're sedentary.
If you put in your estimated bf% or waist in inches, it will also tell you the Minimum Recommended Daily Calories. You shouldn't eat less than that amount.
So if your TDEE is something like 2,000 and the minimum recommended daily calories are just 1,000, you could probably eat at up to a 1,000 calorie deficit without losing muscle mass. If you are extremely fit/lean already with a good amount of muscle, you might have a very narrow difference between the two numbers and be able to safely reduce your caloric intake by only a few hundred calories. Eating less than the recommended amount increases the chance of your body catabolizing (breaking down; catabolism is the opposite of anabolism) its own muscle mass for fuel.
So some people can eat at a 500 caloric deficit and some can eat more than a 1,000cal deficit allowing them to (theoretically) lose 2lbsof fat a week (1000x7days=7000=2lbs of fat).
Verify your numbers and how much you think you're eating. I recommend logging your calorie intake for a few days using MyFitnessPal on your smartphone (if you have one) to get an idea of how many calories you're actually eating. You may be eating less than you think or the opposite. Anyway, great to hear on your progress!  You are experiencing what is known as "noob gains" which is a miraculous time.  You will rapidly build muscle mass and lose fat during this time.  Months later your results may not continue at quite the same rate because we often have to refine something (either diet or training) and push ourselves even harder.