I recently realized that when it comes time to reflect on the year, I find it very enjoyable and the more I think about what to write, the more the ideas keep flowing. That opportunity gets me into a very healthy creative flow which is rare because the perfectionist in me usually overthinks about what to write about. Henceforth, I'm going to transmute the concept of reflecting on the year, and apply it on a monthly scale and see what I could come up with and try to make this a monthly must-do because whatever you focus on, expands. And expand I will!
One of my ambitious goals for 2020 is the Swing to Handstands on Parallel Bars.
This exercise is frightening and challenging. Practicing it makes me feel a bit of anxiety. And that's a good thing. I remember I used to get this anxious feeling a lot more often before when many gymnastics-related exercises were new to me and I had to overcome them psychologically. It feels good to experience this emotion again. It makes me feel alive to do things at the edge of my comfort zone.
My coach that's helping me to perform the swing to handstand says I don't even need to have a long enduring freestanding handstand to perform this as you're only in the position momentarily.
However, since I want to gain confidence, I do want to hold a freestanding handstand again too. I used to practice it a ton in the past but I haven't for a long time. I realized a couple years into handstand training, that the reason the freestanding handstand was so difficult for me, despite having a very good bodyline with open shoulders and a strong core, was because my right elbow does not straighten like a normal elbow. I had a bicycle accident 12 years ago where I messed up my wrist and elbow and it never healed back to normal. So basically when I'm holding a handstand, the right elbow is slightly bent during lock-out, which tips my entire body to the right and breaks my bodyline in a deceiving enough way that I can't correct it.
The story you just read above is the story I've been regurgitating for several years already. While it's true in factual history, I'm quite bored of it. The stories that we tell ourselves and to others define us and frankly, this story creates a very limiting mindset. It is literally just an excuse for why I can't do something. These narratives have the power to shape our future and we need to be mindful of it.
The reality is, it's not that I can't hold a handstand ever because of my asymmetry. I just need to work a little bit harder to compensate for my unique anatomical circumstance.  So I'm going to work on it. I'm going to figure out what I need to do to stay in a handstand indefinitely. (I already know I need to master the scissoring drill from my handstand tutorial among other things.) The puzzle may be more difficult for me to figure out but I'm just about done saying this story. I want to prove that I can overcome this.
Besides, I used to have wrist issues and tennis elbow and I overcame all of them. Why should this stop me?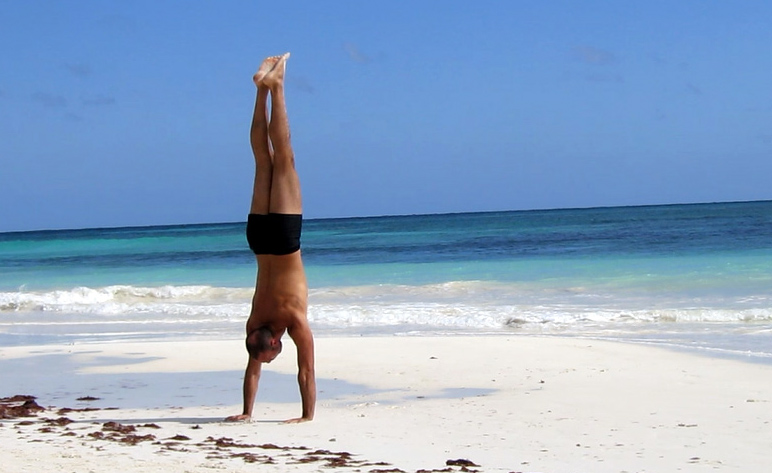 So for 2020, I want to tackle mastering the handstand head on and this desire got sparked-up because I want to perform the Swing-to-Handstand on the parallel bars. I am also well on my way to having a full front lever and mastering dislocates on the flying rings. But I'll leave those for another time.
So now you need to ask yourself… What is the story you keep telling about yourself? Is it maybe time to change the story?