Our definition of a nucleic acid is very similar to the definition we gave for proteins.  While proteins are coiled up chains of amino acids, nucleic acids are coiled up chains of nucleotides.  The sequence of nucleotides determines the RNA which determines DNA which determines protein structure.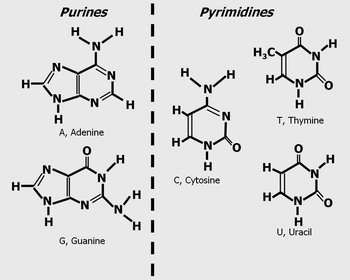 What is a nucleotide?
A nucleotide consists of a base, sugar and phosphate group.
The nitrogenous base is attached to a 5-carbon-sugar (ribose or deoxyribose) and attached to the sugar is a phosphate group (PO4).
The five nitrogenous bases are: Adenine, Guanine, Cytosine, Thymine and Uracil.  Notice that all of them, except uracil, sound similar because they end with "-ine."
Cytosine, thymine and uracil are pyrimidines.
Adenine and guanine are purines.
Let's talk a little bit about a special, high energy nucleotide called ATP.
In the picture below you see one Adenine is attached to Ribose. When you combine Adenine and Ribose, that's called Adenosine. Attached to the Ribose are Phosphate groups. When there is one phosphate, that's called adenosine monophosphate, or AMP. If there's two, it's called adenosine diphosphate (ADP) and if there's three that's the very well known special highly energy nucleotide: Adenosine Triphosphate (ATP!).
ATP is essentially the gasoline that powers all living things; A special, high energy nucleotide that provides the energy for all biological processes.  It's not in our food; The cells of our body have to make it.  The way they do that is they take adenosine diphosphate (ADP) and attach a third phosphate onto it.  In order to do that to make this high energy gasoline, it requires energy to attach that third phosphate.
Where does that energy come from to make ATP from ADP?
That energy comes from cellular respiration, which is the process by which foods are broken apart to release energy.  The favorite foods that are broken apart are sugars.  The process of attaching a phosphate onto another molecule is known as phosphorylation.
Once we have ATP, how does it release energy?
When the third phosphate is split off the ATP molecule, energy is released because energy is stored in all chemical bonds.  In order to split that phosphate, you need an enzyme called ATPase and calcium as the coenzyme.
How much energy is released when a Phosphate breaks off of ATP?
If you must know: 7,000 calories / mole of ATP.  About the same as the energy in a single peanut.
RNA
Now that we've reviewed nucleotides and spoken about this high energy nucleotide ATP, let's compare RNA and DNA.
RNA is involved in protein synthesis and is made up of a single chain of several hundred nucleotides linked together.  RNA nucleotides always use the sugar Ribose and the bases AUCG (Never Thymine).  The picture on the right shows us a portion of RNA. The actual molecule of RNA would be several hundred nucleotides long.
DNA
DNA forms the gene in a chromosome.  DNA is our hereditary molecule that determines what we will look like.  DNA consists of two complementary chains, hundreds of millions of nucleotides long.  These two chains are twisted together into a double helix (a twisted ladder shape).  When we say they are complementary joined together, we mean:
Adenine attaches to Thymine
(Purine to a Pyrimidine)
Guanine attaches to a Cytosine
(Purine to a Pyrimidine)
A purine will always attach to a pyrimidine but never a Uracil.  Remember that adenine and guanine are purine bases and the rest are pyrimidines.
DNA is the largest molecule we know of.  You can't see most molecules with an electron microscope.  You can't see water or salt under an electron microscope.  You can see proteins with an electron microscope.  There's only one molecule you could see with a light microscope and that's known as DNA.
Chromatid versus Chromatin versus Chromosome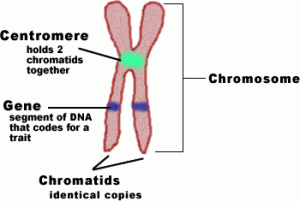 We need to clarify something because most biology students are confused about this.
Chromatin is the combination of all the DNA and its associated proteins in the nucleus.  Each chromatid is a single molecule of DNA.  A chromatid has a ladder shape but it is NOT wound tightly and twisted like a double helix.
Two identical chromatids held together with a centromere in the center to create the distinct X shape is called a chromosome.
Sloppy biology teachers call all these things chromosomes when in fact they should be calling them chromatids.  Why?  Because we are taught that DNA is always in a double helix form but it's ONLY that way during cell division.  The chromatid coils into a double helix twisted shape during prophase, the first stage of mitosis.  When the cell is not dividing (interphase), the DNA is uncoiled and is said to have a "chromatin shape."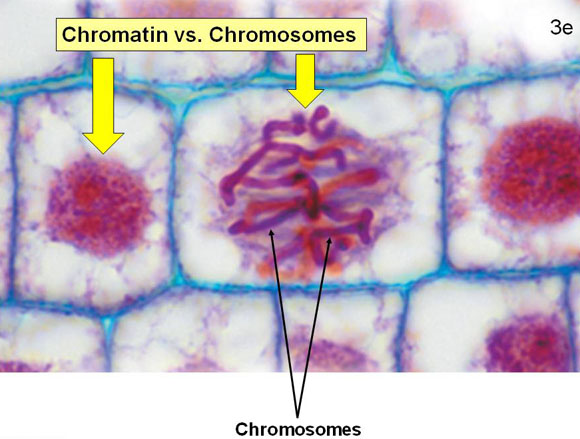 Now let's learn about the next organic compound.. Vitamins!