Carbohydrates are sugars.  Sugars are carbohydrates.  Saccharide means sugar. We commonly divide carbs into three classes:
1. Monosaccharides (means one sugar)
2. Disaccharides (made of two single sugars, snapped together)
3. Polysaccharides (many sugars snapped together)
There's hundreds of types of these but we're going to go over just a few examples of each.
Five examples of Monosaccharides
The first two examples are 5-carbon atoms long:  Ribose and Deoxyribose.  Ribose is found in RNA.  Deoxyribose is found in DNA.  A deoxyribose is missing one oxygen, which is why it's called "de-oxy."
The next three examples are 6-carbon atoms long: Glucose, Fructose and Galactose.  What's interesting about these are that all three of them are 6 carbon atoms, 12 hydrogen atoms and 6 oxygen atoms.  The molecular formula for all three of them is C6H12O6
So wait a second…  If all three of them are C6H12O6, why are they different?  They are isomers.  The term we use when the atoms are the same molecular formula but arranged differently are chemical isomers.  Isomer literally means "same type" but they are not identical.
These three monosaccharides are mostly used as sources of energy by living cells, including ours.  What's also shown above is that these sugars are not a straight chain of carbon atoms.  They are actually looped together as a ring-shape.  This is known as a cyclic shape which refers to the ring shape.  When you see pictures that look like this, recognize them as sugars.
Three examples of Disaccharides ("double" sugars)

1. Sucrose aka cane sugar is made of glucose + fructose snapping together to form a disaccharide.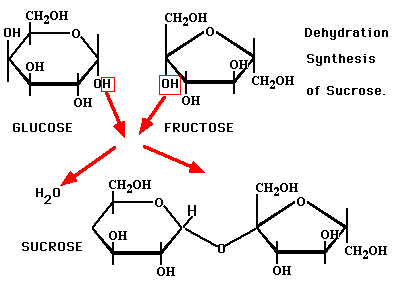 The name for this type of reaction is a dehydration synthesis reaction.  This is how most organic molecules are snapped together.  Synthesis means to join together.  Note also that "syn-" and "sym-" both mean together.  For example, in anatomy, you learned that the part where the two pubic bones join is called the pubic symphysis.
This reaction is reversible.  When water is added to break them apart, it's called hydrolysis. "Hydro-" means water and "-lysis" means to break apart.    We're going to see these two reactions all over the place.
2. Lactose.  "Lacto-" means milk and it's found in all milk.  Milk doesn't taste sweet but that's because not all sugars taste sweet.  Lactose is actually made of glucose + galactose.  People who are said to be lactose-intolerant means they can't digest lactose apart into glucose and galactose and if they drink it, they get diarrhea and cramps.  Lactaid milk has the lactase-enzyme added to it has already broken down the lactose for you, which is why it tastes slightly sweeter.
3. Maltose is found in all grains and commonly called grain sugar.  It's made up of two glucose's joined together.  One way to remember that is to remember the food, Malt-O-Meal, which has maltose in it.
Three examples of Polysaccharides ("complex carbohydrates")

Most polysaccharides are really made up of a lot of glucose's joined together.  They are known as polymers of glucose that form long chains or coils.  There are many polysaccharides but we're going to go over just three of them.
1. Amylose, commonly known as "starch" is the way many plants store sugars.  Plants and other photosynthetic organisms join glucose sugars made from photosynthesis into a big chain called amylose.  They could be hundreds of glucose sugars joined together.  This is found in rice, potatoes, corn, bread & pasta (from wheat), beans and so forth.  Notice these are foods that are plants or come from them.  There are no starches in meat, fish, eggs and none in your own body.  So what happens if you eat starch?   Starch gets digested and broken down into their individual glucose molecules and that's what you absorb.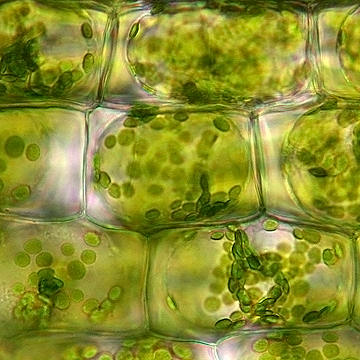 2. Cellulose. Cellulose is made up of a bunch of glucoses, just like starch, however the way they are joined together forms a branching pattern, unlike starch.  We as humans cannot digest or break apart these sugar molecules. which is why it is also known as "indigestible fiber," "roughage," or "insoluble fiber."  Whether you're eating grains, celery, carrots, or anything made of plants, the outer plant cell walls are crushed by our teeth and the contents of the cells are digested.  The cellulose though, will remain unchanged and exit out of our stool.  This is especially noticeable in kids.  When kids eat corn or raisins, you'll see the outer skin of a corn kernel or raisin in the stool.
It seems that our digestive tract needs a certain amount of this indigestible fiber to keep it healthy.  When we don't have enough of this, it makes our digestive tract thin and weak.  Remember that cellulose (just like starch) exists only in plants.
3. Glycogen is sometimes called "animal starch" because what starch is to plants, glycogen is to animals.  In other words, the same way plants store sugar by creating starch, animals store sugar by creating glycogen.  This is primarily stored in our liver and muscles.  Any athlete that does something that requires endurance, such as long distance runners or cyclists, will do something called carb-loading.  Before they are going to run a marathon race, they eat lots and lots of carbs.  They absorb these simple sugars and store it as glycogen in our liver and muscles.  These are just a long chain of glucose's.  These stored sugars can then be broken down easily during the race.  If you keep carb-loading, however, and don't expend the energy within the next couple days, it will be turned into fat.
So to recap, we have:
Monosaccharides

Ribose, Deoxyribose, Fructose, Glucose, Galactose

Disaccharides

Sucrose (glucose+fructose), Lactose (glucose+galactose), Maltose (glucose+glucose)

Polysaccharide

Amylose (starch), Cellulose (indigestible fiber), Glycogen (animal starch)
Hopefully by now you have noticed that naming pattern: Most sugars end with "-ose."
We have reviewed our first of the four organic compounds.  Let's move onto lipids!