Food is mostly made up of the four major types of organic mol­e­cules (carbs, pro­teins, lipids and nucleic acids).  Some foods tend to be higher in var­i­ous organic mol­e­cules than oth­ers.  The entire process of diges­tion is to break down these mol­e­cules into their sim­pler forms because that's how we would absorb them.
Sug­ars are bro­ken down into mono­sac­cha­rides.
Lipids are bro­ken down into fatty acids.
Pro­teins are bro­ken down into amino acids.
Nucleic acids are bro­ken down into nucleotides.
With the excep­tion of water and salt, every­thing we eat comes from a liv­ing thing.  The bur­rito you are eat­ing con­sists of all things that were alive.  The let­tuce is made up of plant cells.  The steak is made of mus­cle cells.  The tor­tilla is made of plant cells from corn.  We often men­tion the carb, pro­tein and fat con­tent of a food but don't talk about the nucleic acid con­tent.   Remem­ber the nucleic acids are what make up the DNA/RNA that's found in all cells.  So now, just like how we dis­cussed the catab­o­lism (break up) of pro­teins and fats for energy, we could also men­tion what hap­pens to old nucleic acids.
Nucleic Acids -> Nucleotides -> Uric acid (Excreted in the urine)
The nucleotides are bro­ken down into uric acid and this is the sec­ond major organic waste prod­uct that we excrete in our urine.  Remem­ber the first major waste prod­uct is urea because the amino acids (from pro­tein) get deam­i­nated (the amine-group breaks off) to become ammo­nia and ketoacids and the ammo­nia is bro­ken down into urea and excreted in the urine.
A clin­i­cal exam­ple of why any­body (a poten­tial future health care pro­fes­sional such as your­self) should care about this…
What is gout and how does that tie into this topic?
Gout is a type of arthri­tis.  Arthro– means joint and –itis means inflam­ma­tion.  So arthri­tis is the inflam­ma­tion of the joints.  There's plenty of types of arthri­tis just like how there's many types of dia­betes because noth­ing is sim­ple about the body.  Let's review a couple…
1. The first type of arthri­tis we'll quickly go over is called osteoarthri­tis.  This is asso­ci­ated with the inflam­ma­tion of the joints because of repeated trauma/injury.  This is the type of arthri­tis you see in ath­letes who have repeat­edly injured their shoul­der, knee, etc.  When you see a doc­tor for this issue, they would tell you to take it easy.  But if a pro­fes­sional ath­lete is get­ting paid ungodly sums of money and injures their knee, they can­not take it easy.  So they take pain med­ica­tion and con­tinue using it.  When they con­tinue using it, it will get dam­aged again and if they keep doing this, it even­tu­ally leads to osteoarthri­tis.  This is com­monly treated with NSAIDs.
2. Rheuma­toid arthri­tis is an autoim­mune dis­ease which is prob­a­bly genetic.  We don't know why it's more com­mon in women than in men, but it is.  In this case the immune sys­tem is attack­ing the joints of the body.  This is com­monly treated using prog­es­terone.  This occurs because the recog­ni­tion sites are miss­ing which we will dis­cuss a bit later.
3. Gout is asso­ci­ated with hype­r­uricemia.  Hyper– means "high" and  –emia means "in the blood."  So hype­r­uricemia means there's a lot of uric acid in the blood.  This is a meta­bolic dis­or­der (a bio­chem­i­cal dis­or­der) where the body forms very high lev­els of uric acid and it is prob­a­bly genetic.  Uric acid, a waste prod­uct of nucleic acids,  accu­mu­lates in the sinovial joints of the body and irri­tates them caus­ing inflam­ma­tion.  For some rea­son it often builds up in the big toe.  The treat­ment for this is com­pletely dif­fer­ent from osteoarthri­tis or rheumath­oid arthri­tis and the drug often pre­scribed for this is allopurinol.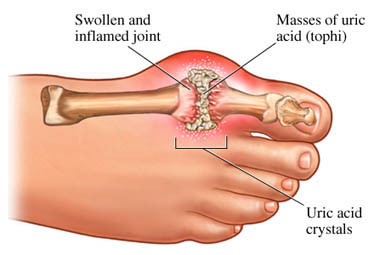 Peo­ple with gout are not sup­posed to eat a lot of red meat.  Why?  When you eat red meat, you are eat­ing skele­tal mus­cle tis­sue.  Skele­tal mus­cle cells are very dif­fer­ent from other cells because they are mult­i­n­u­cle­ated.  And what kind of chem­i­cals are in the nucleus?  DNA and RNA.  So if you're eat­ing meat, which are mus­cles, you're eat­ing some­thing that's very high in nucleic acids.  And what did we say that nucleic acids are even­tu­ally bro­ken into?  Uric acid!  So if you eat a lot of meat, you're just increas­ing the amount of uric acid in your body.  If some­one with gout is going to eat red meat, it's going to exac­er­bate the prob­lem.  Alco­hol also exac­er­bates the prob­lem, but alco­hol exac­er­bates many problems.
Hope that helps give you some ideas of why any of this is even the slight­est bit relevant!
Cel­lu­lar respiration