Tran­si­tion reac­tion (Oxida­tive Decarboxylation)
So from Part 1 (Anaer­o­bic Res­pi­ra­tion) we left off with these two pyru­vate sug­ars that were formed in the cyto­plasm due to gly­col­y­sis. If there's oxy­gen, the pyruvate's go into the mito­chon­dria because aer­o­bic res­pi­ra­tion occurs only there.  One ATP is required to move these mol­e­cules into the mito­chon­dria and this is called the tran­si­tion reac­tion because the mol­e­cules are tran­si­tion­ing into the mito­chon­dria.  We're basi­cally going to con­tinue break­ing the sugar apart into smaller and smaller pieces.
2 Pyru­vate sug­ars + 2 NAD+ —–> 2 Acetyl sugar-CoA + 2CO2 + 2NAD-H2
One car­bon is bro­ken off of each 3-carbon pyru­vate sugar to form one car­bon diox­ide.  There is a tech­ni­cal name for split­ting car­bon mol­e­cules off the pyru­vate to cre­ate car­bon diox­ide and that's known as a decar­boxy­la­tion.
The remain­ing 2-carbon-molecule is now an acetyl group.  This acetyl group attaches to Coen­zyme A (CoA) to form acetyl-CoA and two mol­e­cules of NAD+ are reduced to two NAD-H2.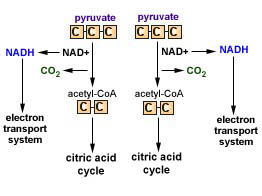 The two mol­e­cules of acetyl-CoA then enter the Krebs cit­ric acid cycle while the 2 NAD-H2 mol­e­cules carry elec­trons to the elec­tron trans­port sys­tem for fur­ther pro­duc­tion of ATPs by oxida­tive phosphorylation.
Krebs Cit­ric Acid Cycle
The 2 Acetyl-CoA sug­ars are going to enter a series of reac­tions called the Krebs cycle, named after Dr. Krebs. It's aka the cit­ric acid cycle because it uses cit­ric acid.
Basi­cally what's going to hap­pen is that the 2 acetyl sug­ars are going to enter the cycle and they are going to be bro­ken apart to form a carbon-dioxide mol­e­cule. At the end of the Krebs cycle, there will be no sugar.  Four car­bon diox­ide mol­e­cules will form in this cycle. Dur­ing this process, energy is released to form two ATP's. This is known as phos­pho­ry­la­tion (when a phos­phate group attaches to ADP to form ATP). Not only are addi­tional ATP's formed, but lots of "hot potato" high energy hydro­gens are left off from the bro­ken acetyl sug­ars when they turned into CO2.  Six NAD's are going to pick up pairs of hydro­gens (6-H2)and 2 FAD's are going to pick up a pair of hydro­gens (1-H2).
2 Acetyl-CoA+ 6 H2O ——> 4 CO2 + 6 NAD–H2 + 2 FAD–H2 + 2 ATP
Does it seem like more hydro­gens were have been removed than orig­i­nally present from this sugar?  Yes, and that's because 6 H2O mol­e­cules come in to accom­mo­date the process.
The real­ity is that this process actu­ally involves over 10 steps but we are sim­pli­fy­ing it for our understanding.
Let's recap what's hap­pened so far. Three things:
1. C6H12O2 (glu­cose) have totally bro­ken down into six CO2 mol­e­cules. (Two from tran­si­tion reac­tion and four from the krebs cycle)
2. A total of 10 NAD's have picked up "hot potato" hydro­gens and 2 FAD's have picked up a pair. How did we get 10 NAD's? 2 NAD's picked up hydro­gen in gly­col­y­sis, 2 more in the tran­si­tion reac­tion, and 6 more in the krebs cycle.
3. We have a net gain of 4 ATP's. Two ATP's were formed in the gly­col­y­sis and two more were formed in the kreb's cycle.
What yet needs to happen?
1. The hydro­gens have to be attached to oxy­gen to form water. We haven't seen where that hap­pens yet. We've only seen coen­zymes (NAD/FAD) reduce hydro­gens. (Remem­ber, reduc­tion is a gain of hydro­gens or electrons.)
2. We need to form as many as 34 more ATP. In real­ity we might not form that many but the major­ity of ATP's have yet to be produced.
To see how this occurs… read part 3 three that involves the Elec­tron Trans­port Chain!