Before we get into anything, what does the word catabolism mean?  When we went over catabolic and anabolic reactions, we said that catabolic reactions are the ones that break apart molecules.  To remember what catabolic means, think of a CATastrophe where things are falling apart and breaking apart.  You could also remember cats that tear apart your furniture.
In order to make ATP for energy, the body breaks down mostly carbs, some fats and very small amounts of protein. Carbs are the go-to food, the favorite food that cells use to make ATP but now we're going to see how our cells use fats and proteins for energy.  What we're going to find is that they are ALL going to be turned into sugars (acetyl) as this picture below shows.

First let's do a quick review of things you already know because it is assumed you learned cell respiration already and how glucose levels are regulated in your blood!

Glucose can be stored as glycogen through a process known as glycogenesis. The hormone that promotes this process is insulin.  Then when glycogen needs to be broken down, the hormone glucagon, promotes glycogenolysis (Glycogen-o-lysis) to break apart the glycogen and increase the blood sugar level.
Glucose breaks down to form phosphoglycerate (PGAL) and then pyruvic acid.  What do we call this process of splitting glucose into two pyruvic sugars? That's glycolysis (glyco=glucose, and -lysis is to break down). When there's not enough oxygen, pyruvic acid is converted into lactic acid. When oxygen becomes available, lactic acid is converted back to pyruvic acid.  Remember that this all occurs in the cytoplasm.
The pyruvates are then, aerobically, broken apart in the mitochondria into Acetyl-CoA. The acetyl sugars are put into the Krebs citric acid cycle and they are totally broken apart into carbon dioxide and a bunch of hydrogens are removed. The hydrogens are picked up by FAD and NAD which then whisk them through a row of coenzymes.  As these hydrogens are transferred, phosphorylation occurs to attach a phosphate group to ADP to create ATP.  At the end, when hydrogens attach to oxygen, that's oxidative phosphorylation.
Now let's focus on the metabolism of fats and proteins.
The Catabolism of Fats
The next favorite foods to make energy after sugars, are fats. Fats are stored in our fat cells as triglycerides, just like how glucose is stored as glycogen in our liver and muscles.  Triglycerides are made of three saturated fatty acids.  Remember a fatty acid is just a long chain of carbons with hydrogens attached. Fatty acids are always an even number of carbon atoms long. They can be 12, 14, 16, 18, 20, 24 carbons and so on. You'll never find a FA that's an odd number of carbons. What happens is that this fatty acid is broken up two carbons at a time which turns it into the two-carbon acetyl sugar. This is called a beta oxidation reaction. Then they are broken down in the krebs cycle as if they were sugars.
We know a fatty acid is not a small molecule such as glucose which is 6 carbon atoms long.  It's more like, say, 24 carbons long so that would form a whopping 12 acetyl sugars and since it was a triglyceride to begin with, there would be three fatty acids.  Imagine that! The catabolism of a triglyceride will create 36 acetyl sugars at once and it will flood the system and they can't go through the krebs cycle fast enough so some of these acetyl sugars become keto acids. These tend to be formed when the body is breaking down fats faster than normal. Each gram of fat provides twice as much energy as carbs or protein. Anytime there's an increased rate of fat break down, there's more keto acids (aka ketone bodies).  Note that since the fats are turned into acetyl sugars that enter the krebs cycle, that means they HAVE to have oxygen.  Sugars are the only foods that can be broken apart without the need for oxygen.
Catabolism of fat –> Formation of ketoacids ("ketone bodies")
Marathon runners say running the last 6 miles is harder than the first 20. The expression commonly used is said to hit "the wall." It feels like you can't move. There's a number of theories but one of them is that you've used up all your sugars and now you've switched to fats because you HAVE to use oxygen to generate ATP. At least before with sugars you were at least making some energy.
The Catabolism of Proteins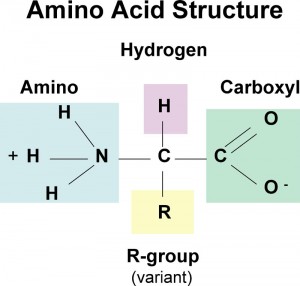 Proteins are the least favorite food to use as energy but if the body needs to, it will.  Proteins are made up of amino acids so when they are digested, we are left with hundreds or thousands of amino acids.
The picture to your right reminds you of what an amino acid looks like.  It begins with a carbon atom, attached to one side is an amino group, on the other side is an acid group (COOH), third a hydrogen. Where they differ is what's attached in place of "R."
In order to use amino acids as energy, you need to convert them to sugars. Sugars are made of carbon, hydrogen, and oxygen. Fats are mostly carbon and hydrogens. Amino acids have carbon atoms, hydrogen, oxygen and NITROGEN atoms.
If we are going to turn amino acids into sugars, we have to remove this nitrogen to turn it into sugar. The process of removing that amino group is called deamination (taking away the amino group, NH2). When you remove that NH2, you actually form NH3 (Ammonia). Then in your liver, this ammonia is turned into Urea which is basically a carbon and oxygen with two amino groups. Your liver releases this urea into the blood stream and is the major organic waste carried in our blood stream. When they clinically measure the amount of urea in your blood, that is commonly known as the BUN level. BUN stands for Blood Urea Nitrogen (Urea contains Nitrogen). This blood is then filtered by our kidneys and appears in our urine as the major organic waste of our urine.
So we've explained how amino groups are removed so it doesn't have nitrogen so chemically we are left with carbons, hydrogens and oxygens like a sugar. What is this new amino-acid-minus-the-amine-group called? Now that it doesn't have the amino group, it's still an acid and it's called a keto acid (aka "ketone bodies"). The ketoacid can be reversibly formed into acetyl sugar.
Amino Acids -> NH2 removed -> NH3  -> Urea is formed in liver and excreted in urine.
There are many types of ketoacids but we'll mention three of them.
1) Acetone is a very important ketone body.
2) Acetoacetic acid.
3) Beta-hydroxybutyric acid
Acetone has a characteristic smell and was the most common chemical used in nail polish remover. Anytime someone is forming increased amounts of ketoacids, you could smell the odor of acetone on their breathe, just like how you can smell when someone has been drinking alcohol.
When the body makes sugar that wasn't a sugar, such as ketoacids into acetyl sugars, that's known as gluconeogenesis. This name is generally reserved for proteins specifically.
Gluconeogenesis: Ketoacids -> Acetyl-CoA sugar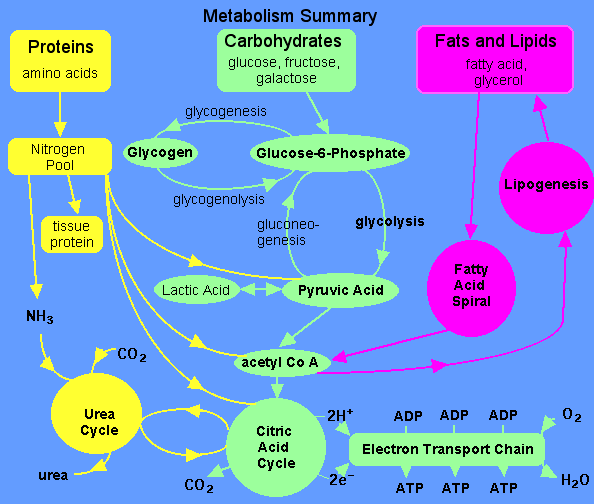 Clin­i­cal exam­ples of why any­body (a potential future health care professional such as yourself) should care about this…
Clinical Considerations behind Atkins Low Carb Diet
The main reason why diets don't work is because people don't stay on the diet. Having said that, there is some evidence a low-carb or no-carb diet can be more effective. Atkin's is the original one and it's very stringent: No carbs at all. In fact most diets are now low carb or no-carb diets where they say you could eat all the protein you want.  You could eat all the fish, tuna, chicken and vegetables you want but have to dramatically reduce your intake of carbs. You can't eat fruits, honey, or use sugar as a sweetener, but the worse part is you can't have any starch (bread, pasta, potatoes, corn, cookies, cake, etc). Reducing your carb intake is the key to getting rid of fat assuming you're going to stay on the diet.
Each of us has a 24 hour of reserve supply of sugars in the liver in the form of glycogen. If we go on the no-carb diet and cut out all carbs, 24 hours later after there are no carbs left in my body, the breakdown of fats, the second preferred form of energy, begins.  The system will have a rise in acetone and other ketone bodies, which is why it's called a keto-diet.   For the record, no one has ever died from being on a no-carb or low-carb diet.
If you are interested in this topic, I urge you check out this report: Review of Low-Carbohydrate Ketogenic Diets.  It says ketogenic because if you lower your carbs and increase proteins, it generates (-genic) ketoacids. This article comes from Current Atherosclerosis Reports because reducing your fats is important for reducing your risk of atherosclerosis.
Keto acidosis in unmanaged diabetes
First let's consider this: What happens when you fast? Whether you're fasting for religious reasons or you haven't had anything to eat for a long time, what happens? In our liver we have about a 24 hour reserve supply of carbs stored as liver glycogen. If somebody is unable to eat food, then this liver glycogen supply will be released into the blood stream because sugars are the favorite food source for the body to make ATP. Toward the end of the 24 hour period, as the sugars are becoming more depleted, the breakdown of fats and to a lesser extent, proteins are beginning to make up for the energy loss.
From the breakdown of fats and proteins, keto acids are formed, including acetone, and the acetone can be smelled because the acetone that's in your blood stream, flows through your lungs.  Just like how rubbing alcohol evaporates, acetone evaporates off your lungs and can be smelled when you exhale. Any knowledgeable clinician can smell that acetone on their patients breath.  It could be occurring because someone is fasting or it could be from diabetes too. This is what happens when you drink alcohol too. Even if you use mouthwash, the alcohol will keep volatilizing as you are exhaling. The higher the levels of alcohol in your blood is equal to the alcohol in your breath.
As a future nurse or clinical professional, before they run lab tests, you'll be taking down the case history. You're supposed to be noticing things like alcohol or acetone on your patients breath.
Diabetes is a very complicated disorder. There are different types of it. Just keeping it really simple, the fundamental problem in diabetes is a deficiency of insulin that doesn't allow the sugars to be transported into the cells to used for energy.  In the case of liver cells, most of the sugar is joined together to form glycogen for temporary storage.
If somebody doesn't have enough insulin, the sugar is going to accumulate in their blood stream because they are still eating foods/starches and that is called hyperglycemia ('glyc-' refers to glucose and '-emia' means in the blood). As the sugar level gets higher and higher, the sugar starts to spill over in the urine and that's called glycosuria ('glyco-' means glucose, '-uria' means in the urine).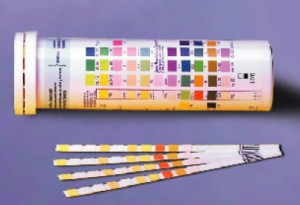 People who have diabetes can go to a drug store and take a dipstick to take a sample of their urine. There's a color chart so they could see if there is sugar in the blood. The higher it is, the worse their diabetes is. This is not the biggest problem, though. If you don't have enough insulin, your cells don't have enough carbs to make energy. The cells are starving for energy and as a result they are going to break down fats and proteins at a faster rate than normal because they can't use sugar for energy.
Anytime you break down fats and proteins, ketoacids increase which is known as ketonemia (-emia mean in the blood) or ketosis (build up of keto acids in the blood stream). The keto acid levels become so high they spill over in the urine so now they are developing ketonuria. There should never be ketoacids in the urine, just like how there shouldn't be sugars. These urine dipsticks sugar both sugar levels and ketoacid levels.
The fact that sugars and ketoacids are coming out their urine osmotically causes water to come out of their urine as well. This is why a classic symptom of diabetes is frequent urination, because the ketoacids and sugars are constantly dragging water with them. They are also usually very thirsty all the time as a result.
There's another aspect to this problem: As the ketoacids spill into the urine, remember they are in fact, acids, so this is leading to a state of ketoacidosis. The danger of diabetes is that if somebody needs to inject insulin and they don't do it, three days later they may go into a coma and die because the increase in acid (decrease in pH level) causes the proteins to be denatured.
The question comes up sometimes: If someone has diabetes and they can't break down carbs so they are breaking down fats, then why is everyone with diabetes, fat?  That's a fallacy. Not everybody with diabetes is fat.   There are skinny diabetics but there are fat ones too because even though they are breaking down fats, they could still be eating more than they need to.