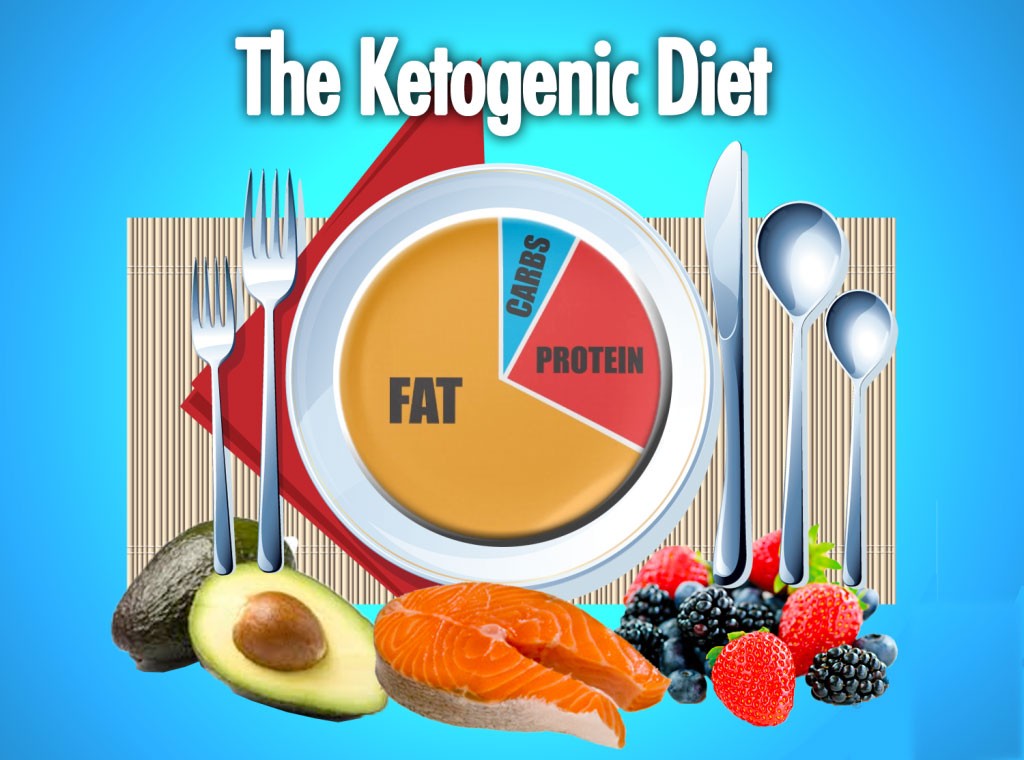 This is a follow up to my massive beginners guide to the very low carb, high fat, ketogenic diet.  The question I keep getting lately is "Can you share what a typical day of eating looks like for you?" and this post is meant to address that. So in this post i'll be sharing some of the keto-friendly foods and meals I eat on a regular basis or daily. If you're not sure what foods qualify as "keto" friendly, then have a look over at this food pyramid:
Full disclosure:
I don't have extravagant or complicated cooking sessions.
I keep things as simple as possible to help save me time.
I'm also not a picky eater at all and enjoy the taste of everything.
I don't adhere to the idea of "Breakfast / Lunch / Dinner" because on most days, I practice intermittent fasting, so "breakfast" for me is either in the late morning or early afternoon. I don't eat because it's "breakfast time" or because it's "lunch time." There's nothing important or necessary about eating breakfast in the morning. I try to eat only when I'm hungry, plain and simple.
I still use MyFitnessPal to log the foods I eat if I want to lose weight.
An apple avocado a day keeps the doctor away
Click here to expand
I used to avoid avocados because of their high fat content, but now I often eat one avocado a day, usually as the first thing to break my fast ("breakfast") and it's shockingly filling. They are quite literally, the perfect low carb, keto-friendly food. They have very few net carbs, lots of fiber, and it's mostly just fat. Not just any fat though, it has a magnificent fat profile of mostly monounsaturated fats. (This is the stuff olive oil has a lot of too.)
How to buy and rotate avocados so you always have some ripe ones:
I buy 6-8 avocados at a time because it takes several days for them to ripen and I like to have a good supply.
An easy way to check if they're ripe without having to smash the skin is to simply push down on the brown stem (if there is one). If it goes down, it's ready.
If too many avocados are ripening and you want to slow down the process, throw them in the fridge! As simple as that.

With that trick in mind, I usually have 5-10 avocados in the fridge and 5-10 over the counter so that I have a constant supply.
If you have too many avocados that have ripened, make guacamole!
Guamacole is super easy to make:

Mash up all the ripe avocados together
Add some lime
Add some minced up cilantro and you're good to go!
If you're at a Mexican restaurant in LA and they serve chips and guacamole, tell them you don't want the chips, but order some chicken or steak with it and dip it into the guac! Delicious.
Eggs
Click here to expand
Normally I eat 2-3 eggs, a few times a week. They too, like avocados, are a very keto-friendly food. They have zero carbs and are highly nutritious with an excellent amino acid (protein) profile.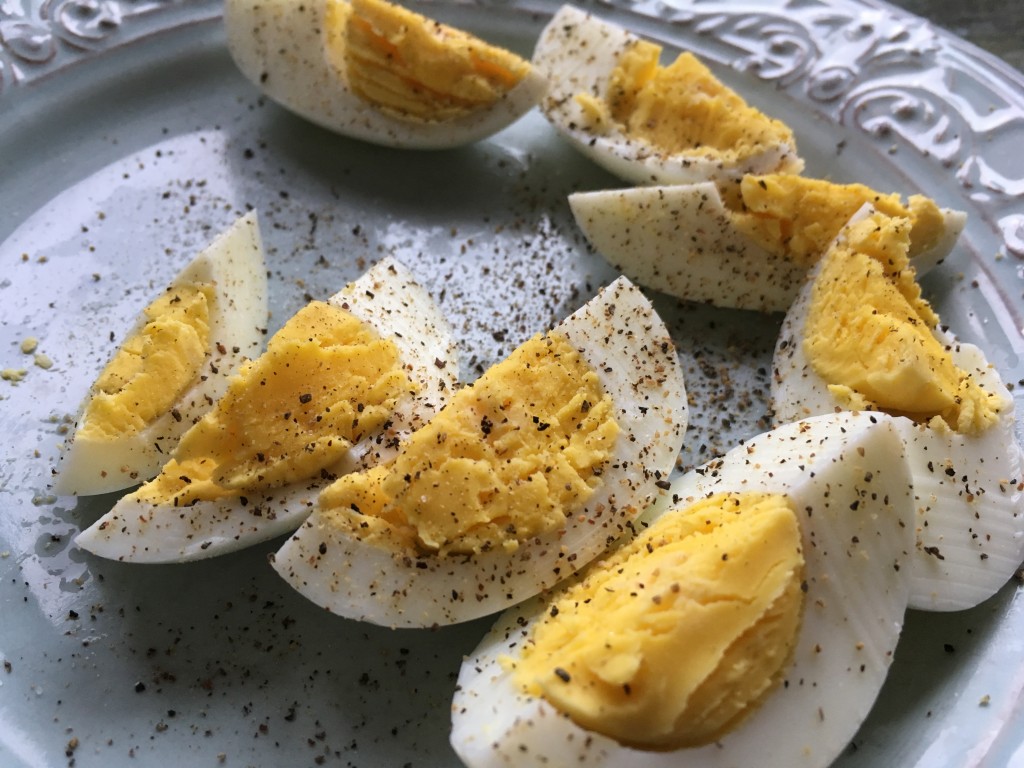 Other keto friendly ways I prepare eggs?
Scrambled or sunny side up, fried with coconut oil.
Omelette with cheese/veggies
Poached eggs (w/ Hollandaise sauce)

Basically "eggs benedict" without the English muffins.

Egg salad (below!)
What about… cholesterol!?
At this point some people will say they are afraid of eggs due to the cholesterol. Well, let me remind you that cholesterol is the backbone for many things our body needs, like our hormones! It's also found in the membrane of every cell of your body. A lot of people think saturated fats are bad, therefore all fats are bad. Well… we know that even saturated fats aren't bad for you because the amount of saturated fats you eat don't have any bearing on the saturated fats found in your blood stream, especially on a ketogenic diet. If you get some blood work done, Drs. Phinney & Volek say that if you're on the keto diet and your cholesterol goes up but all your other biomarkers have improved, then it is not something to worry about in the least bit given all the other improvements.
Egg Salad
Click here to expand
This makes for a nice lunch idea that's easy to customize and takes barely a few minutes to make because you just mash the ingredients together.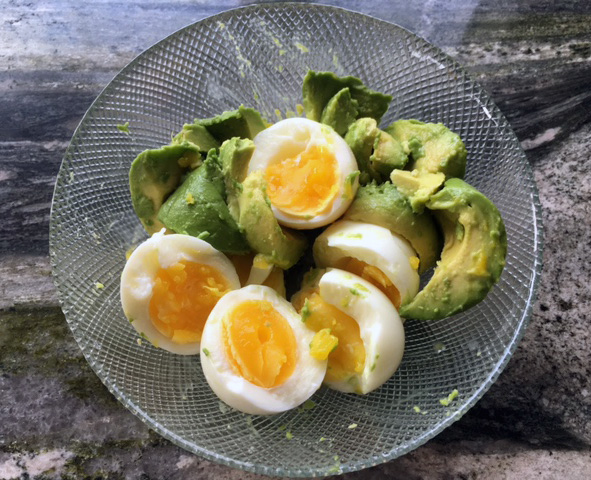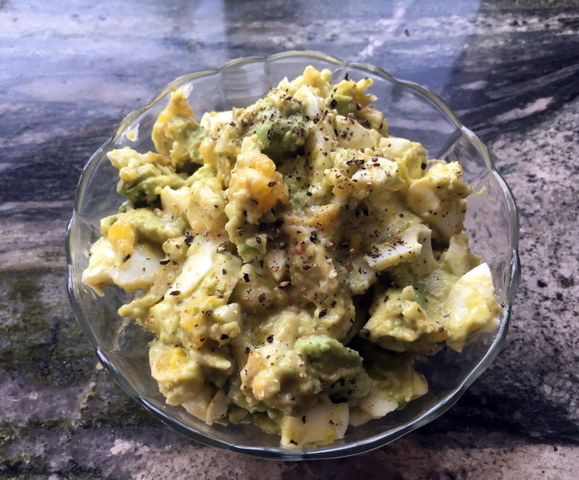 Mash up all these ingredients together:
1 Avocado
2 Soft-Boiled Eggs (hard boiled works too but soft is creamier)

There are MANY ways to soft boil eggs but this is what I do:

Put water and eggs in small pot.
Turn heat on high.
When it starts boiling vigorously (takes about 5-6 minutes), I turn off the heat and cover the pot and set a timer for 3 minutes.
When the timer is up, I pour the water out and pour in cold water to halt the cooking process. It's best to just transfer them to a bowl with cold water.

If you're on the go or don't have much time, some people use an electric egg cooker like this one which makes it a brainless activity to cook the eggs to the desired setting (soft, med, hard) without having to tend to it if you're getting ready for work.

1 tablespoon Mayonnaise

Alternative: 1 tablespoon of delicious butter!
Note: I've dedicated a whole section to mayo near the bottom of this post.

Salt and Pepper to taste (or garlic salt and pepper)
Optional: add some shredded Cheddar Cheese
Optional: add cayenne to taste for spicyness
Simply Delicious Vegetables
Click here to expand
The following are common, non-starchy vegetables that I eat regularly:
How do I prepare these guys? Easy! I bake them!
Don't be scared of ovens, people, it's stupid-easy to bake things! Just follow the simple steps below:
Preheat the oven to 400F.
In a small bowl, mix a few tablespoons of Extra Virgin Olive Oil (EVOO) and Soy Sauce together.
Optional: add some minced garlic, maybe some ginger.
Put the veggies in a big bowl and pour this small bowl of oil and soy sauce into the veggies and mix it well.
Put the veggies on a pan with Parchment Paper for 400F for 15 minutes.
And that's it! Ta-daaaa! See how easy it was?
I personally like the EVOO and Soy Sauce, but you could also just put it all with BUTTER, too. That's keto friendly, too. Oftentimes the veggies are actually there to act as a carrier for the butter.
Blueberries! The Keto-Candy.
Click here to expand
What's so special about THESE blueberries?
Frozen blueberries are my favorite little snack! I love the crunch they provide and since they're so cold, I can't eat a bunch of them because then I'll get brain freeze. This also reminds me to treat berries like candy, so I eat them sparingly and do NOT eat them daily. When they're on sale, I stock up on a bunch of them, wash them and keep them in the freezer. (I eat raspberries and strawberries sometimes too, but blueberries are my jam.)
Baked Fish
Click here to expand
Fish is something I have ~3x a week that I'm always trying to eat more of. On the days that I don't eat fish, I take a fish oil capsule to get more Omega 3's in my diet.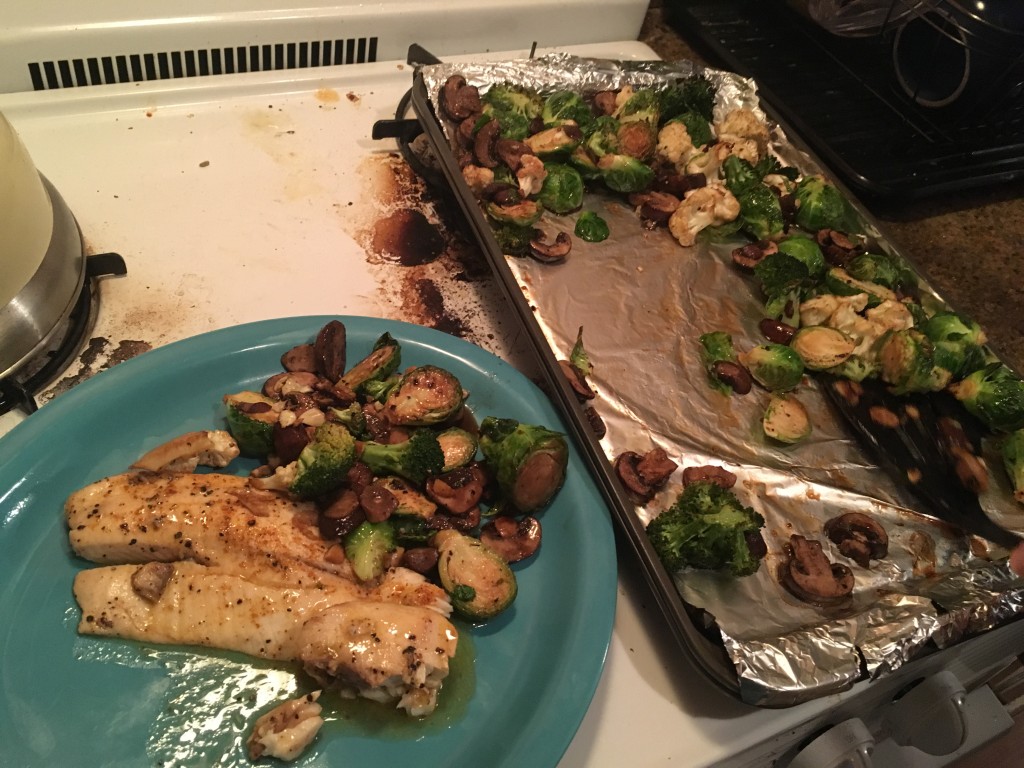 Here's how I bake fish (you could do this to fillets or whole fish):
Preheat the oven to 375F
Rub salt, pepper, olive oil, lemon and this blackened fish seasoning on both sides of the fish.
Bake at 375F for 25-35 minutes.
Done! How easy is that!
Other fish choices: I don't eat tuna anymore because these Wild Sardines in Olive Oil and Smoked Sprats are superior in every way. They are lower on the food chain than tuna and don't accumulate toxins (such as mercury) and have a superior Omega 3 to 6 ratio! (Btw, I used to buy Riga Sprats but turns out they are stored in rapeseed oil, which is a terrible vegetable oil to eat, not only cause rape is bad, but it's mostly bad fats… so no more of that brand!)
Salmon and Cream Cheese (And Avocado!?)
Click here to expand
I used to eat Smoked Salmon lox sparingly because it was kind of pricey. But, turns out it's not so bad in price considering how delicious it is and how a little bit goes a long way with other ingredients.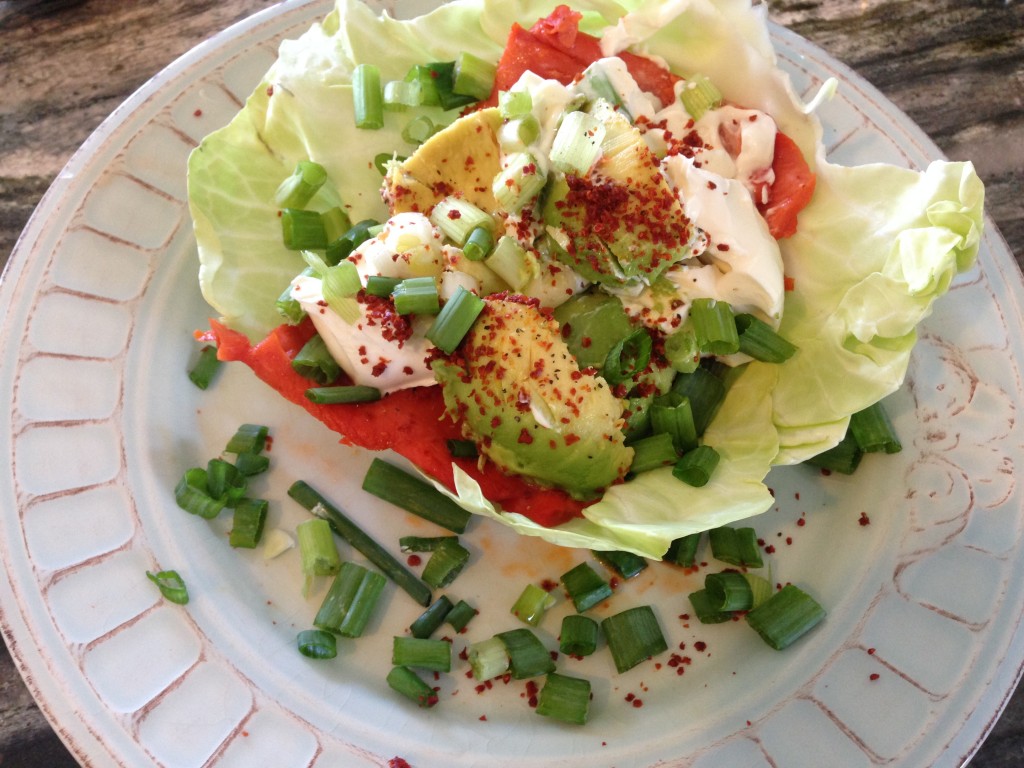 Ingredients:
Smoked Salmon Lox
Cream Cheese
Salt and Pepper to taste
Optional: Chopped Green Onions (Scallions)
Optional: Capers
Optional: Avocado
Optional: If you want a "carrier", you could put it all on a piece of lettuce.
Normally people eat the above ingredients sandwiched between a bagel. But you can't have a bagel on a keto diet. Bagels are just bread. Fuck bread. Why would I want that stuff getting in the way of the deliciousness in the middle?
Cheese and Olives
Click here to expand
I've been eating this Kerrygold Dubliner Irish cheese pictured above as a standalone snack. I love to get a big knife and make extremely thin slices of these. The taste is so complex and satisfying. (If you go to Costco, they are available there. And speaking of Kerrygold brand, by the way, their Irish butter tastes really good too. All their products come from grass-fed cows.)
Anyway, I may or may not eat this cheese with some olives. Olives have almost no net carbs and have a great fat profile, so they are a great little keto-friendly snack. I love to eat these olives that are in brine/salt, which is perfect since we need more sodium on the keto diet anyway.
There are also SO MANY other types of cheese you could eat it's endless. If you're on the go, string cheese is such a great little thing to have on the go. (Remember: do NOT get the low-fat/reduced-fat versions of these things.)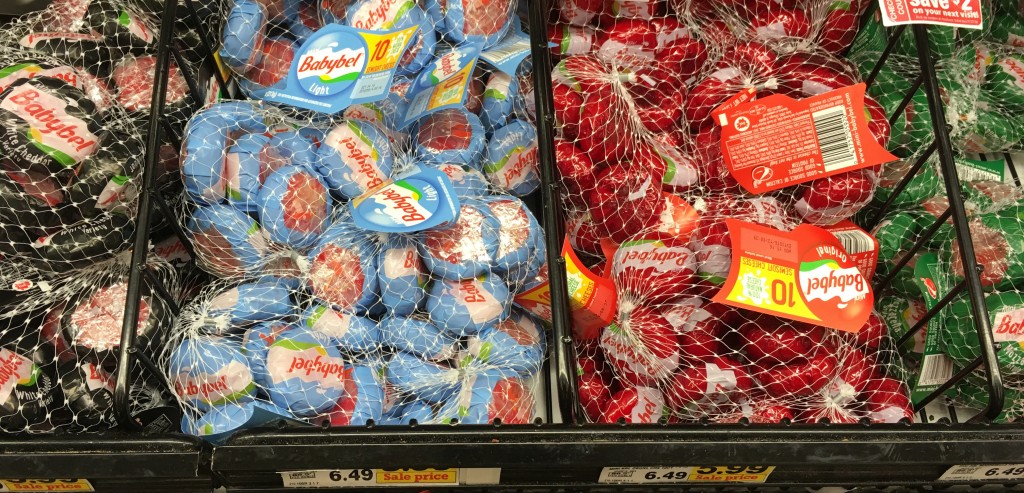 Cream Cheese and Bastirma (seasoned, air-dried cured beef)
Click here to expand
One of my favorite dairy things is to get cream cheese and mix it with some Armenian cured deli meat called Bastirma. This is one of those foods that are not well known if you're not familiar with the culture, but it's highly spiced meat and the slices are extremely thin and delicious with some cream cheese.
Here are some other Middle Eastern Foods that are keto friendly
Since my father is Lebanese-Armenian and my mother is Armenian-Armenian, I know about some foods that others may not know about that are very low carb, so here goes:
Lebni / Labneh (Strained yogurt)
This is a type of kefir cheese, made in a similar process as Greek Yogurt, but it tastes much more tart, like sour cream. Traditionally it's spread on a plate and drizzled with olive oil and topped with some dried mint.  I think it's dank as fuck.
Sujuk / Soujoukh / Yershik
This is type of highly spiced, dried beef sausage that you could find at your local international market as well, probably in the deli section. I love to eat them with cream cheese. Other delicious things you could do is go to the deli section and get provolone cheese and mortadella.
Drawbacks with processed meat: One of the main drawbacks of deli meat, or highly processed meats is that their protein becomes inferior and a lot of important minerals (like potassium and magnesium) are lost as well, so I don't make them my main source of protein.
Nuts: Macadamia's and Almonds
Click here to expand
As you know, when one is on a low carb diet, they should replace those calories with fat and nuts are predominantly high in fat. The top two nuts that are very low in carbs AND have a very healthy fat profile are macadamia's and almonds!
Warning: Nuts are high in calories and it's easy to "accidentally" eat a few hundred calories of these if you are just munching mindlessly. Even if you practice severe carbohydrate restriction, eating more calories than you need can result in fat gain.
Macadamia Nuts
I never used to get macadamia nuts because they were pricey. Well, turns out, a lot of these limitations I create are all in my head because they actually last a very long time! What may seem like a pricey purchase at first, turns out to be completely worth it!
Almonds
I never used to be a huge fan of Almonds, but they can taste pretty amazing as well in some varieties. I eat these almost daily as well. I rotate between these: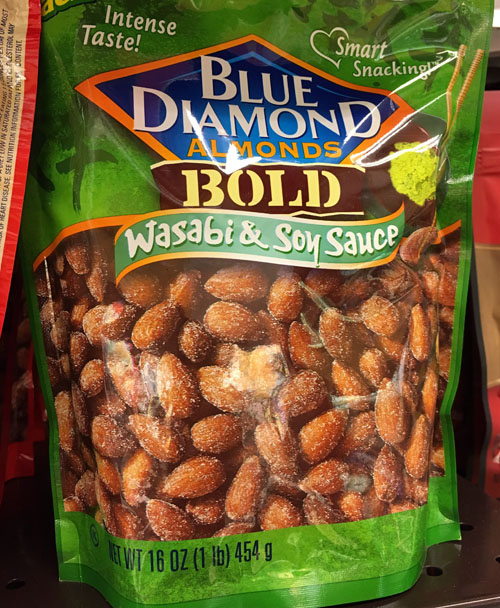 Also, as strange as it sounds, I like frozen raw almonds as well. You could have other nuts too, like cashews and peanuts for example. But as dank as they are, I can't go to town on them cause they're somewhat higher in net carbs, so I eat them very sparingly and infrequently. If I'm going to have peanuts, I usually opt for peanut butter, actually. And on occasion, I go for cashew butter.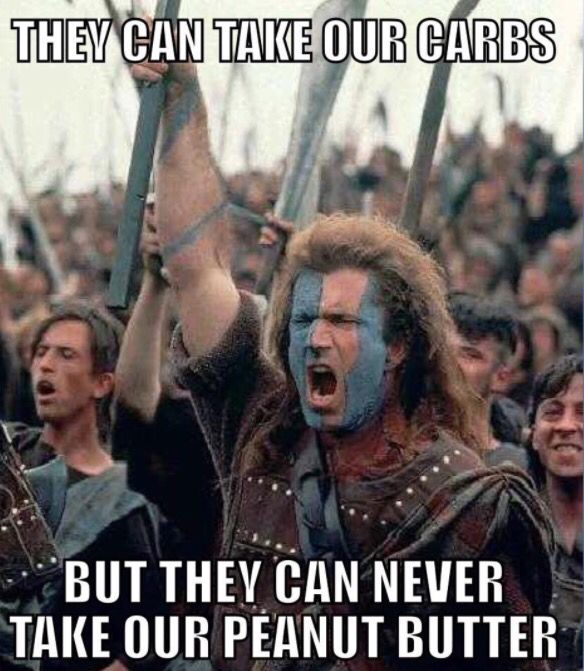 Milk Alternatives for when I want a creamy drink
Click here to expand
Note that ALL of these must specifically say "UNSWEETENED" on their label. The beauty of these are that they are only 30-45 calories per cup.
Coconut Milk: In the summertime, there's something so brisk and refreshing about coconut milk. (It reminds me of summer, probably thanks to all those dark tanning products that smelled like coconut oil.)
Hemp and Flax and Cashew milks: I have only tried these a couple times, they are a bit more fatty, creamy, thick and I like them.
Almond milk is my favorite. Some people don't like it at all and that bewilders me, but… I like it and it's a yummy drink to me. I sometimes will heat up a cup and drink it hot.
Soy Milk is my go to when I'm looking for a more hearty drink (clocking in at 100cals/cup), I really like unsweetened soy milk. It's also great to add to your tea so it's like a chai-latte. Protip: If you live near some Asian stores, you can find unfiltered soy milk which tastes like the real thing. But you must make sure it's not sweetened.
Arugula Salad
Click here to expand
This is stupid easy. I just added arugula and avocado and salt & pepper and olive oil. How easy is that? Really easy.  You could also do something similar with spinach. Loves me some spinach.
Mayonnaise
Click here to expand
I'm dedicating a section just to mayonnaise because for most of my adult life, I used to avoid mayonnaise like the plague because I thought it was automatically bad for me just because it was high in fat. Well, to be frank, a lot of store-bought mayo IS made with shitty soybean oil which has a bad fat profile. But now, since I'm a tiny bit smarter and doing this keto thing right, I have been eating it and I must say, it's pretty DAMN good as a condiment.
Store Bought Mayo Advice
Almost every brand of mayo is made with soybean oil (which has a really bad fat profile, mostly poly-unsaturated fatty acids (PUFA's) that happen to be mostly Omega-6's.) If you're going to eat store-bought mayo, it's best you look at the ingredients and find the one made with canola oil. Canola oil is mostly mono-unsaturated fatty acids (MUFA's) and has a much more healthy PUFA profile due to a 1:3 ratio of omega 3:6's. (Soybean oil ratio is more like a pathetic 1:6 ratio of omega 3:6's.)
FWIW, I found this amazing mayo that's made with avocado oil that is even better than mayo made with canola oil.
Note: It's really easy to make your own mayonnaise if you have a blender. It requires just egg yolks, oil, some lemon and a few pinches of spices. Unfortunately everytime I've made my own mayo, I didn't find it as good as the store bought stuff, so, if you got a an awesome recipe, please let me know!
Yolk + olive oil + garlic = aioli
Yolk + canola oil = mayonnaise
Yolk + butter = hollandaise
Keto-Friendly Foods On The Go
Click here to expand
If I'm on the go, I usually don't have hunger and can get away with several hours but… if I do want to eat…
I also take an avocado with me sometimes. Here's how to eat a ripe avocado without any tools:
Bite the skin at the top to remove it and spit it out.
Squeeze the avocado out from the bottom up. Eat it as it comes out the top hole.
Eventually the seed will come out as well and you just keep squeezing it out into your mouth and into the trash or straight into the trash.
Fair warning: Keep the avocado in a place that won't get mashed in your bag by other things or else it will make a mess. Ask me how I know. 😛
Mineral Management and Daily Supplements
Click here to expand
Mineral management is especially important on a ketogenic diet to prevent feeling fatigue (especially before strength/endurance training) or if you're not feeling well while in ketosis. These are the following things I take:
Special mention for Fiber
Click here to expand
If I'm feeling like I ate too many things that don't have any fiber (read: meat, cheese, etc) and feel blocked up or constipated, then I will have 1-2 teaspoons of this organic psyllium husk mixed in water. It's pure fiber which causes me to poop gloriously sometime later that day.
Nowadays, if I'm going traveling or camping, I will take a zip lock bag of this stuff with me and my bowel movements won't feel disrupted from the traveling and it works incredibly well.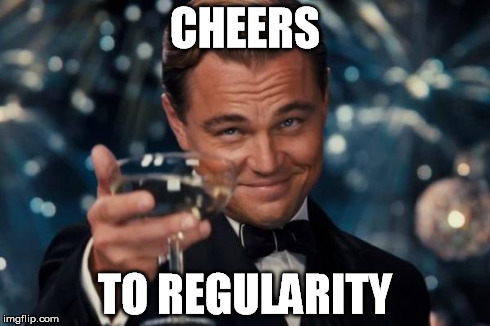 In Conclusion…
So now you know that my staples are: Avocados, eggs, fish, veggies (prepared with olive oil and soy sauce), cheese, macadamia nuts, almonds and sometimes frozen blueberries.
I'm also a big fan of soups (shrimp curry, broccoli cream, etc) of all sorts, especially cause I use the chicken broth as a base. (I have so much broth cause I boil chicken for my dog almost weekly.) In the future I will share some more bomb, low-carb friendly foods that are easy to prepare. I think there is merit here for me to do that. What do you think? Let me know if you liked this article and thanks for reading!