Special Announcement!
Last week I went out to vacation with my girlfriend in Puerto Vallarta, Mexico and near the end of my trip, I did something really scary that I had been waiting for a long while to do: I asked her to marry me!
I didn't do it because of what others or society expects me to do, but because I have a pretty good idea already of what it's like to live together, since we have been doing it already for over 3 years. Unlike some couples who live together after marriage and get thrown into a world of surprises, I feel many of the surprises that come with that change are already eradicated. And I'm enjoying the process of experiencing what started as romanticism to what is now a far deeper relationship of comingling support. (Btw this presentation about Love by Alain de Botton is really good.)
We obviously have our ups and downs like any relationship does, but the fact that we worked through every major fight we had and grew stronger as a result (especially throughout quarantine) made me realize that she is indeed the one. It also helped that we got a puppy several months ago and it was another great learning experience, and confirmation, that we do well together for raising a loved one. (A friend of mine once told me… see if you guys can raise a plant together without it dying, then a dog.) Funny enough, on the first day that I started going out with her, my intuition told me she was the one, but I obviously needed a few years to confirm that wasn't just honeymoonesque emotions.
Several months ago I decided that it's time to take our lives to the next level. I got the ring and was just sitting on it, trying to think of the best way to do a surprise proposal. Anytime I tried to think of an elaborate plan, it felt too forced and it was stressful. After a few weeks I decided to screw all that planning shit and just make it spontaneous. I told myself the opportunity will arise and when it does it will be very clear and I will capitalize on it then. So when we decided to go on this mini vacation for 5 days, I thought there would be a good opportunity to do it then, and it was!
We went for a day trip to Sayulita (about an hour north of Puerto Vallarta) and walked around the super tiny village. When I saw this cute colorful street, I decided this is a good spot. I asked some stranger to take a video of us and I was so nervous I was shaking, but after I said a few words to her and went down on one knee to ask her those 4 magical words ("Will you marry me?) all the women in the village started cheering all around us and I was all smiles and she was completely taken aback and was in utter shock, which was awesome as that was my goal. Afterwards, many people kept coming up to us and saying "Felicidades" (congratulations) which kept the euphoria going (and it still is). The whole thing was dreamy to say the least.
So we don't know when we will get married, but that will happen eventually. And in the interim, I know that a lot doesn't change with this engagement, but it definitely does strengthen the bond even more since you can't as easily just end or throw away the relationship just because push comes to shove. In a world full of disposable relationships (disposable everything, really), I think this is good for my personal evolution as a man and her as a woman.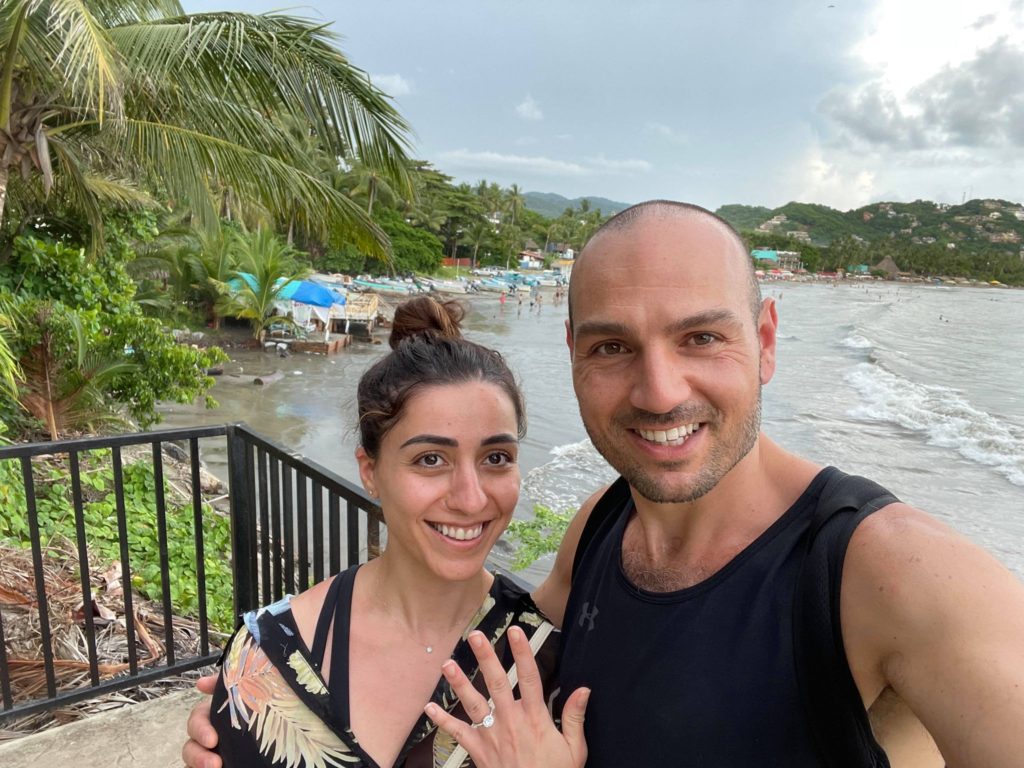 Quick Reminder: Accountability Group Incoming Has Arrived!
Come the end of this month, I will be launching my new Accountability Group which will be a support chat room where we can all help each other to stay healthy, wealthy and strong 💪 in all areas of our lives. I'll be in there to help you get over your roadblocks, optimize workout plans by answering questions, provide feedback on form check videos and improve consistency in training/diet to reach your goals in a sustainable manner. Join my mailing list here to stay in the loop when that comes out real soon!