Hey LA-people, you've all heard about CicLAavia, right?
Twice a year, on a Spring of Fall Sunday, almost 10 miles of LA streets are closed to cars. These events bring families outside of their homes to enjoy the streets.  Most of them ride their bikes but even just walking is peaceful without the noise, smell and stress of cars around you.  I wrote a bit more about it here, with pictures and some video.
Changes to the October 2012 Route
The core of CicLAvia has always been in downtown at 7th and Spring, but for this year ALL of the route's "arms" have changed.
Here's the route (you may click on it to see a larger version that will open in a new window):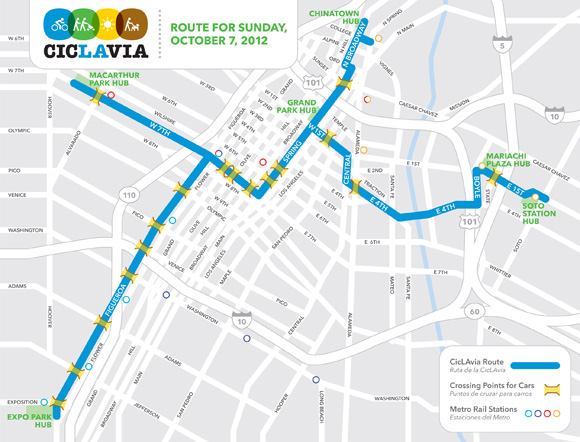 The west part of it used to start at Melrose/Heliotrope in East Hollywood but now it's much further away from Hollywood.  There is now a new route that connects to the Expo line , at Exposition which totally makes sense because that Expo line goes 8 miles west all the way to Culver City, making it very easy for people from the Westside of LA to join the fun.  It will probably attract tons of USC students as well.
Instead of ending at Hollenbeck Park in East LA, the eastern most point is the Soto Station on the Gold Line.
In short, the new route is more of a "north-south" route with arms going east and west instead of the reverse.
One of the committee members for Ciclavia, Aaron Paley, explains the changes…
We don't want to repeat the same route over and over again, we want to set the precedent that CicLAvia is not set to one area, and not for just the streets we started out with.. This is in effect a harbinger of things to come.
I personally hope to bring the ++music trailer out there this year, and then go to play on the Santa Monica Rings until Magic Hour.  See you around!