If an element has a low # of valence electrons, it tends to give them away while if they have a large # of them, they tend to gain electrons to become stable.  For the first 20 elements on the periodic table, we can have up to: 2 electrons in the first shell (1s2), 8 electrons in the 2nd shell (2s2, 2p6) and 8 electrons in the 3rd shell (3s2, 3p6).
Dot structures show what's in the outermost shell (the valence electrons).  Very conveniently, the group number corresponds to the number of valence electrons.  Like F is in group 7 and has 7 valence electrons.  Now let's see how the electron configuration corresponds to the dots.
F = 1s2 2s2 2p5 How many orbitals do we have in the valence electrons?  Let's do the orbital configuration and find out:
The world of Lewis Dot structures
Here are some more examples to get you acquainted with dot structures:
Water, H2O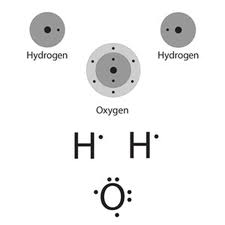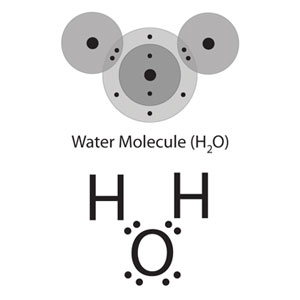 Carbon Dioxide CO2
Carbon has to have 4 bonds because Carbon is a group 4 element and Oxygen has to have 2 bonds because it's a group 7 element.  This makes more sense in the table below.
How to create dot structures and their rules
| Group | # of bonds |
| --- | --- |
| VII (7)+H | 1 |
| VI (6) | 2 |
| V (5) | 3 |
| IV (4) | 4 |
Count the total valence electrons: Always make sure that the completed dot structure has the same number of individual valence electrons you started with.
Organize atoms: Always put the element with the greatest number of bonds in the middle.
Follow the octet rule: Atoms tend to combine in such a way that they each have eight electrons in their valence shells, giving them the same electronic configuration as a noble gas.  So make sure there is always 8 electrons around these atoms.
If you don't see too many electrons, try to create double or triple bonds.  They are usually stronger, which is why N2 is strong (it has 3 bonds):

Hydroxide (OH-) looks like this:

and there are brackets around it because it's an ion.  There will be a natural tendency for oxygen to pull an electron to reach stability.
"Coordinate" Covalent Bonds
Forget about the # of bonds rules.
Let's try Nitrate cause it's pretty tricky, NO3-
N has 5 electrons and O has 6.   Remember we need octets and to get it you need a double bond with one of the oxygens.
We started with 23 electrons but in the diagram we have 24.  We've added an electron to complete it for the octet rule and because of that extra electron, that is why it is -1.  It's not a -3 because of the double bond.

Resonance structures
The placement of elements and electrons can differ and in reality bonds are a blend of all these different possible structures.  If you only have single bonds, you can't show resonance though.  It only appears when there are double or triple bonds asymmetrically placed.
Electronegativity
Linus Pauling around 1935 made his major contribution to chemistry by revealing data of the electronegativity of all the elements.  Electronegativity is the tendency of atoms to attract shared electrons so it applies only to elements with a bond.  In the case of HCl, the Cl has higher electronegativity.  In the case of H2O, the O has higher electronegativity.
| Nonmetal | Strength |
| --- | --- |
| F | 4.0 |
| O | 3.5 |
| N, Cl | 3.0 |
| C, S | 2.5 |
| H | 2.1 |
| Metals | <2.0 |
| Active Metals (Grp 1 & 2) | ~1.0 |
If it's greater than 1.7, it's ionic.
Even in the greatest ionic compound, there is still some covalent character so the scale is another way to know.
How to tell if something is polar or nonpolar?!
It depends on the structure but most of the time we have polar bonds when there's a bond.
VSEPR (Valence Shell Electron Pair Repulsion)
This is used to predict the molecular shapes.  When electrons are in an orbital, it's a pair and when they are furthest away they repel each other most and are most likely to be flung off.  Instead of pair we say set or group.
Do a dot structure.
Determine how many sets of electrons are around the central atom.
Determine the geometry associated with that many sets.
Determine how many electron sets are involved with bonding.
Determine the geometry of the molecule or PAI.
Is the molecule or PAI polar?  Something would be nonpolar if it's balanced symmetrically and no side get extra electrons.
Electron Sets are pairs of electrons around the central atom.
| Electron Sets | Geometry | Bond Angle | Atoms Attached |
| --- | --- | --- | --- |
| 2 | linear | 180° | O – X – O |
| 3 | trigonal planar | 120° | |
| 3 with 2 atoms | bent | 120° | |
| 3 with 3 atoms | trigonal planar | 120° | |
| 4 | tetrahedral | 109.5° | |
| 4 with 2 atoms | bent | 109.5° | |
| 4 with 3 atoms | trigonal pyramidal | 109.5° | |
| 4 with 4 atoms | tetrahedral | 109.5° | |
Note: The geometry of the atoms will be the same as the number of sets.