The problem with clipless shoes are that they look great while you're ON the bike, but once you get off, they look very out of place.  They would usually be a big no-no for most work places.  Then on top of that, you might have this god damned gigantic cleat sticking out that makes you sound like you're wearing heels and all the guys will be looking around thinking, "Who is that, a fine lady, maybe?"  And then they turn around, see me and think, "Oh, it's some guy (me).  Why are his shoes so loud?  Also, why's he walking like a retard?"  For those reasons and more, I always have to bring a second pair of shoes if I'm actually commuting with my bike, which is almost all the time.
I want the efficiency and foot retention of a clipless pedal but the looks of a "normal" looking shoe with a recessed cleat. I've opted for Shimano's SPD pedals because the SPD-compatible shoes accomodate recessed cleats, have the most variety and their cleats are available at any shop.  I've spent all day putting together all my options for shoes, ranging from very-casual to very-dressy, scavenging them from forums and all, so you wouldn't have to.  This list is pretty comprehensive but if you think I missed something, please let me know.
Also, I tried to refrain from including photos straight from the manufacturers website as they are not always an accurate representation. So most of these are just normal shots.
Casual or Stylish SPD-compatible shoes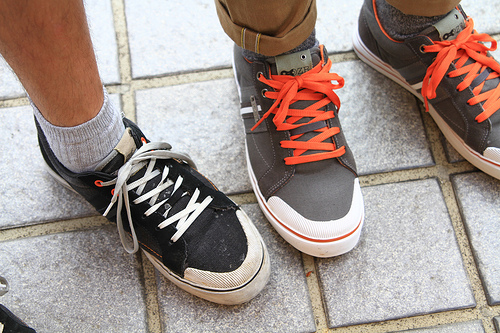 1. The DZR Midnight (closest replacement to the GMT-8) ($85) looks like a decent sneaker and the cleats don't hit the ground at all.
2. The DZR District ($85) would be nice too, but I would be tempted to change the shoe lace color.
3. The DZR Concubine ($100) is less conventional looking, with just a single strap, it looks like a slipper.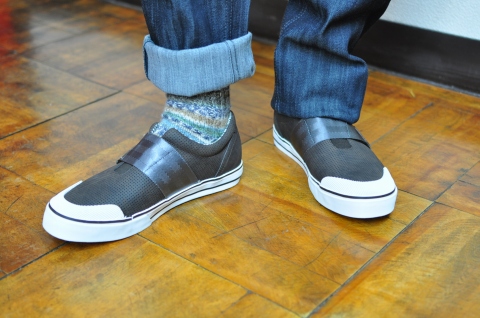 4. The Chrome Kursk Pro (available in grey or black) has relatively poor reviews but I reckon people buy them cause Chrome has a good reputation for their messenger bags (their original forte), they have excellent customer service and people love their look.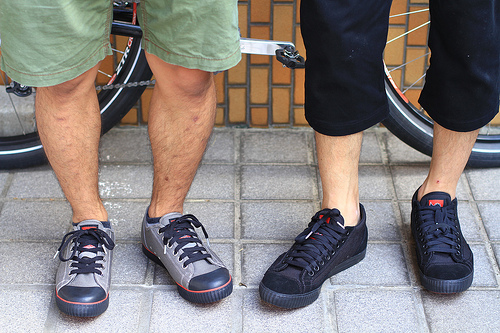 5. The FiveTen Minnaar's ($155).  They don't have outstanding reviews because apparently they fall apart early, but before they do fall apart, they are said to be absolutely fantastic.  Also, they are probably the only shoes in this list available up to size 14 (european 48).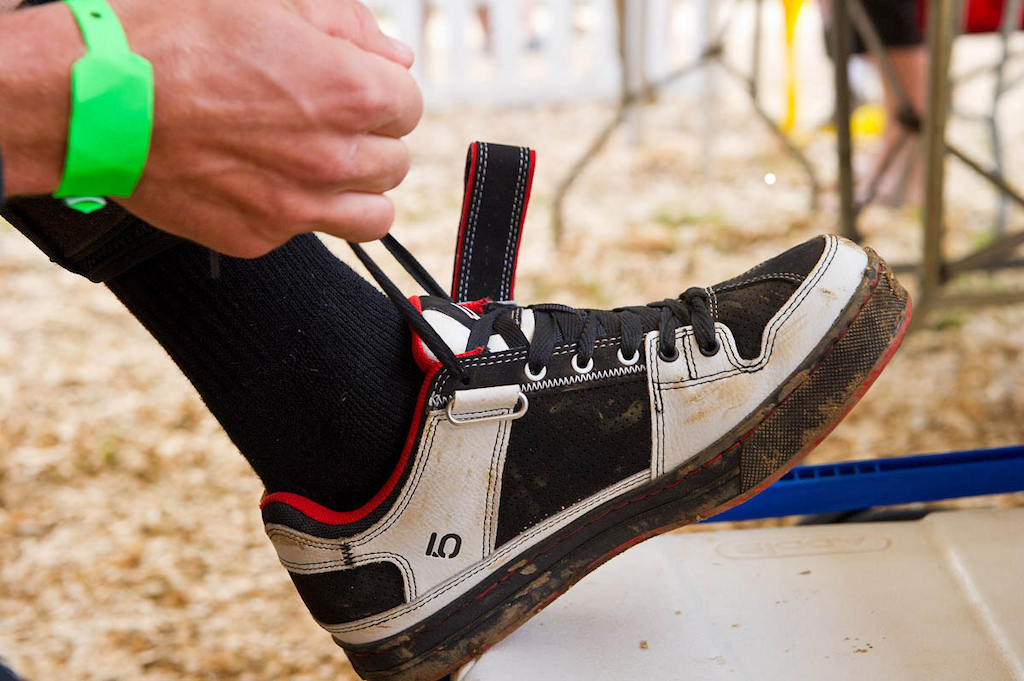 6. Keen has a few SPD-compatible commuting shoes. The Keen Austin's look casual but on the rugged side.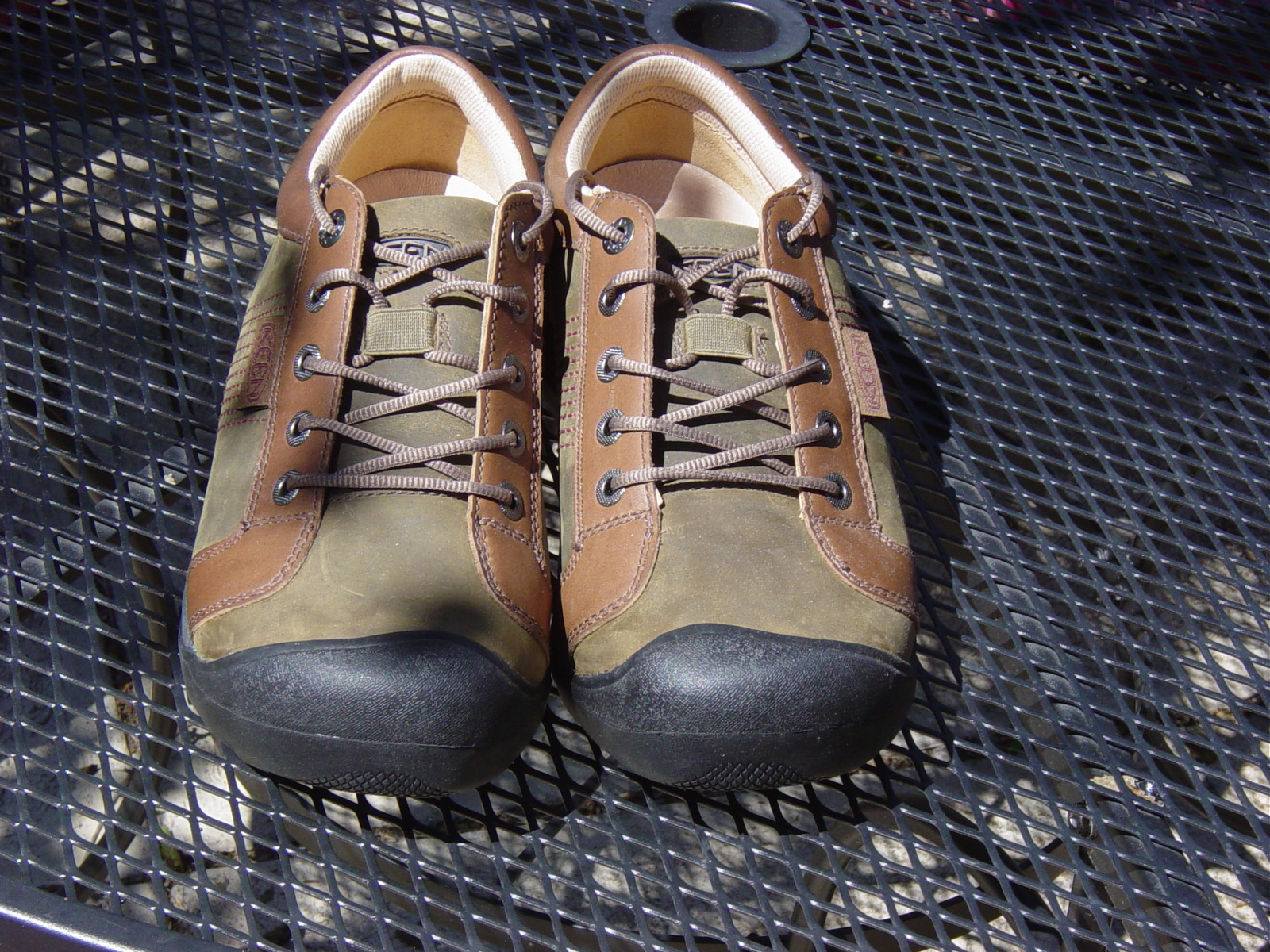 7. Another rugged yet somewhat "normal" looking shoe is Shimano's MT22 Mountain Shoe.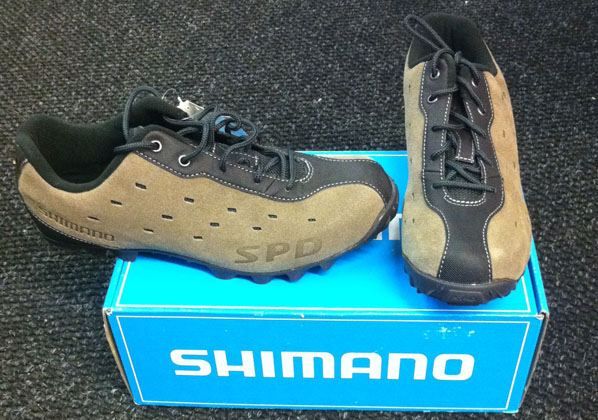 8. For a streamlined black shoe, the Exustar Men's SRT707 Touring Shoe looks like a dress shoe.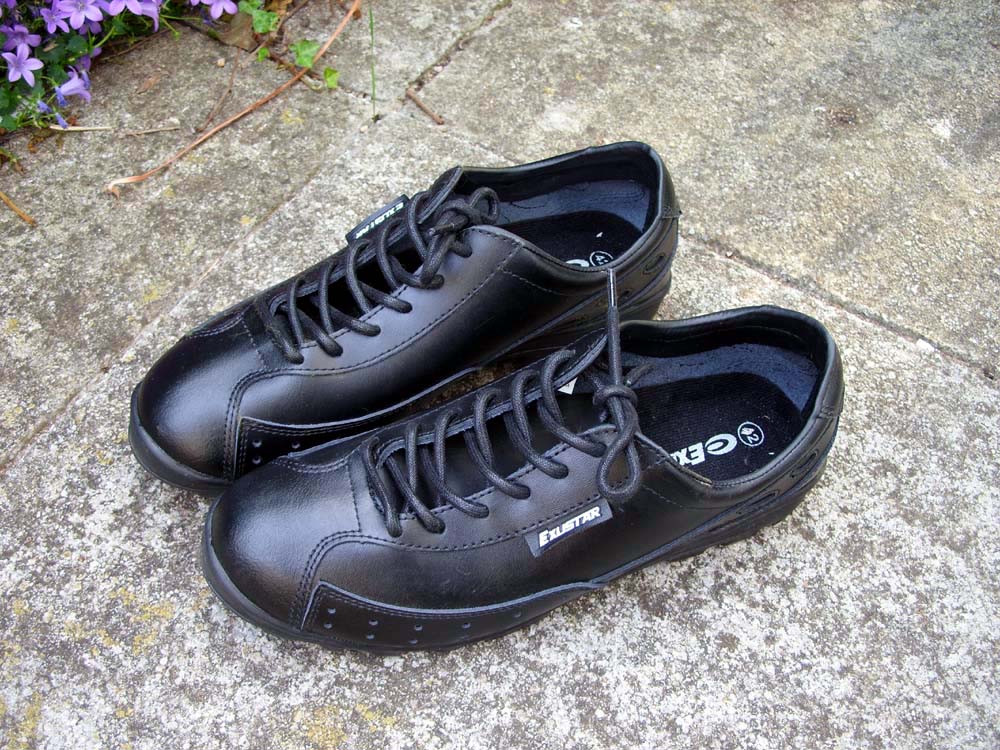 9. If your budget is high and you want a truly dressy shoe wrapped in leather, the Dromarti Sportivo ($250) looks beautiful in person.
10. Here's another option, the Quoc Pham Derby Brown.
11. The Vittoria 1976 looks super cool, very similar to the Dromarti, but not as expensive as them.  Still though, at $150/pair, you could buy two DZR pairs for that amount.  Note: Don't confuse this with the Vittoria Tire brand that makes cycling tires.  Vittoria Shoes are an Italian cycling-shoe company that makes their shoes by hand and have a quality reputation just like Campagnolo and Cinelli.  (Just like Campy, they have a lack of distributors in the US as well.)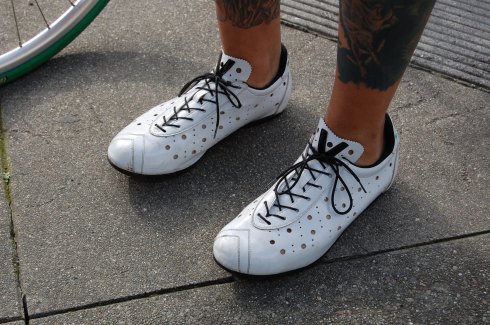 12. Keep an eye out for limited-edition projects by the Mission Workshop. Their limited Rondel was cool looking.  They also carry other Quoc Pham models.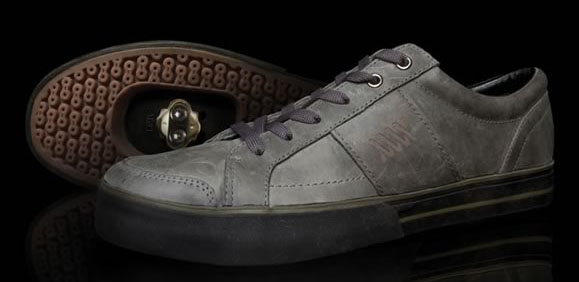 13. Lake Cycling has a very sharp style going but as of this writing, their shoes are not available yet. Their road shoes are strictly white, which is awesome because I could wear these with white shorts. Just make sure the model you are oogling over is SPD-compatible.  I'm sure they're going to be stupid-pricey though.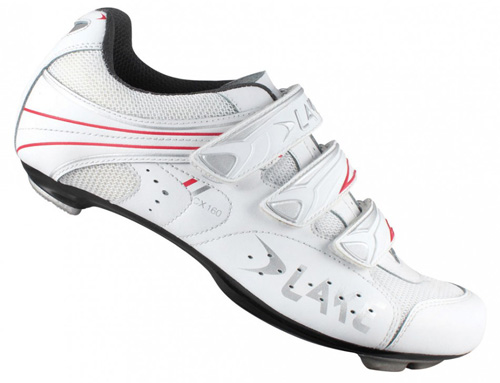 14. For the super casual these Shimano SPD-compatible sandals are funny looking.  Keen also makes the Commuter Sandal (not pictured). The advantage to sandals is that your feet will never get too hot if you live in very hot weather and if they get wet, they will dry fast.
15. The Northwave City Cruiser is a very plain (normal) looking trainer shoe with excellent reviews and it's very inexpensive too.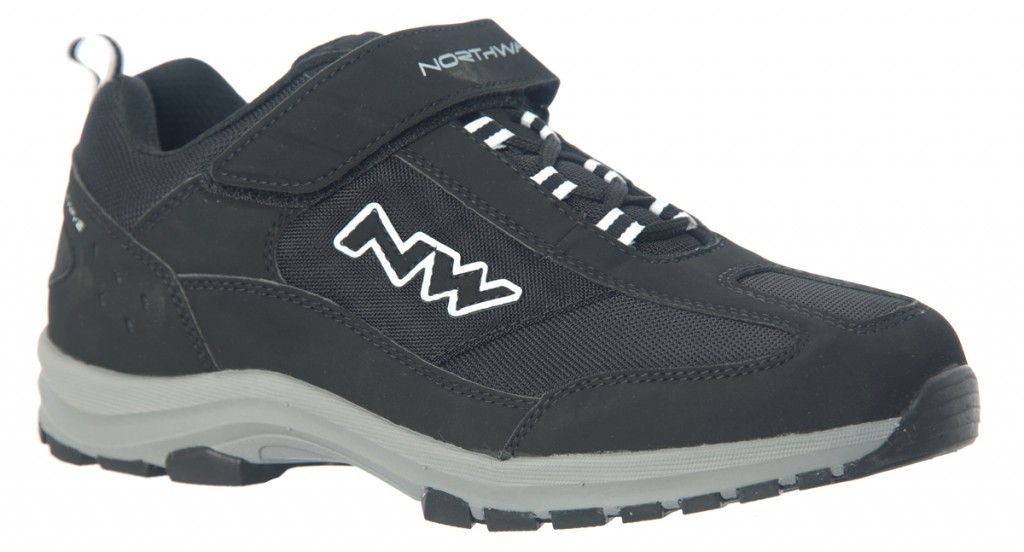 16. In the Specialized Specials section, they offer a super cushioned shoe called the Primo MTB shoe (pictured below) for a surprisingly low price ($45).  The Specialized Sonoma (not pictured) looks more like a cycling shoe, but in my search a lot of people have praised their years of good use.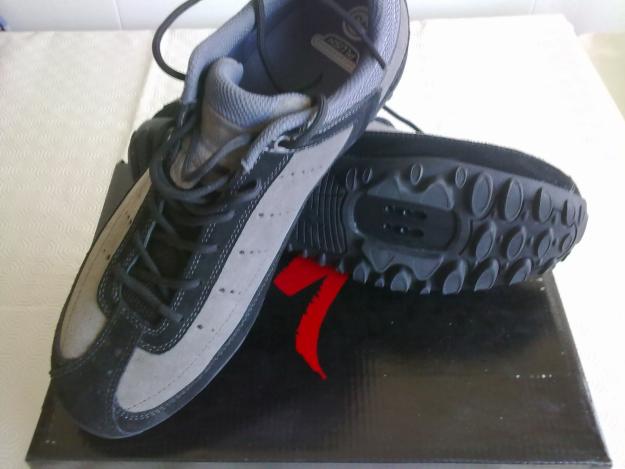 17. Sette Nix was mentioned and I have added it to the list in case you like this look.  Here's a video review of Sette Nix's.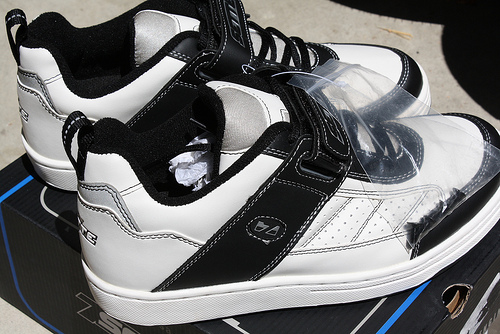 18. Like the look of Vans?  Well how about the VANS Warner SPD's?  They got generally good reviews.  They are made with typical-skate-shoe material.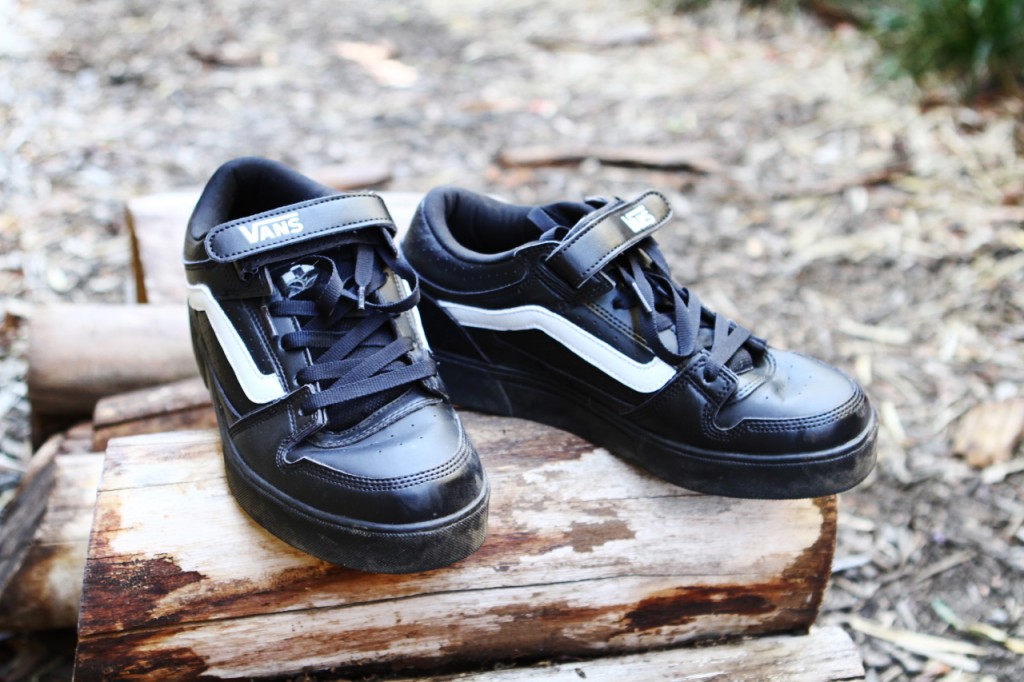 19. Teva Pivots are a new one to the list.  Available in all black or white with red trim.  The turquoise bottom looks really cool.  Too bad that's on the bottom where no one will see.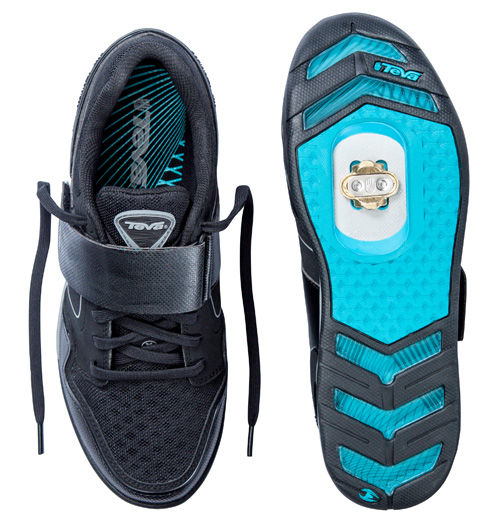 20. Have freakishly wide feet? Or maybe gigantic feet? Bont Cycling is one hell of a cool custom-making-shoe-company! They literally make a shoe based on the mold of your feet. Tell them to make one that is SPD-compatible. 😉
21. Retrofix will add cleats to your favorite shoes.  They could do it for you or you could do it yourself. I wouldn't recommend it though, I mean… the shoe will probably fall apart pretty quick probably.  And whatever they attach seems like it clearly sticks out so it won't be ideal for walking.
For me, it comes down to the DZR GMT-8 or District.  The DZR Corcubine is tempting, but I think it looks bad with shorts which is what I ride in for more than half the year.  The Vittoria's are awesome because they're white and they'll go great with white shorts, but they are $150, haha.  I think I'm going to go for the DZR GMT-8 because they are said to have pretty stiff soles so they'll last long, the cleats don't grind against concrete and they are pretty sharp looking.  The Vittoria's are said to have the same features.
What pedals to choose?
Now that you've seen what options you have for shoes, you need to get some SPD pedals that could accommodate cleats if you don't have one already.  By the way it takes literally two minutes to swap a pair of pedals, so any bike shop can do it instantly probably if you ask them.  Here we see a couple options…
1. I'm personally opting for the Shimano PD-A530 SPD Dual Platform Bike Pedal
because it has a perfect platform on the one side to accommodate unclipped riding with normal shoes (or in my case, my normal shoes are Vibrams FiveFingers) and of course the other side has the attachment point.  This seems very practical for "reality."  They have black and silver versions.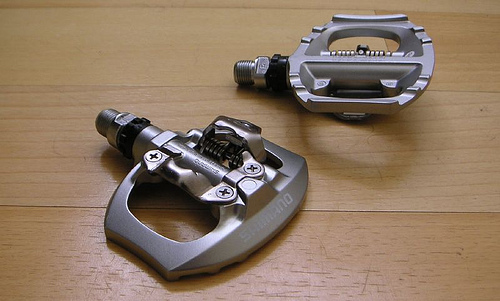 2. If you've got a classic looking bike and like the functionality of the above pedal but want something that could match a vintage style and have more grip on the normal-shoe-side, then go for the Shimano PD-M324 Clipless Pedals
. They are a little bit heavier but are so durable they seem like they will last decades.
3. If you don't mind spending $80 for the pedals, you could go for the very light Shimano PD-A600 Ultegra SPD Road Bike Pedals.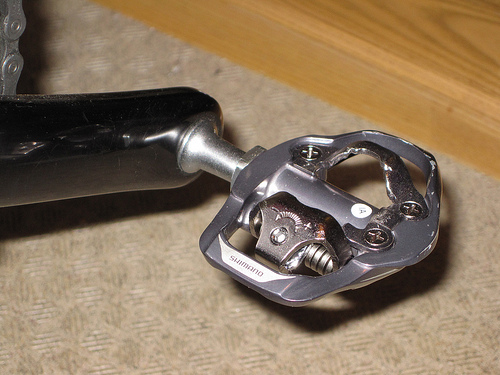 And last but not least, which cleats to choose?
You must attach cleats to the bottom of your shoes so that you could clip into the pedals. Shimano makes two types of SPD cleats: single release and multi-release.
If you are new to clipless pedaling, I highly recommend the multi-release Shimano SM-SH56 SPD Cleat Set
because they allow you to disengage from the pedal in multiple directions, not just one.  In case of an emergency, this is probably what is going to save you from falling.  Even if you have a lot of experience, most people are commending these pedals because false-releases seem to be extremely rare or nonexistent. Note: Don't choose this if you like to do bunny hops, haha.
If you absolutely want the single-release Shimano SH51 SPD Cleat
then by all means go for it. Bicycling is very personal, that's why we have all these choices.
Note: If you buy new pedals, they come with the single-release cleats.
Hope that helps!  Now all you need to do is decide on the shoe, pedal and cleat and then you'll have awesome clipless pedals and still be able to get your errands done without looking (or sounding) too-funny off the bike. 🙂