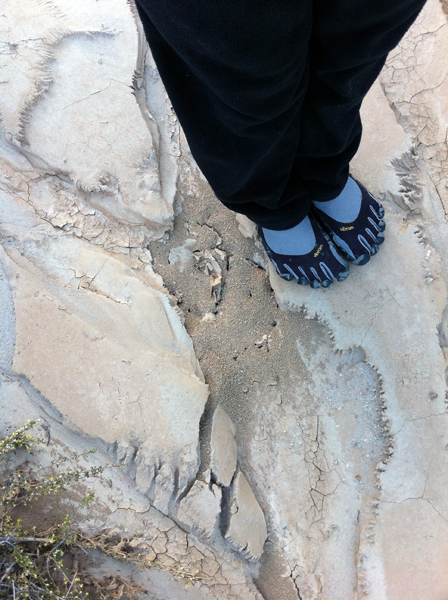 I've been wearing these Fivefinger Vibram KSO's since August 2010 and not a day goes by when I don't get some comments or questions about them when I go out.  I'll share some of the things they ask and what I tell them!  You would probably ask one of these questions as well, haha. 🙂
Woah! Those are shoes?

Yes, they are shoes.  If you like being barefoot, these are awesome.  They help retain the barefoot-feel very well because the bottom is thin enough so I could feel the surface but it's thick enough so that if I step on sharp rocks, it doesn't hurt.
Wow that's really cool, are they for running?
Well these could be used for anything really… I wear them all the time, not just for exercise only.  As for running, they are GREAT for running!  I didn't even used to like running but now I actually enjoy it because it's become a completely different experience.
When we run with regular shoes, our heel tends to strike the ground first.  When the heel hits the ground, it acts like a hammer to the heel.  This impact travels up to the knees and hips.  This is one reason why some people get knee or hip pain when they go running!  Instead, when I run with the Vibrams on, I run the way I would if I were barefoot, meaning, I land on the balls of my feet and my heel tends to stay up in the air (like in the picture).  My heels don't even touch the ground until I start getting very tired because the entire foot behaves very much like a spring.  Instead of landing on my heel and coming to an abrupt stop, my feet are much more efficient in helping me to rebound back up for the next step.  Running used to feel like a very crude experience before (one that I wanted to stop almost immediately after starting).  But now because it's so much smoother, I can easily get in a nice flow with it.
How much did you pay for them?
I paid $100 with tax.  I've never paid $100 for a pair of shoes before, but it turns out they are worth every penny.  For the first few months, when I would go out with these shoes on, my awareness was constantly split between my consciousness and this new kinesthetic awareness of the ground.  My brain was constantly processing new sensory input from something I was always disconnected to.  This awesome experience, coupled with the fact that my feet were getting stronger from using them the way nature intended, make them totally worth it to me!
Where do you get them from?
I know that my local Sport Chalet and REI stores carry them.  You could totally try them on there.  The shoes go by european-sizes, so you should experiment with a couple different sizes at least.  Go for the nice, snug, fit.  When wearing them, press against your big-toe, there shouldn't be any play or looseness.  If there is try one size smaller.
There's a bunch of different models and I recommend the KSO model since that seems to be the most popular and best for all around use.  My friend also uses the Bikila-model because she loves to go running and those are specifically the best for running. Another friend got the Treksports because they have a thicker sole and his bare feet feel very sensitive.  The drawback to that model is that ground cannot be felt as easily. Just see what you like and go with the KSO if you are really unsure!
Well I hope that gives you a better idea why I wear these shoes! The benefits are aplenty.  🙂
There are a few vibram-specific issues with them though.  You must know how to keep them clean, odor-free and what to use if you want to repair them easily!  Luckily I've gotten a good regime down for all these things and I share them in this follow-up article: How to maintain and repair Vibram FiveFingers