Ido Portal started THE HANGING MONTH… where you focus on JUST HANGING… a mix of passive dead hangs and active hangs for 7 non-consecutive minutes every day.
Implement these 3 types of hangs:
1. Passive Hanging – This is a dead hang, essentially, where you allow your shoulders to relax to cover your ears. Ido says, "this targets more of the passive structural integrity components than the more 'muscular heavy' hangs."
2. Active Hanging: Active hangs are a type of straight arm (scapular) strength work.  If you have a history of dislocating a shoulder, focus on these active hangs. In Ido's words, he says these are useful for "engaging musculature and minimizing the demands on passive structural integrity while maximizing the active-component demand and adaptation.
Basic Active Hang: From a passive hang, simply bring the shoulders down, away from the ears, and retract the shoulder blades (pinch them together).
Arching Active Hang: From a passive hang, simply bring the shoulders down, away from the ears, and retract the shoulder blades (pinch them together).  Then, pull your hands down to lift the ribcage up.  Let the legs hang behind you allow your spine to arch. Firmly pinch the shoulder blades together firmly.  (Note: This is my favorite hang. Do these for reps with a 3pause at the top in the hardest position to strengthen your upper back for the front lever.)
3. Dynamic Hanging – combination of passive/active hangs AND momentum to initiate a variety of dynamic actions such as brachiation, swinging, dynamic release and catch and more.
What ratio of passive:active hangs you should do, depends on the status/history of your shoulders:
If you have a history of shoulder pain or partial or full dislocations, then focus only on active hangs. These can be done with the feet on the ground as well.
If you have strong, healthy but inflexible shoulders focus on passive hanging for the most part.
If you have healthy but weak shoulders (cannot pull/chin up or can only perform few reps), spend <1 minute on passive hangs and several minutes on active hangs.
For more advanced options, scroll to the bottom of this page.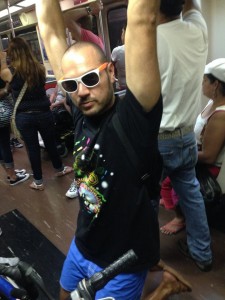 Why am I touting this challenge?
Because hanging feels amazing! It will improve your shoulder mobility, increase your grip/forearm strength and the traction stretch that occurs throughout your entire back feels nothing short of AMAAAAZING!
Common Response: I don't have a place to hang!
The easiest way would be to just get an Iron Gym doorway pull up bar.  These don't require any screws and do not damage the door frame.
Common Response: But I can't install a pull up bar because my doors don't have frames, I can't afford it, etc.
"If you dont set up anchors for hanging – you wont keep up with it. Get a doorway pull up bar, start to get comfortable about hanging off the top of the door, a staircase or the top of a wall and dont look for excuses, look for solutions or…. pay the price of no hanging as most of the planet does." -Ido Portal
Many doors are surprisingly very sturdy.  Just throw a towel over the door and and hang on the top of the door.
Other options that work as well: Underneath staircases. A tree limb. High pillar. Walls. Scan your surroundings and try to see the options. They are out there. Look at schools. They usually have pull-up bars and monkey bars. Think of it as a scavenger hunt challenge. Buying a set of rings is also an excellent option. They're super portable and open up a lot of options because all you need to do is sling them over something (like tree branches) that you can't typically hang from.
Common Response: But hanging hurts my hands!
Yes it hurts. Find the "softest" options around.  Wear gloves if you need to. Whatever you do, your body will adapt to become more capable of doing that. If you hang, you will get better at hanging. If you sit around or make excuses, you will likely become most excellent at both!
Common Response: Wow I can barely hang 20seconds, and I thought I was strong!
This challenge is not about who can hang the longest at any given time. It's about an accumulation of time over the course of the whole day. It is also perfectly OK to do a supported hang (feet touching the floor for support) while you get used to the grip and build strength/flexibility. To support yourself you can either lower the rings down or put an object under your feet so you can use your feet for assistance. With the assistance of your feet you should aim for 20-60 sec hangs.
Common Response: But I do yoga, isn't that enough?
Yoga has absolutely zero pulling exercises involved it since there are no "hanging" poses that require the use of a bar. The lack of pulling may create imbalances in the shoulder girdle (with tight chests and weak backs). With all this sitting and computer technology, we are already afflicted with being stuck in a "pushing" posture. So that is why doing these hangs to reintroduce the pulling aspect is so very important! No one is asking you to do pull ups, but just start getting comfortable with hanging so your grip will improve and your shoulders will open up in new ways that the floor simply cannot replicate!  Like I said, it feels REALLY good.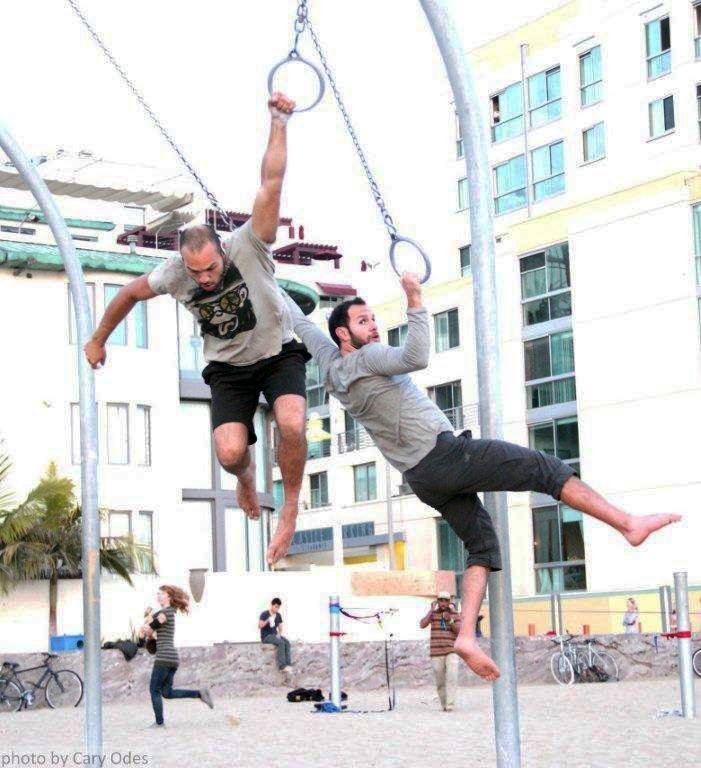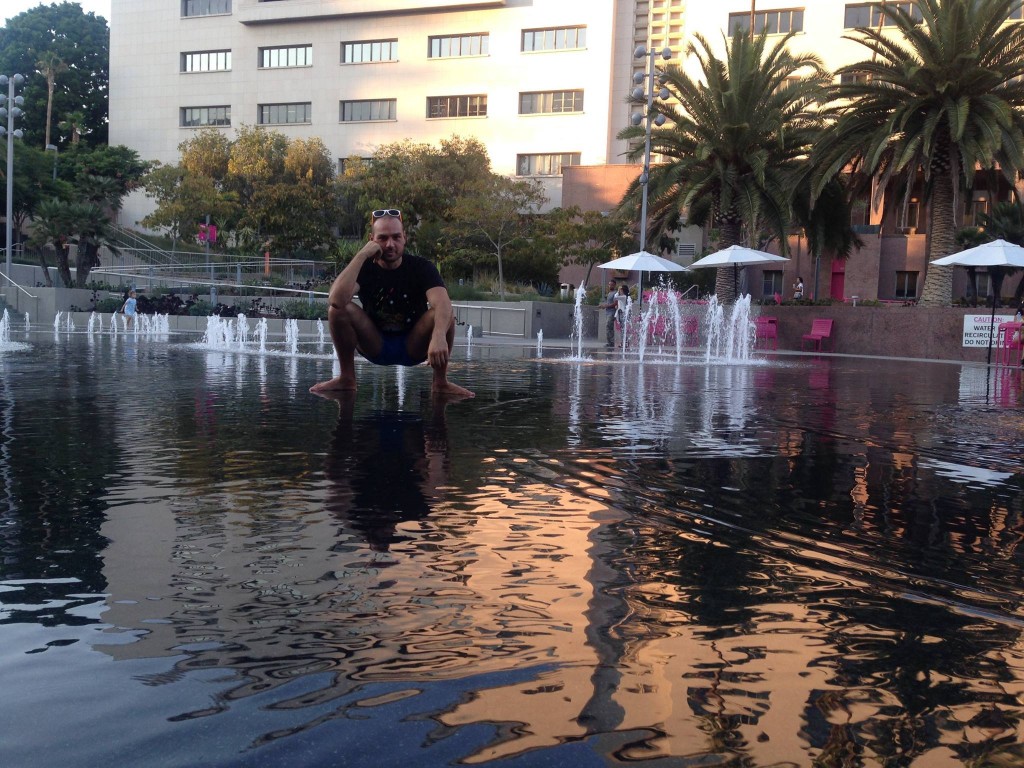 Advanced One Arm Hang Progressions
One Arm Passive/Dead Hang (prerequisite: 2 minute two-armed hang)

Do not do this if you have a history of dislocating your shoulders.
1-10 sets per session with 20sec holds

One Arm Active Hang (prerequisite: One Arm Dead Hang + 5x8reps of Arching Active Hang with 3sec pause at top of each rep)

3-7sets, 5-15reps with pause of 1-10sec at top.

One Arm Rotational Hang aka Shawerma (prerequisite: 30sec One Arm Active Hang)

3-7sets, 3-10reps, 3-5sec pause
The Shawarma drill is a more advanced version of the One Arm Active Hang and contains a static pause at a SUPINATED (chin up grip) One Arm Active Hang at the top of each rep. On the other side of the drill – there is a stretched, passive hang in a One Arm 'Eagle' Position – this position is internally rotated and pronated and without proper preparation can mean trouble. Take note.

Switch Grip Hanging Routine – Beginner (prereq: One Arm Active Hang, One Arm Passive Hang and the Side to Side Swing)
Switch Grip Hanging Routine – Advanced (prereq: One Arm Active Hang, One Arm Passive Hang and the Shawarma)
The Ape Swing (Figure 8) (Fun!)