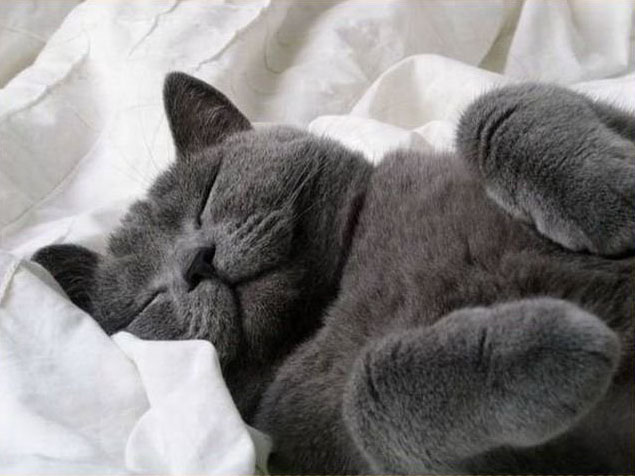 I used to hate napping.  I never could do it right.  The few times I tried to do it when I was younger, I would wake up feeling more tired than before.  That was then and this is now.  Nowadays I embrace naps.  I've figured out what it takes to take a nice nap and it's much more enjoyable and refreshing.  So here goes…
You have two choices.
You could either have a quick 10-30 minute "power" nap or a much longer 90 minute nap.  Choose a short or long nap depending on how much time you have but not in between.  You'll learn why shortly…
The Power Nap (a short 10-30 minute cat nap)
The power nap is thought to have the maximum benefits of sleep and rejuvenation for the shortest amount of time.
The simple act of closing your eyes is extremely restful and refreshing.  All day your visual cortex is processing information and this takes a huge chunk of energy no matter if you're watching your kids or just staring at a computer screen.  The goal of the power nap is to simply let your back muscles completely relax, let your brain stop processing so much information by simply closing your eyes, and just chill out for 20-30 minutes.
The reason we don't go beyond 30 minutes is because we don't want to drift off into a deep sleep.  If you get up in the middle of the deepest phase of sleep, you will wake up feeling extremely groggy.  This is exactly what you don't want!  The point of the nap is to get you feeling refreshed, not more tired.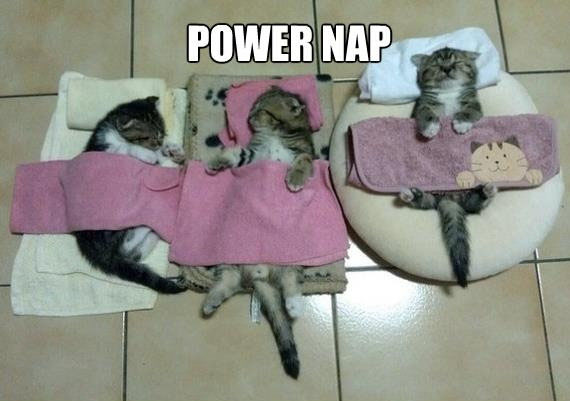 The 90 Minute Nap

When you go to sleep at night, you don't simply go into a deep sleep and then start dreaming for 8 hours straight until you wake up.  It doesn't work that way.
Sleep occurs in 90 minute cycles on average. There are 4 stages of sleep and it takes about an hour and a half (90 minutes) to go through a full cycle of all the stages.
This image below shows how we go through 5 sleep cycles in a typical 8 hour night.  The REM portion is the time we are actually dreaming and it's just barely a few minutes long, except for the last cycle. (That's why you have your intensely long dreams around dawn).
If you set your alarm to 45 or 60 minutes, that means you're going to be awakened during the deepest part of your sleep and you're going to be feeling really groggy.  Your performance after a nap is directly related to the sleep-stage you are at when you awaken.  People awakened during the deepest sleep have the slowest reaction times.  So if you have the time to take a long nap, go for a 90 minute nap.
Wait… if we sleep in 90 minute cycles, does that mean I could take a 180-minute (3 hour) nap and wake up feeling great too?  Yes, you sure can.  If you have that kind of time and really feel like you want a 3 hour nap, then by all means go for it.
When to take a nap?
This may sound obvious, but take the nap when you feel the urge for one.  If you wait too long, you will get a second wind and all of a sudden your want to nap will go away.  This neat image below shows all the slumps we naturally experience throughout the day.  It also shows how we go through the several sleep cycles within one night.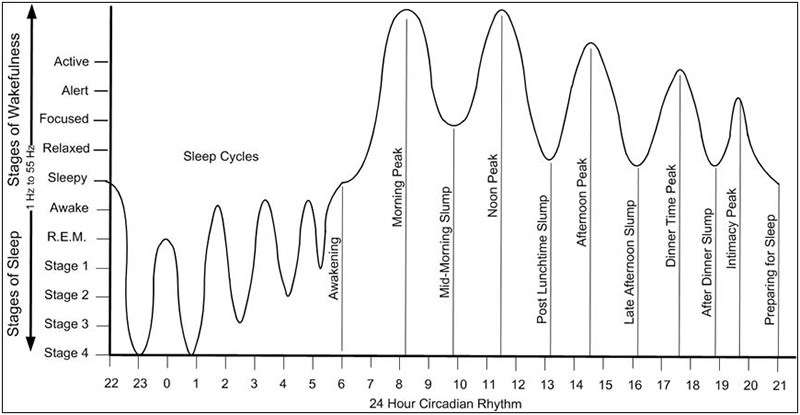 Tips for all naps
Set a timer/alarm on your phone.  If you only have 20 minutes for a power nap, then set the alarm to go off in 20 minutes so you don't have to interrupt your precious nap time just to check the time.
The caffeine nap: If you drink coffee, try drinking coffee before the power nap.  Since caffeine in coffee takes about 20-30 minutes to kick in, if you drink some and lay down for a quick nap, you will wake up feeling more alert than ever.
And this is me when I take a nap in the daylight and wake up in the dark.