Today's post is about these Sony PIIQ headphones
pictured on the right.
I discovered these headphones when I saw someone wearing them while skiing last year.  I thought they were ingenious because the soft-plastic loop that goes around the earlobe prevents them from ever flying out.
I ended up buying them because I ride my bicycle a lot and I had so many close calls where one of the ear buds would fall out of my ear and I'd frantically try to prevent it from getting caught in the spinning spokes.
(Side note: I'd like to mention that it's not a good idea to play music if you're cycling on a busy road or in a group ride so that you stay in touch with your environment.  I do turn the music up, however, when I'm riding in the desolate mountain roads. 🙂 )
Anyway, turns out, they're actually really fucking good in regards to sound quality.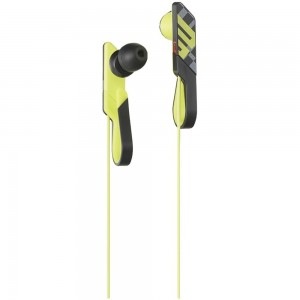 I listen to a whole variety of music, and a fair share of EDM and I seriously cannot stand listening to Deep House or Techno without some quality sound.  These headphones turned out to be absolutely incredible to say the least.
Then I discovered they're actually perfect for when I'm on the Santa Monica traveling rings as well!  Also, they are extremely good at isolating noise from your environment because the loops don't let the ear buds slowly wiggle out.
So they've really proved themselves useful all around for all sorts of different activities.  I figured if you're looking for headphones of your own, or want to give a great gift that's actually SUPER affordable, it would be a good idea to let everyone know about these.
Amazon's got the hook-up: Sony PIIQ headphones