The only video camera I have is my iPhone 4 and I've learned to make the best of it over the past few months.  While the camera is capable of beautiful 720p HD quality video, I would like to share some tips that help my footage come out a little bit more professionally.
1. Tripod for stability.
I have a simple camera tripod that I've been using for almost a decade with a slightly broken leg.  I found several videos on YouTube that show how I can mount my phone to the tripod. I found this one video where the guy uses a styrofoam cup to create a mount. This works really well, costs nothing and doesn't scratch my phone in any way.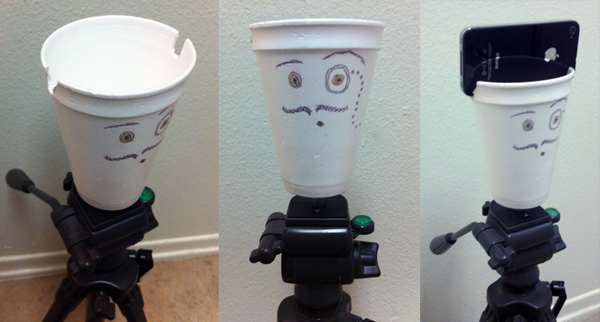 2. Use a cotton ball to act as a wind screen.
When the microphone picks up any wind, it destroys the audio and nothing but wind noise can be heard.  I usually record weather forecast videos on rooftops where the view is nice but, unfortunately, the wind is high.  Not too long ago my friend Christopher Reed left a comment on my weather page to say that I should cover the microphone with a cotton ball to act as a wind screen.  Well, I tried it and this works phenomenally well!
Simply get a cotton ball and tape it lightly over the microphone and the wind noise disappears.  This works just like the foam covers you see on professional mics because the cotton ball softens the wind before it enters the microphone.  There are two mics on the iPhone 4 and the top one, by the headphone jack, is only used during video-recording and should be protected from the wind.
3. Take care to keep the phone stable and pan slowly.
If you don't use a tripod, your video may be quite shaky because of how light the phone is.  Most smartphones have a rolling shutter camera which distorts when you pan too fast. Try to keep movement to a minimum and remember to pan very slowly.  Hold the phone with two hands and be careful not to cover the microphone with your finger.  Push your elbows into your abdomen for extra stability when shooting video.
In case your video is still a bit shaky, luckily for us, YouTube has a free video edi­tor that allows you to sta­bilize shaky video! I liked this feature so much and thought it was so helpful that I wrote a blog post about it with the details here: Use YouTube to Edit, Trim, Stabilize Shaky Video. It's also worth noting that iMovie for the Mac has a powerful filter for reducing motion distortion as well.
Here's an example of a video I created using YouTube's stabilizer feature for fun.
"iPhone-helicopter tour of a dry riverbed"
4. Use Izotope Music and Speech Cleaner to remove noise.
Not too long ago I was on top of a very tall tower and while there was no wind noise thanks to the cotton ball, the humming of the air conditioning system was very loud. I discovered this program called "Izotope Music and Speech Cleaner" (torrent link) as a tool to remove the background noise.  It allowed me to re-do the audio track by removing the noise and enhancing my voice, which worked really well for this video.
A little warning though: unfortunately the program cannot save the audio-track together with the original video.  I use Quicktime Pro to replace the audio track manually.  It's a bit of an advanced step but if you know how to use video editing software, then you're good to go!
Well, I hope that helps you out.  Our smartphones nowadays are very capable of capturing great video footage and if it's all you've got, like me, you can still use it very effectively.  If you have any tips or have any questions, please leave a comment below! 🙂