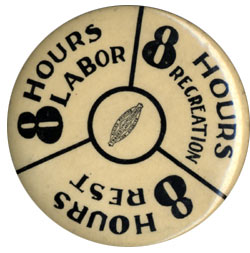 These are your options in a day:
Work
School
Exercise
Girlfriend or Boyfriend
Choose TWO.  That's all you got time for probably.  So true, right?
Let's break this down really simple: There's only 24 hours in a day.  3 x 8 = 24. If we spend 8 hours sleeping, then we're left with 16 hours.  If we spend 8 hours working, then we're left with 8 hours.  What you can do in these 8 hours is very limited.  Use it wisely.
Work: Unfortunately many people may get paid for 8 hours but are actually spending 9 hours at work due to the breaks.  Then they may be spending another hour getting to or fro work.  So maybe 10 hours in the day is spent for work, leaving you with 6 hours of playtime.  For this reason I actually love cycling because while it may take more time than driving, I'm getting my exercise out of the way and unwinding after work experiencing the town at 12mph.
Sleep: Lots of people don't get the proper 8 hours of sleep!  About 30% of the American population gets less than 6 hours of sleep at night.  You may be saying, "But I operate just fine on 6 hours of sleep!" like as if you're showing you're strength.  The fact is that you're probably operating at 70-80% of your ability and that's pretty good still, so you think that's enough, but you've forgotten what it's like to be operating at 100%.  Besides, only 1-3% of the population actually has the gene that allows you to get all the rest you need with less than 8 hours of rest at night.  You probably don't have that gene and are, for all intents and purposes, fooling yourself.
This has been your [surrogate] mother Antranik speaking again, letting you know to use your time wisely. 🙂