As I watched, I found her info very useful and I started typing it out so I could have an easy resource for myself.  So I decided very shortly (as I usually do) that it's a waste to keep this info to myself and why not share it with all of you.  She plans to do many more of these, so maybe this could be an epic-resource as she does more and more. All in all, she confirmed one thing over and over that was really great and that was the emphasized importance of active flexibility (strength & flexibility) over passive flexibility for reaching many goals. The other thing she mentions repeatedly, is the importance of opening up the rest of the body (legs, hips, shoulders) before attempting back-bending otherwise it's too hard on your back.  This is a Q&A format.
How do I stretch the hamstrings properly?
When you're in the half front splits (pictured below), focusing on your hamstrings, you want to slightly arch your lower back (naturally) rather than tucking your tail bone under.

When you're on your back and stretching your hamstrings with a strap, your hips are also going to want to tuck as well to get your legs higher, but don't do that.  Instead, try to maintain the natural curve in your lower back so you could stretch the hamstrings more effectively near the high attachment points.
I can't push myself up into a bridge.
If you feel like you can't get your body off the ground. Part of it is that if your hips, shoulders, back are tight, then the ability to make that position may still be out of your range of range of motion. So you have to do lunges, hip openers, shoulder openers and maybe you'll get there.
And then maybe you're unable to do it due to strength. Then the muscles you need to strengthen are in your upper back, lower back and glutes to tilt the pelvis and open it. And the upper back is one of the most important things to open up to get it stacked. You want to engage the upper back and a good stretch for this is to lean back, put your hands behind you (back to wall) and push the wall away. Feel that the push is happening through the upper back. Instead of pushing your shoulders forward or up like you would in a handstand, you're going to push from the upper back.
In the front splits, the back leg goes across the mat. Why?
You could use the edge of the yoga mat to have as a guide for the leg going straight back along the hip. If the leg goes across the mat behind you, it's because the hip turns out. Engage the "downstairs-butt" (where thigh and butt come together) to bring the hips forward to help you find the correct position. Maybe you can't go as deep into the splits by doing this and that's okay. Square the hips by bringing the back hip forward and align that leg.
How do you straighten your legs in the bridge?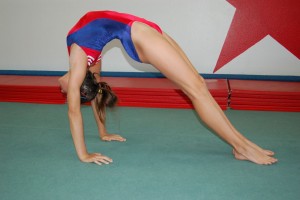 The question is asking about when you make a tear drop shape. Very few people have the flexibility to do that and this is a DEEP upper back stretch. It's easier to start with the hands further away from the back. A lot of people focus too much on the legs but it's about engaging the upper back. You want the arm pits to be open. Make sure your arm pits are rotated INWARD, straight forward, not facing the sides. Squeeze the muscles underneath your shoulder blades to move the arms back. Then you'll feel the arm pits moving past your hands and the legs will straighten. If you keep focusing on the legs you're not going to get the beauty of that stretch in the upper back.
Standing leg holds / standing splits where you kick your leg up and catch it in front of you. How can you do that?
If you are flexible enough to do front splits and lay your body forward on your front leg, you have the [passive] flexibility to do that. But why is it hard to do that? Because you don't have the active flexibility (the strength) to do it.
The first thing you need to do is you want to work on the standing leg and that's usually what fails in the standing splits (because you lack balance). You want to lift out of the hip from the standing leg and don't let the standing leg bend. Raise your leg and bring it up. After you have the strength in the standing leg, then you could keep bringing it up.
https://c1.staticflickr.com/9/8380/8515175219_d8364b0593.jpg
Side Tilt is pretty challenging, how do I do it?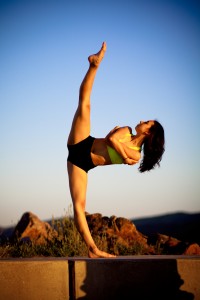 Again, for a standing split of any kind… in this case the side tilt is like middle split but standing side ways. If you have the middle splits, the importance thing, again is developing the strength and you have to strengthen the outer hip rotators and the obliques to bring the leg up and over. Start leaning and bringing that leg over and just like the straight standing split, there's going to be a lot of falling over but don't think of this as a stretch. It's strength work. The flexibility of the split is necessary, but going beyond that is going to require you to get stronger.
Stretching for Hip Flexors?
When you're in a lunge, the bodies desire is to allow the pelvis to drop and the hip to open. This feels very comfortable, however it's not going to stretch the deepest hip flexors and you could do it all day and it won't work. So you have to stretch your hips in SQUARE. You have to engage the downstairs butt of the back leg. You won't be able to get as deep but you'll feel the stretching in the deepest muscles (e.g., psoas). The hip flexors and glutes will get stronger overtime and you'll be able to go deeper.
Working toward the needle-scale. What exercises do I do?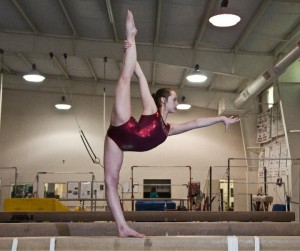 This is about working the splits again. It requires back flexibility, but it's mostly about the hips. So don't cut the splits out. Work on opening up the hip flexor as much as possible. The other thing to work on is opening up the shoulder and getting the arms straight. Work on your splits first and back bending after. Always do splits first before any back bending. If your hips are tight, you put too much pressure on your lower back. If the front of the hips are tight, you end up with a lordotic curve and all the bend will happen in that lower back. The problem with that is that it will compress the spine overtime. As you start to get more flexible, you could start working on the split catch ankle. Split the leg behind you, bend the knee and work on catching your ankle.
I'm unable to put my heels down in downward dog and side lunge. Why?
I don't know. Some people have problems with their ankles or tendons and there's scar tissue but in general, work on active flexibility stretches by sitting with your legs straight out in front of you and pulling the foot and toes back 10-15x on each side, starting by using the muscles to bring them back. Then, help your feet go go back with your hands. Your feet may be sickled (flexed and slightly turned in) or beveled (flexed and slightly turned out) when you bring the feet back. And if that happens then use your hands to move it the other way. Passive stretching may not give you the results that you want so work on active flexibility.
Noobie splitter, longtime runner. Any stretches that I could do to counteract long distance running?
Runners do tend to be tight and it's going to be different for everyone. But in generally flexing and pointing the feet like I just mentioned is going to be good. And the other thing is the supine hamstring stretch [as mentioned first]. And runners have trouble engaging the quads and locking the leg as straight as possible. You could also straighten the legs and flex/point the foot. So work on that active flexibility, and of course work on the lunge as mentioned before. I know a lot of people love running. It will tighten you up so do a very strong active flexibility warm up and then go run and when you're done and all warm and juicy, do your passive stretching. And the other thing is to avoid running on pavement.
What stretches are best to deal with turn-out?
Sometimes some people don't have lots of turn out for their middle splits due to their anatomy. There are a lot of exercises you could do for turn out. Sit in your straddle, put both arms out to the side, sit up as high as you can. If you aren't able to sit up tall, put a cushion underneath your butt to help you. Then, flex your feet and try to move them back behind you. The actual ability to slide the feet back isn't as important as the engagement. The wrap-around portion of the butt (turn out muscles) will work. Then, do your straddles and try to keep them engaged as much as you can. It's a very gentle way of doing it.
My legs forget to stay straight during my aerials stuff, why is this?
As movers, we are often doing many things at the same time. In belly dancing, we think about the hips going side to side and the tummy forward/back and the chest in circles, so if you do this all at once you will look like you're having a seizure. So you have to work on each one of these things in isolation so much that your body could do it without thinking about it and so you layer it on and you don't even have to think about it anymore. So it's the same thing with extending your legs. Work on extending your legs ALL THE TIME. Just do exercises where you have the legs out in front of you and point the leg and squeeze it up and relax. You could do this on your back as well (same exercise as before; supine hamstring stretch). It's surprising how much work it is to keep your leg straight like that in the air. If you can't do that while laying comfortably on your back, imagine how hard it is during an aerial routine when there's so much else going on. Eventually it will get hard wired in if you focus on it. A lot of aerial people keep their legs bent and then bring them up and straighten them. It's very difficult when you do this. If you're not able to lift your legs straight from the beginning, bend your legs FULLY and then extend it. Doing them slightly bent and then straightening isn't going to be good. Make a choice. Either do them straight from the start or don't do them at all.
In butterfly/bound angle pose/boddha konasana, I have a difficult time getting the back straight.
With the way the body is built, the lower back gets held up by the strength of our abs. But not everyone has this ab strength, so the lower back holds ourselves up. This isn't the case with everyone but it's true of people who are hyper-lordotic (one of the symptoms of anterior pelvic tilt). So what I recommend is to start thinking about loosening up your lower back.
The best way to do this is to do twists and lateral bending. When you're seated cross legged or whatever, do active twists and then add the arm and do passive twists that push you. Raise your arms up and do lateral movements (e.g., half-moon). If your lower back is tight, you're going to want to use your shoulders/legs/upper back to make up for the lack of movement, so keep the movement small at first and try to isolate the lower part of the torso.  Also, if you can go in a full straddle/middle split and you can't go forward in the pancake, it's mostly tightness in the lower back.
How do I extend my hip flexors?

Stand up. If the glutes are relaxed and the abs are relaxed, you could feel your bodyweight sitting into the front of the hips. Contract your glutes (poke your lower glutes to make them activate, silly but it works). Keep engaging them in the splits, keep working them. Everytime you're in the splits, keep fixing the squareness (by engaging the glutes). The more you do it, the easier it will get. It's a fight worth fighting.
In a straddle I have pain on the inside of both knees. Is this ligament pain?
I don't like to diagnose people over internet and idk if this is your issue but a lot of time if there's inner knee pain, the inner thigh muscle is glued to the hamstring and this is a pretty common one. They get glued together by the fascia, the gooey sacs that hold our tissues together. Instead of being slippery and slidey, they get dry and it could feel like a ligament problem. The best way to deal with this is to find someone who can do massage or rolfing. It works best when you do this while you're already in a straddle. It does really help. If that is really the problem, it should help reduce the pain in the knees.
Also if you have rotation in the knee, that could make the knees hurt. That's an issue that requires physical therapy to work on so that torque in your leg won't work. Definitely rolfing is good for this stuff to undo the things that are stuck together.
Relevant: Stretch Therapy fascial release for Pancake/Straddle
Is it better to do short/frequent sessions or long/infrequent sessions?
For back flexibility, I wouldn't stretch it more than once a day. It's hard on your back.
This is the ideal, if you don't have to work and we are leisurely people with all the time in the world:
Stretch two-three hours, at the same time of day,
At least 3 days a week up to 5-6 days a week.
That would be ideal if you want to make huge gains in your flexibility.
Unfortunately, not many of us have this luxury. But get to it as best you can. Training your body is like training any other pet or child. Consistency is important. The body responds best with consistency. The body has its primitive lizard like brain. Think about when you're trying to get a dog to learn a trick, you have to do it the same way every time. One longer session per day is better than short ones cause you can go through an entire sequence (legs, hips, shoulders, back), so that your back is warmed up completely for it. You want that consistency so the body knows that it feels safe. The more steady you are in your training, the more it's going to give you that safety.
End of this Q&A.
Kristina said she's going to do these weekly. I'll try to update this same article with more of her Q&A's so it'll be one huge depository.
More Resources by Kristina Nekyia: