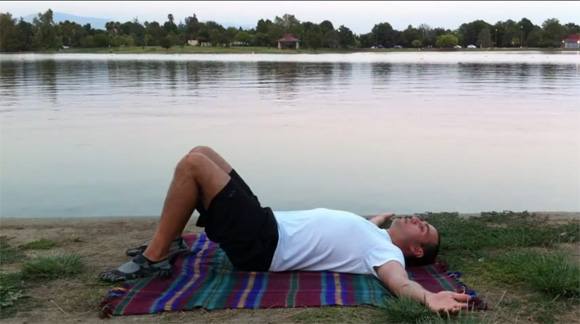 Peo­ple don't seem to be aware of the impor­tance of doing noth­ing but lying on their back on the floor to allow their back to relax.  That's right, the floor.  Not the mat­tress. When you are on the mat­tress, you lit­er­ally slouch just like when you are sit­ting on a chair or couch.   Even on a new, firm mat­tress, your hips and shoul­ders sink in and your lower back col­lapses, caus­ing your spine to go out of alignment.
You may think that lying on your back on the floor would be a ter­ri­ble way to relax, because it con­tra­dicts all your ideas about relax­ation, but when you feel that Earth sup­port­ing you under­neath, only then will you truly be able to relax because none of your mus­cles are being used to sup­port yourself.
Make space; Clear an area in your home large enough that you can lie on your back.  Remove the clut­ter, rearrange fur­ni­ture if you have to, vac­uum the car­pet, swiffer/mop the hard­wood floor, use a yoga mat, etc.  Do what­ever you need to do to cre­ate a spot where you can lie down com­fort­ably.  I'm aston­ished how much clut­ter peo­ple have some­times that they don't even have room to lay down any­where on the ground in their entire home.
Lie on your back with your knees up and your feet flat.  You may also try putting a pil­low or rolled up towel under­neath your knees.  Put your arms to the side.
Relax for a few min­utes.  This is you-time, as in to say, this is time for your­self.  How does it feel to be in your body?
Why are we doing this?
Fact: Every­time some­body has layed their back on the floor, they have said "This feels really, really good."
This is quite pos­si­bly the only time dur­ing the day and night where ALL your back and neck mus­cles can actu­ally relax prop­erly.  Right now as you are read­ing this, 'erec­tor spinae mus­cles' are con­tracted that are keep­ing your back erect and oth­ers hold­ing your neck up. When you are slouched with your shoul­ders for­ward, the mus­cles in your upper back over­stretch and weaken, while the chest mus­cles shorten and become tight, which in turn increases the ten­dency to slump.
When you lie on the floor, those mus­cles finally get to rest and relax at a proper length.  Even when you lay down on a sup­pos­edly firm mat­tress, not every mus­cle relaxes like it does with the floor.  In short, being sup­ported by the Earth under­neath you feels really, really good .
Mat­tress vs Floor
This is sim­i­lar to how a very hard bicy­cle seat (such as one made only of leather and no padding) is bet­ter for you than a soft/gel one.  The soft one will cause your soft tis­sues to bruise after 10 miles, while the hard one allows the sup­port to remain solely on the pubic bones (seat bone) and not squash the soft tis­sues around it.
Note: When you are lying down on the floor, is your lower back in the air?  What size ani­mal can fit under there?  The lower back has a nat­ural inward curve, but fat or preg­nant peo­ple have a curve that is too inward (lum­bar hyper­lor­do­sis) and may be asso­ci­ated with pain in that area.  If you keep relax­ing on the ground like this, your curve will get more aligned than any mat­tress ever would.
While you're down there, stretch your­self hor­i­zon­tally as much as you can.  When you first get up in the morn­ing, it feels good to get on your tippy-toes and reach for the sky.  Try to do the same, but hor­i­zon­tally on the ground.  Roll around if you have the room to.
While you're down there, do the russ­ian twist!  Prob­a­bly the nicest stretches ever.  Here's a video I made from a pre­vi­ous blog post on how to do it.
Once you are down there, why not also do some yoga?! Dis­cover the joy of stretch­ing.  There's a video you could down­load in that blog post that could get you started. Yoga is not about achiev­ing the per­fect pose but about the entire process itself.
Any­way, hope all these things help you feel better.