I'm a huge fan of bicy­cling and com­bin­ing my com­mute with pub­lic trans­porta­tion.  Los Ange­les becomes a com­pletely dif­fer­ent expe­ri­ence when I travel like this.  Other than the buses, which all have bicy­cle racks by the way, there are sev­eral rail lines and I am proud to announce that we will be hav­ing two new lines open­ing up this year!  The Expo Line and the Orange Line Exten­sion!

The Expo Line 
The Expo Line is Metro's all new 15 mile light rail that will allow travel from Down­town Los Ange­les to Santa Mon­ica beach in 45 min­utes, even dur­ing rush hour!   This new line will pro­vide sig­nif­i­cant relief to the most con­gested areas of LA because tons of peo­ple live, work and com­mute in West LA.  It will reuse the right-of-way that used to be for the Pacific Elec­tric Rail­way up until 1953 and basi­cally runs par­al­lel to the 10 freeway!
Why did the Pacific Elec­tric ever stop func­tion­ing in the first place?
Up until early 50′s, you could take the street car all the way from down­town to the Santa Mon­ica pier!  GM, Fire­stone, Stan­dard Oil and other com­pa­nies got together and bought all the street­car com­pa­nies in dozens of cities in the United States for the sole pur­pose of hav­ing a monop­oly on pub­lic trans­porta­tion.  It is largely agreed nowa­days that they bought them solely to con­vert the lines to bus routes or shut them down com­pletely. This forced peo­ple all over the coun­try to be depen­dent on cars.  GM and other com­pa­nies were con­victed in the courts in 1949 of con­spir­ing to monop­o­lize the con­trol of buses and pub­lic trans­port across the coun­try but by then, the dam­age was done and auto­mo­bile depen­dency was already estab­lished.  This is known as the Great Amer­i­can Street Car Scan­dal if you want to read more about it.
Now, over half a cen­tury later they are using the same rail­way that was shut down to cre­ate the Expo Line.
Phase 1 of the Expo Line will be opened in the sum­mer of 2012
The Expo Line starts from 7th/Flower in Down­town and ends in Cul­ver City, adding 8 miles of light-rail that runs very closely par­al­lel to the 10 freeway.
The "Expo Line" is dif­fer­ent from the other Metro Rail lines because it is not named after a color but it will be shaded a light blue color on maps. This name comes from Expo­si­tion Boule­vard which is named after Expo­si­tion Park.  The FEIR esti­mates that on a sin­gle week­day, more than 40,000 boarding's will occur on Phase 1 alone.
Map of all the new sta­tions that go along phase 1 of the expo line:

View Expo Line in a larger map
Phase 2 of the Expo Line will be com­pleted in 2014
Phase 2 will extend west­ward from the Cul­ver City Sta­tion and run all the way to 4th and Col­orado Ave in Santa Mon­ica, just a cou­ple blocks away from the Santa Mon­ica Pier.
Remem­ber that bit I said about them reusing the right of way from the Pacific Elec­tric Cars?  There are sev­eral tracks that run into build­ings nowa­days and this guy cre­ated a time lapse video of him walk­ing along the entire path of Phase 2.  It's pretty awesome.
The Orange Line Exten­sion com­ing in the sum­mer of 2012
If you're famil­iar with the Orange Line, you know that it runs east/west from Wood­land Hills and con­nects you directly to the North Hol­ly­wood Red Line station.
The Orange Line Exten­sion will add four miles of NORTH/SOUTH ded­i­cated bus way from the Canoga Ave Sta­tion con­nect­ing you to the Chatsworth Metrolink Sta­tion.  It will fol­low the same land­scap­ing as the Orange Line with a ded­i­cated bike path that runs par­al­lel to it.  This will open in the sum­mer of 2012.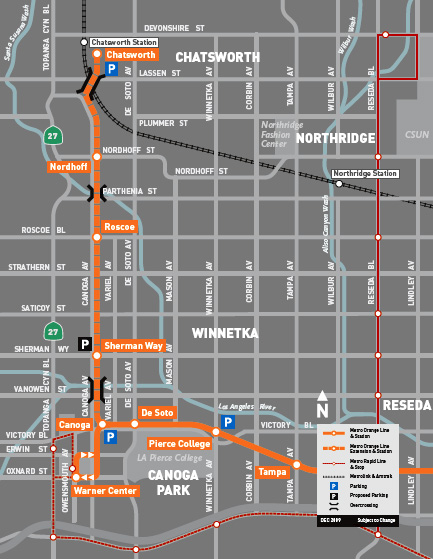 2012 and Beyond: The 30/10 Initiative
Mayor Anthony Vil­lairagosa is an avid sup­porter of pub­lic trans­porta­tion and cycling (like me!).  He wants to trans­form the city and make Los Ange­les a model for the rest of the coun­try with a very well con­nected pub­lic trans­porta­tion network.
He is push­ing some­thing known as the "30÷10 Ini­tia­tive" really hard. The idea behind it is to take 30 years of pub­lic trans­porta­tion projects that were going to get funded by Mea­sure R and try to get them done in 10 years.  If you voted in the 2008 elec­tion, you might remem­ber vot­ing for Mea­sure R. It got over­whelm­ing sup­port with over 2/3rds major­ity being for the bill. Mea­sure R's pur­pose was to pro­vide fund­ing for 12 major mass tran­sit projects over 30 years time.
Some exam­ples of future major tran­sit projects?
FOUR

(4) more north/south Orange Line extensions.
The Pur­ple Line will extend from Kore­atown to West­wood along Wilshire Blvd.
The Gold Line will extend from Pasadena all the way to Ran­cho Cucamonga.
The Expo Line will con­nect to 

LAX

.
The most geo­graph­i­cally chal­leng­ing one: A new line that con­nects the expo line in Cul­ver City and goes north, up along the 405, over the Sepul­veda Pass ("over the hill" as we Ange­lenos call it) and into the San Fer­nado Val­ley to con­nect to the Orange Line.
So now imag­ine all these things, being com­pleted in 10 years time instead of 30.  If this works out, we will have stat­ues and parks ded­i­cated to Vil­laraigosa for decades on end.  Even if the plan becomes a 30/15 plan, that's still incred­i­ble!  We would have a com­pletely dif­fer­ent city that one can only dream about.
"Happy are those who dream dreams and are will­ing to pay the price to make them come true." –Anony­mous