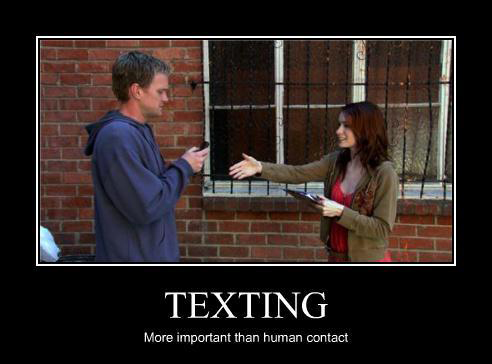 When I started attending CSUN in the fall of 2001, I had just gotten my own cell phone less than a year ago as a senior in high school.  I remember my parents told me it was to be used only for emergencies and that made sense because we only had so many minutes allowed per month back then.
Phones were barely capable of sending/receiving text messages and texting seemed like something that wasn't practical to use because you would be charged 25 cents for each message that was sent AND received and typing with a number pad was slow.  Strangely enough, even to this day, if you don't have a text messaging plan, the four major US carriers still charge you 20 cents to send or receive a text.

By the time I graduated CSUN in 2006, texting was just starting to get used a little more often.  I remember my girlfriend at the time had started to send me a few texts a week and I wouldn't reply because it would cost me more.  This was a huge problem because I couldn't control the fact that I was receiving text messages and getting charged for each.
Later that year I was forced to get a text messaging plan that allowed for 100 texts a month, just enough to take care of all the messages that I was inevitably going to receive.
Our phones in 2006 were not 'smart' back then.  The text messaging plan didn't include Internet access.  Touch-screen technology didn't exist and mini-QWERTY-keyboards hadn't come out yet.  Assuming the phone even had a browser, it was so crude and slow that navigating the Internet with the phone was a joke and mobile versions of sites only existed for the giants like Yahoo! and Google.
The evolution of phone capabilities
Now the year is 2011 and texting is the preferred way of communicating now.  Smartphones can browse the Internet like they are laptops and come with generous data plans to support the addiction.  My iPhone 4 is faster and more powerful than the desktop computer I had 10 years ago.  Did I forget to mention that it fits seamlessly in my pocket? Even my site has a streamlined mobile version if it detects you're using a phone-based browser.  Go ahead, check out one of my blog posts on your phone, you know you want to.
How smartphones have changed socializing
Now it's the fall of 2011, exactly 10 years since I attended my first semester at CSUN and I am taking a couple classes at Santa Monica College.  It seems like a significant number of students, at any one time, have their faces buried in their phones.  It's also a lot more common to see young people have headphones on as well.  I never know if they are actually listening to music or not so I can't even say hello because it seems like it would fall on deaf ears.  A similar thing happens when someone is wearing sunglasses and you don't know if they are looking at you.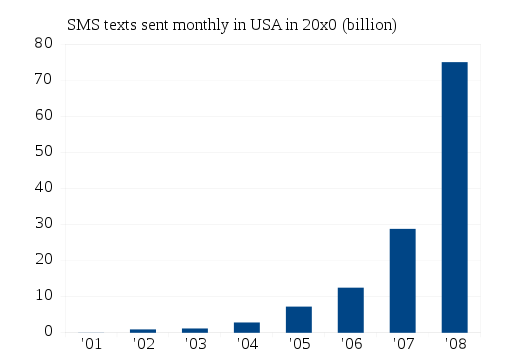 Ten years ago if a phone was not silenced in class, a polyphonic ring-tone could be heard because they were receiving a call.  Nowadays if someone forgets to silence their phone, a brief alert would be heard indicating a text message has been received since people don't call each other as much.
Today I saw a line of people waiting to get their student ID's and the line looks to be about 1-2 hours long.  There were several people in a row with their heads tilted down, staring at their phones.  I don't like how people don't even utter a word to each other in a 2 hour line.  They could make eye contact and share their frustrations (or inspirations) about the long line with people who can relate, as they are experiencing the same wait but instead they look at their screens.
The lack of socializing face to face, eye-to-eye, as a result of our phones is kind of sad.  We get in our bubble of a car which effectively disconnects us the moment we step out from our home and when we get out of the car, our phones continue to steal our attention and keep us in that bubble.  I like it when I see people talking to each other openly but I am guilty of using my phone nonstop all day, everyday.  I crave information and the Internet helps increase my efficiency so I will constantly use it.  In fact, I typed up most of this article on my phone as I was walking to my car.
I wish people would be more willing to open their mouths and share their thoughts to the people next to them rather than relaying everything through their phones to others.  People weren't socializing like mad before these cell phones became the centerpiece of our lives but now it feels like it's almost guaranteed they will do it even less.
Maybe I'm just too much of a people person or I'm living in the wrong part of the world.  I want people to share their stories with me so that I could have the opportunity to converse or help them.  I want people to live in love and not have a fear of speaking up or speaking what's on their mind.  Sometimes I wonder if people are losing basic speaking skills by all this dumbed-down superficial communication.  How deep of a conversation have you ever had through texting anyway?  Or on Facebook?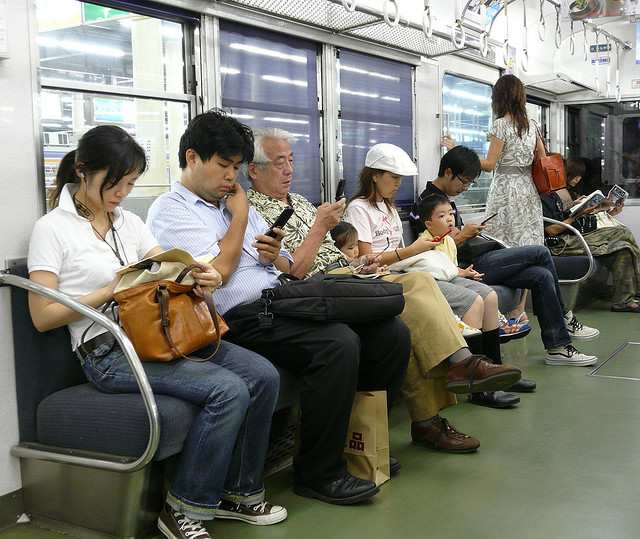 I guess if I want things to change, I need to be that change.
Ghandi's quote comes to mind: "Be the change you want to see in the world."  If I want people to open their mouths more often then I could at least try to do it myself when I feel like it rather than staying silent.  This would change my direct experience.
So please don't think I'm crazy if I start talking to you.  I just want to be your impromptu friend.  I just want to be real with you.  I won't ask you how you're doing because I don't know you and I don't want to hear the automatic, superficial reply, "Good, good, you?"  I want to be real with you so that you're real with me.
Anyway, that's all I wanted to share.  As our phones keep us connected through texting and social media while we're out in public, it seems like socializing casually with strangers has broken down.  At the same time, I absolutely embrace the technology and I find these observations fascinating and would love to hear your thoughts on the matter as well!