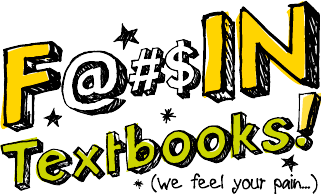 I think I speak for most US college students when I say that book prices are obnoxiously high and it's obvious the publishers are blatantly ripping us off.  The good news is that nowadays, thanks to Internet, there are plenty of alternatives!  If you don't like any of these options, I encourage you to ask your professors whether the previous editions are acceptable as they tend to be a fraction of the cost and often times nearly identical.  Also, compare prices on Amazon.com against your school bookstore to see how much they are actually ripping you off before blindly giving them your money.
Cheap Alternative: Rent the textbooks
Chegg.com provides real books that you could actually rent for much less than what it would cost new.  They pay for the shipping and handling for the return, which they allow plenty of time for as well.  Also, there's a 21 day return guarantee as well, in case you drop a class or something along those lines.  There are other websites that do this but Chegg.com seems to have the lowest across the board and while you might be able to buy the book for cheaper on half.com, selling it back takes a very long time and it's quite the hassle.
2013 Update: Book rental businesses have become very successful business models and there are more options now than just Chegg.  Here's a google search result of textbook rental options.
Cheaper alternative for the pirate in you: Download the PDF version of the book online.
You may be able to find the pirated PDF version of the book and download it for free.  Try a Google search for "filetype:pdf  title of the book " without the quotes.  This will limit the search to only PDF files with that book title.  If you only find the previous editions, ask your teacher if that works because they are often times identical in content.
Don't waste the ink of your own printer. Simply download it, put it on a USB flash drive or email it to yourself.  Then spend less than five bucks printing the chapters you need, using the syllabus as a guide, at your local print shop.  Then have them bind it for you for two whole dollars!
If you can't find the PDF of the book through Google, you can try this file-sharing search tool that will cover sites like mediafire, rapidshare, etc.  Your last option would be to try finding the torrent of the e-book.  If you don't know what torrents are, you could learn more about them here.
Cheaper alternative for the buddy in you: Borrow the book and copy the pages you need.
Make a friend in class and ask them if you could borrow the book for one day so that you could take it to the printer and photocopy the pages you need.  I did this once and it surprisingly took me only around half an hour to copy all the chapters I needed for a book because the scanner was so fast.  I even had it bound afterwards which I highly recommend and the entire thing cost me less than $20 rather than $100+ for a new book.  If that one hour of your time is worth the money you'll be saving, then you should definitely look into it.
Well I hope that helps!  Please share this with your fellow peers to save them some money too. 😉
Update…
http://bookbyte.com (sell textbooks and buy/rent college books)
http://gen.lib.rus.ec
http://textbooknova.com
http://en.bookfi.org/
http://www.gutenberg.org
http://ebookee.org
http://www.manybooks.net
http://www.giuciao.com
http://www.feedurbrain.com
http://oll.libertyfund.org/index.php…
http://www.alleng.ru/
http://www.eknigu.com/
http://ishare.iask.sina.com.cn/
http://2020ok.com/
http://www.freebookspot.es/Default.aspx
http://www.freeetextbooks.com/
http://onebigtorrent.org/
http://www.downeu.me/ebook/
http://forums.mvgroup.org
http://theaudiobookbay.com/