This post will prob­a­bly make the most sense to those within my Gen­er­a­tion Y since I myself was born in 1983.   An inter­est­ing thing about us is that we are the last gen­er­a­tion that remem­bers life before the take­off of mass tech­nol­ogy and glob­al­iza­tion.
I started going on the Inter­net in 1996.  The inter­net was very dif­fer­ent then. I remem­ber how it was in the very begin­ning.   Our com­puter con­nected to the same tele­phone line we made house calls with so nobody could use it as the same time which was prob­lem­atic.  My 14.4kbps modem would dial an LAUSD server and I'd hear strange screech­ing noises until a con­nec­tion was estab­lished. I then entered my login info and then that server, using Tel­net, would con­nect me to the Inter­net.  The "browser" dis­played only text.  Images would sim­ply be links I would have to down­load and then open indi­vid­u­ally to view it in all the glory of 256 colors.
Even­tu­ally we tried one of the AOL CD's that kept com­ing in the mail.  Switch­ing from the crude Tel­net, to the AOL browser that actu­ally dis­played for­mat­ted text and images blew my mind.  I was expe­ri­enc­ing Web 1.0: The first stage of the World Wide Web link­ing web­pages with hyper­links.  By the way, AOL sent out over 660 mil­lion of those trial CD's until 2006 and peo­ple got very cre­ative with them, cre­at­ing things like mosaic mir­ror art­work to using them as pizza cutters.
AOL also opened me up to the con­cept of Instant Mes­sag­ing and opened up a new expe­ri­ence to me that I know my par­ents had never expe­ri­enced.  You send a mes­sage and they get it, within a frac­tion of a sec­ond.  Wow.
For a shy boy like me, IM's were quite excit­ing to say the least.  Hav­ing a con­ver­sa­tion online was much eas­ier online through instant mes­sages.  I was able to artic­u­late my thoughts using the key­board much more eas­ily than if I was face to face with some­one.  I could sim­ply type out my thoughts, refine them, and then hit enter.  There were no awk­ward pauses.  The lack of body lan­guage was replaced by emoti­cons and since the per­son was not phys­i­cally in front of me, I was able to ask or say things that I would've never been able to vocal­ize.  Iron­i­cally, even though IMing was very imper­sonal, I felt like my true self came out through the instant mes­sages because it was easy to express myself. Did any of you out there feel that way too?
So for the longest time I always had an 'online social life' and 'real social life.'    The peo­ple I chat­ted with online were often with peo­ple I didn't see fre­quently, or ever at all, in real life.  There were dis­tinct dif­fer­ences between the two groups and in my head, they were totally sep­a­rate parts of my life.  This all changed in the late 2000′s when I started to meet online friends from forums, in real life through mee­tups.  This was the first time peo­ple who I only knew based on a han­dle and the con­tent of their posts were start­ing to meld into my real life.  Nor­mally Internet-sourced-friends don't go any­where, but they did for me.  I think I got lucky to meet such nice people.
I joined Face­book after a friend from high school helped me real­ize that I had missed out on many ran­dom events because I was not on there.  All of a sud­den with this social media net­work, all my high school friends, col­lege friends, rel­a­tives, and Inter­net friends were all together in one spot.  Every­one was all of a sud­den an Internet-friend.  Face­book cracked the code on mov­ing real life onto the online world for the masses.
When peo­ple plan for events, whether it's a casual hike or a house party or even a seri­ous event like a wed­ding, it's prob­a­bly orga­nized on Face­book.  Pho­tos from said events are then uploaded, viewed, tagged, and com­mented on.  The social­iz­ing effec­tively con­tin­ues at home and all of it seems pretty seam­less, fur­ther blur­ring the lines between vir­tual and real.
Sta­tus updates pro­vide some qual­ity insight into peo­ples real selves that we oth­er­wise would have never known.  They reveal what some­ones inter­est are, what music they like, what both­ers them, what they give value to and so forth.  And you'll notice pat­terns: Some­one like me may be obsessed with the sky while some­one else may be obsessed with tak­ing pic­tures of their meals.  Or worse, con­stantly bitch­ing about how their life sucks.  Which is why I've even cre­ated an arti­cle on how to make face­book bet­ter by hid­ing annoy­ing peo­ple.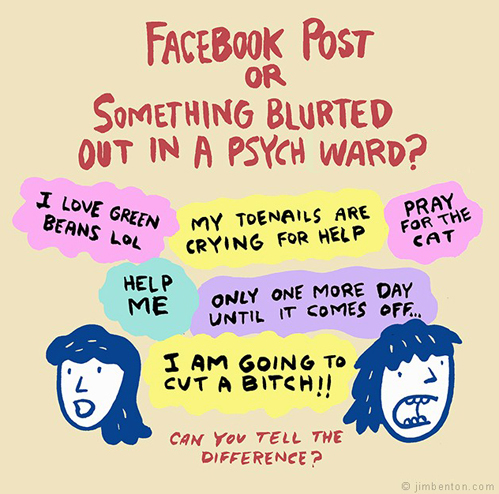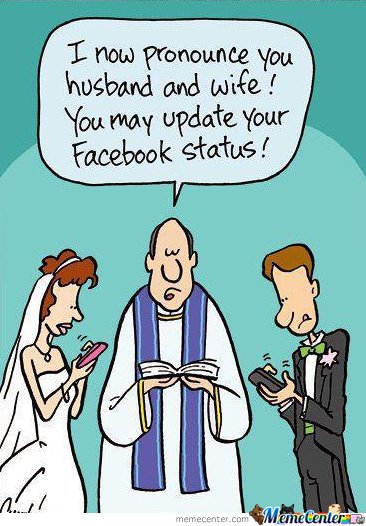 I never real­ized that over the months and years these updates would build up to become a sub­stan­tial online jour­nal.  This is where the cre­ation of Time­line comes in, show­ing the story of your life, in a visual, ver­ti­cal chrono­log­i­cal time­line that's like a cross between a mini blog and a scrap­book.  Now you can even add "life events" onto your pro­file instead of just text or photos.
So it's pretty inter­est­ing how I've gone through this roller­coaster of social­iz­ing from IM's to forums to Face­book.  I won­der what will be the fate of FB.  Users don't just want to use face­book, they sub­con­sciously need to use it!   Mes­sag­ing on Face­book is so con­ve­nient that we have aban­doned email all together and just "Face­book" each other. But will some­thing bet­ter come along?  Can it go the way of AOL and be irrel­e­vant even­tu­ally?  Will the inter­net deck be shuf­fled again?  His­tory does have a sneaky way of repeat­ing itself, but I don't know, this is totally some­thing new to all of us.  What do you think?