This post is one of those where I just let loose and it's quite a bit like just a stream of consciousness writing style.  So here goes…
I learned a lot about myself physically this year.  My physical awareness has shot up like never before.  I had always been very big on self awareness.  For most of my life, self awareness has always been a highly mental experience. I used to do energy healing vigorously.  I used to make a living out of it.  It was a meditation for me and a way for me to help others through just cultivating and feeling profound love.  It was so much of a mental experience that I would purposely disconnect from my physical body.  Well, now that I'm 28/29 years old, I've discovered new sports such as the traveling rings and board diving and slacklining.  I ramped up my yoga experience, taking at least 80 classes for 2012. All these sports stressed my body in new ways.  I got more ravaged in my search for understanding gymnastics.  I found that gymnastics is one of the most complete body workouts.  I also discovered that trampolining skills are translatable to skills needed in board diving.
But wait, back to the energy healing thing.  For most of my 20's, all I did was focus mostly on meditation, breathing, energy healing and doing everything by feeling.  But now… since my physical self-awareness has been ramped up thanks to yoga and other sports, I feel like I can go even deeper in my mental meditation.  If I do energy healing while doing moving meditations rather than just sitting, I feel like I'm bound to experience a whole new level of awareness I haven't reached before if I keep this up.  I could be in a meditative state all the time, potentially.

Stretches that used to feel great, just feel normal now.
You know what's interesting?  I remember when I first started doing yoga, simply resting in childs pose was the most marvelous pose ever.  I remember when I would raise my arms straight up, put my palms together and bring them down in front of my chest like a prayer position, that it would feel absolutely marvelous too.  It still feels good, but now these same positions don't feel like they do much because my body has opened up and gotten used to them.  So wonderful it is to realize that there is progress.  These minor changes are often imperceptible in our daily lives but I am happy to realize that I am indeed, progressing all the time.
Hip Flexors, Y U NO STRONG?
I learned that because I have been riding my bicycle all the time for about 5 years now, my hip flexors are really tight and weak.  I'm not a person who does a lot of sitting, but cycling just so happens to be done in a sitting position, so the muscles that shorten the distance between your torso and your upper thighs stay in a contracted position and don't really do much and get tight and weak.
Tight and weak.  That reminds me.  Another thing I learned was that a muscle could be weak because it's short due to it always being in a contracted/tense position.  Or a muscle could be weak because it's always stretched out.  And if you think about how you sit all day, you are probably slouched with your shoulders forward, that means our back muscles are stretched and weak and our chest muscles are tight and weak.  We have to consciously lower our shoulders (RELAX YOUR SHOULDERS) and bring your shoulder blades down and back. This one physical therapist recommends practicing the "Da Vinci Posture" which is funny because it is actually the equivalent of the yogic tadasana (mountain pose).

I found out that doing a yoga flow dedicated to stretching the hip flexors is a really cool solution. Thanks to Philip Be for recommend this flow: down dog –> 3 legged dog –> pigeon pose –> 3 legged dog –> warrior 1 –> crescent moon (really sink into the hip flexors here!) –> warrior 2 –> bound side angle pose –> trikonasana).
Slackline, lalalalalla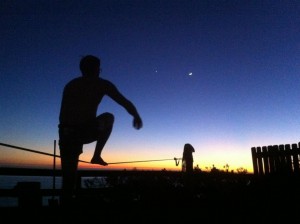 Learning to balance on a slackline and eventually walk on it has been a profound experience.  I started learning slacklining in the summer.  It took a (non-cumulative) couple of hours of standing and falling and standing and falling to be able to balance on one leg for more than three seconds.  Then three seconds became five seconds.  Then five seconds became TEN.  And I was ecstatic.  I remember the day I was able to take my first step.  Just yesterday, literally yesterday, was the first day I was able to take a single step backward without falling.
The coolest thing my brother taught me about the slackline was that: To be able to stay on the slackline, you have to NOT think.  So that too, is a sort of moving meditation.
Basically all these new activities (trampolining, board diving, traveling/still/flying rings, slackline, etc) really forced me to work on my balance, hand-foot-eye coordination, core and upper body strength.
Root of Stress = (The Perception of) Not Enough Time
In regards to time, I think most of our stress comes this idea that we don't have enough time.  We don't have enough time to do what we want to do.  We get stressed out when we're stuck in traffic, because it's taking up our time and we're going to be late to something.  We get stressed out when we're going to be late to a meeting. If the due date for a bill due date is getting closer and we don't have he money to pay for it yet, we start to freak out a little.  A lot of stress comes from this idea that we don't have enough time.
I've also noticed that a lot of people get discouraged when they find the learning/training curve of something is really high.  The still rings, for example, have a very high training curve.  All we have is time in regards to learning these things.  You have to master a few foundation moves (which are very difficult) before you could do more things.  But when you start getting it, that opens up a whole new world of skills.  And that dedication becomes all worth it because it pushed your comfort zone somewhere new.
So don't be discouraged that it may take months or years to get good at something.  If you like whatever that is, then a least you're spending the good years of your life doing something you like.  And this doesn't just apply to sports.  This applies to very long, drawn out, academic things too like learning languages and earning school degrees or playing the piano.  How many people do you know that don't pursue their school degrees because they don't like how it will take time a lot of dedication and time?  Or to learn a new language?  There's no reason to put yourself in such a position that you don't have enough time to do the things you need to do to enjoy your life.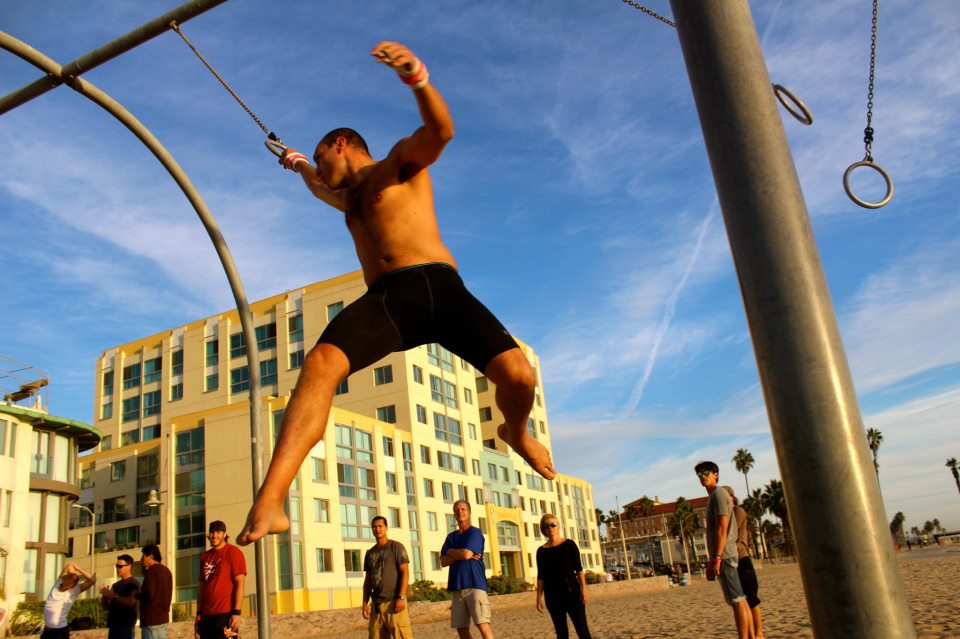 Gymnastics, why did I ignore you when I was 12?
I quickly learned that gymnastics required three things: lots of flexibility, significant amounts of total body strength and grace.
Flexibility, that's a big deal.  When I originally started doing yoga a few years ago, I didn't really understand what was going on.  I was following the moves, but I wasn't very aware of what the point of them was.  All I knew was that it was extremely difficult, it reaffirmed that I was inflexible, and I felt great after doing it.  I'm happy to know that you're considered a beginner for the first 10 years of your yoga practice.
Ever since I was young I couldn't touch my toes without bending my knees.  For the longest time I've (over 10 years), I've been wanting to be able to be flexible enough to touch them.  I will never forget: It was in the middle of November, after doing yoga everyday that week, I was on the grass at the rings, stretching, and I got a shiatsu push from Shanti (I love you Shanti; OM) and I was able to touch my toes.  And when I came out of the position, I realized I had released a gallon of sweat from my head.  Also, it was a whole new level of pain.
Yoga Erryday.
Which reminds me, I tried doing yoga everyday.   Sometime around October, I cleaned out junk out of a room that was full of boxes of stuff we were supposed to throw away or donate anyway.  I setup a TV in the room and hooked up a Playstation 3 to it.  Then I connected it wirelessly through the wifi network to be able to play videos off my computer.  I was able to play this Rodney Yee video (beginner to intermediate level).  On my PS3, I also subscribed to a bunch of YouTube channels (just download the YouTube app on the PS3 from the PS Store for free and sign in to your youtube account.)
So I basically dedicated a lot of time to being able to do yoga in the comfort of my home.  I printed a calendar, and put it on the wall next to my computer monitor. For every day that I did yoga, I marked a big X over the day.  Every time I made a new X, I didn't want to break the chain of X's, so I did yoga quite often.  I found that if I did it early in the morning, I was pretty useless for the rest of the day.  I had to do it in the afternoon or evening where I had already started being productive.  Maybe that will change with time.
My brother and I had an epiphany in regards to the Indian yogi's one day.  I said they were probably really flexible because they didn't have a lot of muscle tissue (they were extremely thin) because they were vegetarians!  The more muscle there is, the more muscle belly there is to have to soften, the more muscle scar tissue will be built up, and the less the nerves can easily glide between the muscles. Flexibility has nothing to do with the muscles not being long enough, it's about a flurry of other things.  Women, for example, have a lot less actual muscle tissue than men.  When we think of flexibility, we often just think of the anatomy of the muscles we are stretching.  We are more than just our muscles though.  There is a fascia covering over all of them with nerves that run through and in between all of them.  The more difficult it is for these nerves to glide with movement, the less flexible one could be.  And these nerves can run the length of your entire back.  Tension in the neck will contribute to tension in the lower back. (I wrote about this further in my tight hamstrings post.)
These sports have alerted me to the importance of massage.  No matter how much yoga I do, I can't get the same kind of loosening in my back that is possible with a deep tissue massage for an hour.  The massage not only feels good but breaks up muscle scar tissue and gets rid of muscle knots.  This is also the reason why I fell in love with my foam roller as it was an inexpensive way to get rid of a lot of knots.
I've been trying to understand why I can't sit cross legged and keep my back straight at the same time. And it traces back to the same pesky weak hip flexors!  I learned that side planks may be the magic bullet to hip mobility.  They weren't exactly the magic bullet for me, but it did help nonetheless!
I also learned that flexibility is decreased in the winter months.  If it's warm outside, it's so much easier to feel loose and flexible. This is why divers go into a jacuzzi after a dive during a competition to keep their muscles warm.  This is also why hot yoga is always commended. Also, this is one reason why I've realized I enjoy warmer weather more than cold.  Sure there's a lot more sweating involved, but everything has it's pluses and minuses.  C'est la vie.  Feeling free and loose is so much better than having tons of layers of clothes on and feeling restricted.
Clothes are a big fucking deal
With all this increased physical self awareness, I also realized that the clothes you wear affects whether one is going to develop a muscle knot and how free they feel.   When I wear a shirt and tie, I could feel how the tie and collar combination makes my traps super tight and my upper back feel stiff afterwards.   I can't even lift my arms up to stretch my shoulders without the clothes getting scrunched up and that drives me bananas.  Even a belt around my waist causes knot at my lower back (at the top of the gluteus maximus).
I can't believe every job I had between the ages of 16 and 24 required me to wear a shirt and tie day in and day out and I had never felt this.  I guess that's the magic of being young (so much obliviousness, haha).  Nowadays I could feel that even wearing a sweater with a hoodie drags down my shoulders.   I think it's because the muscles are always under tension anyway (called tonus) and when clothing touches it, it makes it contract more and overtime stiffens up.
I feel particularly bad for women because they have to wear bras and they tightly wrap around their mid back and maybe over the shoulders.  And then women also have to wear heels to certain social events (because flats would be unacceptable), which sucks because it is not good for their body, anatomically or biomechanically speaking.  Imagine a world wear everyone had to wear vibrams.
So what now, my love.  What is in store for 2013?  Who knows, my friend.  Who knows.  Thanks for reading my blog.  You are my anonymous reader.  Leave a comment and show me you exist.