I dis­cov­ered three amaz­ing fea­tures of Wikipedia that I wanted to share.
We're going to kill two birds by turn­ing on two AWESOME set­tings at once.
Step 1
Make a Wikipedia account if you don't already have one and login.
Step 2
Go to My Pref­er­ences
Step 3
Click on Gadgets
Step 4
Check mark "Google­Trans" and "Nav­i­ga­tion Popups"

Step 5
Scroll down all the way and click "Save."
Con­grat­u­la­tions! Now to explain what you just turned on…
1. Thanks to the "Nav­i­ga­tion Pop­ups" gad­get you have to turned on, you will now see a lit­tle sum­mary of the arti­cle by sim­ply hov­er­ing over any inline links, sim­i­lar to what I do on my site, but with much more detail.
For exam­ple, hov­er­ing over the first word in this arti­cle below, pro­pri­o­cep­tion, loads a pre­view of that article.
2. The other fea­ture, Google­Trans, allows you to see the trans­la­tion of any word by sim­ply press­ing the Shift key and hov­er­ing over the word.
In this pic­ture below: Hov­er­ing over the word "free" while press­ing the Shift key pro­vides the Span­ish trans­la­tion. The red-circle on the top right indi­cates where you go to change the lan­guage.  This could be an amaz­ing tool for some­body learn­ing a new language!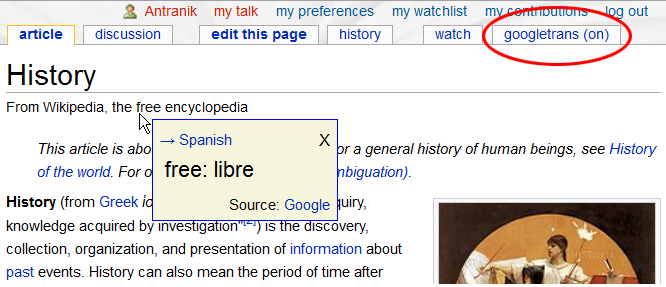 And last but not least, the third thing I wanted to share…
3. If you hover over the pho­netic spelling of a word, you will see a popup that gives an exam­ple of what those let­ters sound like.
For exam­ple, if you go to the arti­cle about fla­gel­lum, you'll see it says / fləˈdʒɛləm /, which looks really for­eign because it is rep­re­sented by the Inter­na­tional Pho­netic Alpha­bet used by lin­guists based on the Latin alpha­bet.  If you hover over each of those let­ters in wikipedia (or on my site), you'll see a tool-tip of what each let­ter is sup­posed to sound like.
Well I hope that was help­ful.  Do you know of any other tips or tricks related to Wikipedia as well?