I have a lot of music from the 60's and they are often less than 3 minutes long and it's so much better that way! It feels much more natural when the chorus repeats just 2-3 times in between the verses and that's it! It ends! And if the song is good, it actually makes you want to listen to it again.
But nowadays? Nooooooooo… The chorus needs repeats several times, so instead of getting teased and wanting more, you get absolutely sick of it and want to skip to the next song before it's even over. It's like pop songs are just following a formula without actually paying attention to how a listener actually would enjoy the song.
Here's a chart from The Whitburn Project showing how songs have gotten longer.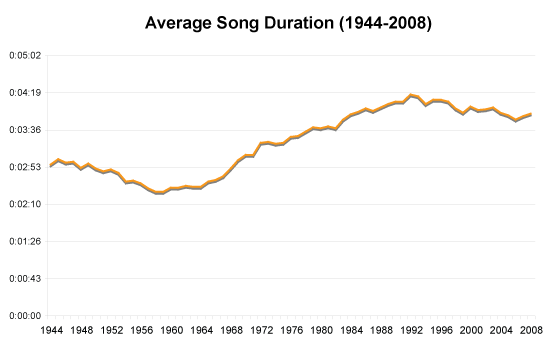 Why were songs under 3 minutes long up until the 60's?  Because the 45 RPM (7″) and 78 RPM (10″) vinyl records couldn't have more than 3:30 on one side! By the late 60's, when these time-constraints disappeared, singles became longer.  So why did 4-5 minutes become the standard? Probably to juice out the amount of air time a song would get on the radio.  But in doing so, they make you want to change the channel, or at the very least, don't make you want more of it!
Here are a few of my favorite songs that are less than 3 minutes long. It's no coincidence that they're mostly brazilian (save for one italian song) and all from the 60's.
Sergio Mendes – O Pato (1966, 2:02)
Sergio Mendes – Wave (2:16)
Joao Gilberto – Voce e eu (2:31)
Adriano Celentano – Non Esiste l'Amor (1961, 2:12)
Chico Buarque – Essa Moça Tá Diferente (1970, 2:47)