Did you know that there are sev­eral group bike rides, every night in Los Angeles?
The bicy­cling sub­cul­ture in Los Ange­les has exploded and it's mostly thanks to Mid­night Ridazz.
The his­tory of Mid­night Ridazz
Mid­night Ridazz started out as a group bike ride that hap­pened just once on the sec­ond Fri­day of every month.  They started in early 2004 with just a hand­ful of peo­ple. The lead­ers pro­moted it as a fun ride that explored parts of the city that were eas­ily over­looked or impos­si­ble to get to with a car.
In Feb­ru­ary 2005, the first year anniver­sary had around a hun­dred peo­ple show up.  The event con­tin­ued to grow quickly through word of mouth and the inter­net.  By the time 2006 rolled around, the num­ber of rid­ers that were show­ing up on aver­age were exceed­ing a thou­sand peo­ple! This had never hap­pened before in LA his­tory. The act of rid­ing your bicy­cle in Los Ange­les alone was gen­er­ally unheard of because every­thing is so far spread out.  If hun­dreds of cyclists are rid­ing together, tak­ing up the entire right half of the street, non par­tic­i­pants think we are bicy­cling to send a polit­i­cal mes­sage of some sort, but it's not, they are often like fun parades with silly themes.
The pop­u­lar­ity of the monthly ride had exploded and the ride dynam­ics had changed a lot at this point.  The ride had become a dif­fer­ent kind of ani­mal.  The meetup spots were get­ting extremely over­crowded and spilling onto the streets, caus­ing delay for motorists.   The orga­niz­ers were hav­ing trou­ble keep­ing every­body together because not every­body could keep up at the same pace.  If they got stuck behind a light or had to take a break, they were very likely to get lost and lose the pack.
In response to this explo­sion, Mid­night Ridazz did some­thing inge­nious as a solu­tion.  They opened up the web­site so that any­body could start (or join) a ride and it would be added to the website's cal­en­dar.  The web­site also added an archaic mes­sage board as well.
Instead of hav­ing one sin­gle monthly ride, there were now sev­eral rides per month, started by any­body who wanted, any­where they wanted.
The web­site started to thrive with par­tic­i­pa­tion, mass col­lab­o­ra­tion and cre­ativ­ity for the same rea­sons why open source soft­ware and wiki's have been very suc­cess­ful: It pro­motes free­dom of infor­ma­tion and an open-source culture.
As a result, thou­sands of unique rides have been cre­ated since 2006.
Why did the explo­sion occur?

Never before have we had this many cyclists on the streets of LA.  The Mid­night Ridazz web­site was instru­men­tal in start­ing the snow­ball effect towards get­ting us away from our cars for a night and onto our bikes while pro­vid­ing a way for this end­less urban sprawl called LA to feel some sense of community.
Spe­cial men­tion goes to the global reces­sion, hous­ing bub­ble, finan­cial cri­sis, and increas­ing gas prices for tight­en­ing everybody's bud­gets.  Those fac­tors, plus the fact that we need to get more exer­cise in our lives has def­i­nitely made peo­ple rethink what they spend their money on and what their pri­or­i­ties should be.  The under­ly­ing green move­ment has def­i­nitely helped peo­ple become more aware of alter­na­tives to dri­ving such as rid­ing a bicy­cle and using pub­lic trans­porta­tion as well.
The idea that you could go on a ride full of adven­ture on a Sat­ur­day night with hun­dreds of oth­ers, for free, and come out health­ier from it, sounds much more appeal­ing than dri­ving to a club or bar in Hol­ly­wood, pay­ing $20 for park­ing and $8–12 per drink to lis­ten to bad music in a shitty environment.
How do I find a ride?

Go to MidnightRidazz.com and look at the events on the right. There's prob­a­bly a cou­ple rides for tonight.
Each ride has a dif­fer­ent feel to it depend­ing on what the descrip­tion (the theme or inten­tion) of the ride is.  Some are fast paced while oth­ers are pur­posely slow and incor­po­rate lots of stops.  Rel­a­tive to a few years ago, there are now many more fast paced rides, prob­a­bly because the par­tic­i­pants and orga­niz­ers them­selves are matur­ing over the years and look­ing for new thrills.
The meetup spot has a strong influ­ence on who will show up to the ride as well.  A ride that starts in West LA will feel dif­fer­ent than one that starts in East LA sim­ply because the demo­graph­ics are dif­fer­ent between neigh­bor­hoods.  That doesn't mean one is bet­ter than the other, just dif­fer­ent!

  If you didn't like the ride, you can try a dif­fer­ent ride or start your own because they are all orga­nized independently.
The rides with the largest turnouts are gen­er­ally the ones on the week­ends, such as Fri­day or Sat­ur­day nights.  That's when peo­ple are free and don't have work or school and want to enjoy them­selves.   How­ever, the largest rides aren't nec­es­sar­ily the best but they are def­i­nitely awe inspir­ing and you may feel like you're all-of-a-sudden part of a giant bicy­cle parade.  The orig­i­nal Mid­night Ridazz ride still hap­pens on the sec­ond Fri­day of every month as well.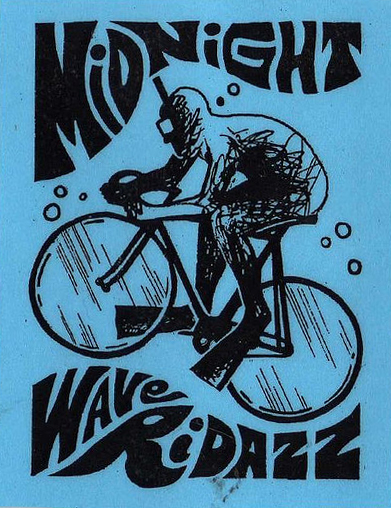 You will come across all sorts of rides/clubs, such as…
Even though it seems like every ride in the book has been tried, that's not true because there is no limit to human inge­nu­ity.  As long as any­body can start or join a ride on the web­site, the rides should con­tinue to pros­per. They def­i­nitely have stirred up some­thing fresh for the nightlife in Los Ange­les and there are clearly a lot of fans.  Besides, nobody has done a mustache-laser ride, yet.

Tons more can be writ­ten about the his­tory of each of the rides that are well estab­lished. For the most part, it seems like dri­vers treat cyclists as sec­ond class cit­i­zens and that spills over to the way the police think as well.  Luck­ily, in the online world, the forum mem­bers are very resource­ful when they band together in regards to legal issues, such as hit and runs.  A lot more can be said on this topic and I may write some­thing about it in the future.
If you are think­ing of rid­ing your bicy­cle to a ride, be sure to also remem­ber to check out my arti­cle on how to ride your bicy­cle safely on the street to feel more confident.