I did this for my brother.  Several weeks preceding his birthday, I attuned myself toward thinking what gift he would love and knowing him, I knew he will take an experience over a physical gift any day, so I decided to get him a ticket to a 5-day music and arts festival he wanted to go to.   Problem was, the ticket was $260 and I didn't have that much money either.
So I decided to create a Facebook Group, set it to secret, named it the "Collective Bday Gift for Armand (Ticket to ABC)," and I invited people that were close to him and would potentially help get him a birthday gift.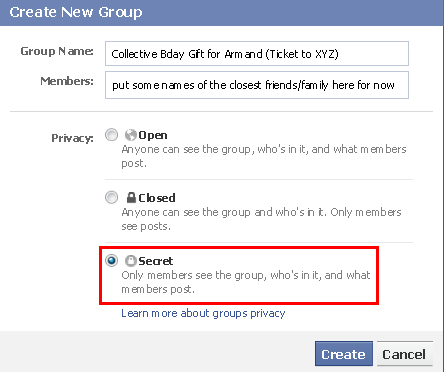 The first post I made explained in detail about what the point of this group was and gave my paypal e-mail address so that people could send money to me using PayPal.  I also told them to invite any other friends they think may want to contribute to this also and to NOT invite Armand to this group as this was going to be a surprise.
For every two or three donations I received, I made a new wall post in the group tagging the donors and thanking them for their donations.  I purposely didn't say how much each person donated as that is irrelevant.  You don't want to make anyone feel bad for donating too little (or too much!).  What you do want to say is the total you've reached.  This helps encourage the stragglers who are lagging to donate too, especially when they realize there's only a few bucks left to hit the goal.
People started sending an average of $10-20 bucks each and by the 3rd week we easily had the $260 needed to get his birthday gift.
Once I had the ticket, I took a snapshot of the receipt that I had bought it and uploaded it to the group to show everyone I got the ticket.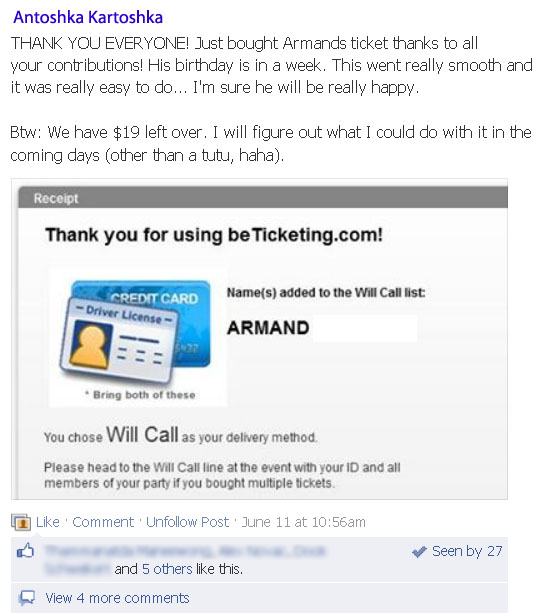 Then, on the morning of my brothers birthday…
Then, on the morning of my brothers birthday, I added him to the "secret" group and then made a post in it wishing him happy birthday, explicitly tagging his name (@Name) so he'd see that in his notifications too.
He was quite shocked and elated and loved that his gift was going to be an experience (and not a physical thing).  He was able to also go down the list of wall posts I had made to see who had donated and he was thanking each one individually.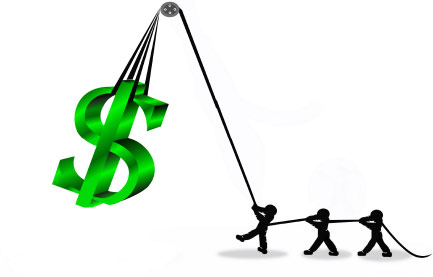 Anyway.. hope that helps!
By the way, do you want to do this for someone you love, but not sure what to get them?  Check out this article I wrote on How to Buy a Good Gift.