I absolutely love wearing headphones.  Not just when I'm exercising but when I'm just sitting at home on the computer.
I don't disturb other people.
Other people don't disturb me.
I can play the music as loud as I want.
I can get sucked into my own world.
I could actually hear the intended bass lines without needing a sub.
And last, but not least, even if I'm not playing anything out of them, they offer some noise cancellation.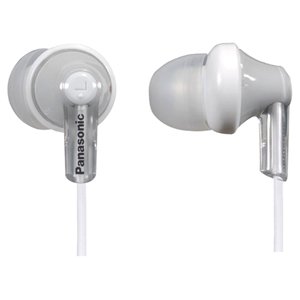 Now, with that said, I'm sharing with you the most bang-for-the-buck headphones I've found.  At just $5-6 shipped, these Panasonic in-ear headphones (pictured on the right) are absolutely phenomenal.
You could read the reviews but basically they say the fit is better and the sound quality turns out to be better than much more expensive headphones.  It's just more proof that you don't have to spend a lot of money, to get something great.
You know what's funny?
The silver ones cost $6.40
The black ones cost $6.20
The pink ones cost $4.60
In other words, the pink ones cost 40% less than the silver ones.

You could buy 4 pink pairs for the cost of 3 silver pairs.
The benefits of having a couple pairs are aplenty…
You could wear them to the gym and not worry about breaking $40 headphones.
You could keep them in different places (work, home, purse) and never forget them.
Or if you lose one, it doesn't matter, you have another pair!
Hell, it's so inexpensive that you could GIFT them and make someones day!