Cyclists fare best when they act and are treated as dri­vers of vehi­cles. – John Forester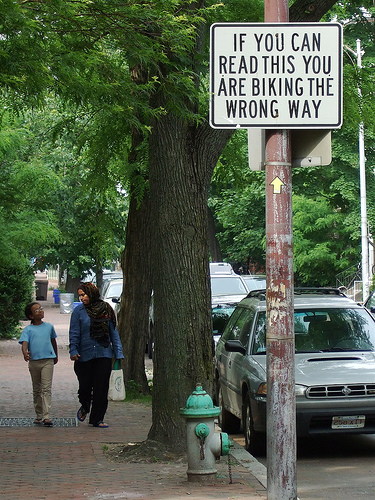 Seri­ously now, why are you rid­ing the wrong way against all the traf­fic?  It's peo­ple like you who make the rest of us law-abiding cyclists look bad!
It's great you're rid­ing your bike, I love to ride mine too, but please don't make up your own god damn rules.  You expect every other dri­ver, cyclist and pedes­trian to fig­ure out what your new rules are that you just made up?
So why are you rid­ing the wrong way?  Because you don't like it when you can't see the cars com­ing from behind you?
Lis­ten, when cars are pulling out of dri­ve­ways, they are usu­ally about to make a right turn, because that's the direc­tion where traf­fic is going and they want to merge.  So they are going to look to their LEFT until it's clear.
They're not look­ing to their RIGHT because cars aren't com­ing from that direc­tion! So if you keep rid­ing the wrong way, you're going to get run over.

Then you're going to get pissed at the dri­ver?  BITCH, PLEASE.  Just because you're on a bicy­cle doesn't mean that if you get hit by a car, that it was auto­mat­i­cally the motorists fault.
YOU'RE MAKING THE REST OF US CYCLISTS LOOK BAD. Every time we see a red-light run­ner, a traffic-weaver, or a moron rid­ing the wrong way on the street, it just adds to the stereo­type that all cyclists ride errat­i­cally.  So please, learn how to ride your bicy­cle safely (and con­fi­dently) on the street so we could all get along.