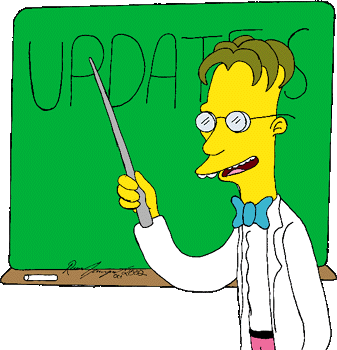 This week I started attend­ing Biol­ogy, Anatomy and Chem­istry classes at SMC so that down the line I could become an RN.  Since I have home­work I'm going to have con­sid­er­ably less time to work on my blog but I think I have found some solutions.
I am happy to report that I am enthralled with my Anatomy pro­fes­sor because not only is she an amaz­ing teacher but she seems like a sin­cerely happy, down to earth per­son.   She made it very clear that the class requires a heavy amount of mem­o­riza­tion given the nature of hav­ing to intri­cately learn all the parts of the body and spent a lot of time giv­ing tips on how to do that.
She said the most impor­tant way to ensure that you don't for­get a per­sons name is to say their name when you say good­bye.  So you would try to say, "Good­bye, Antranik" and not just "Goodbye."
This con­cept works just as well for class lec­tures.  Review­ing your notes as soon as pos­si­ble, within 24 hours, dra­mat­i­cally increases your chances of retain­ing and under­stand­ing what you just heard. 
To learn more about this, read about the Curve of For­get­ting.
So then I thought I should make blog posts of every­thing that I have learned.  My brother fol­lows a good prac­tice of stay­ing at the school library until he fin­ishes all his home­work before going home so that he stays focused.  So that's where I am right now: At the SMC Library.  I'm about to type up the notes I have gath­ered from my classes into blog posts, sim­i­lar to what I did with my biol­ogy class, but doing it dur­ing the semes­ter rather than after.
Typ­ing up blog posts of every lec­ture will not only help me to remem­ber every­thing bet­ter but also to attract traf­fic from other stu­dents who are try­ing to learn the same ideas online.
Unfor­tu­nately the posts are prob­a­bly not going to be super excit­ing for the most part as there will be a lot of gritty details that we don't always care about, but that's how it goes.  At least there's sev­eral cat­e­gories you can choose from now on this web­site.

Check out the "Sci­ence" cat­e­gory at the very top of this page to see if there's any­thing of inter­est­ing to you there.