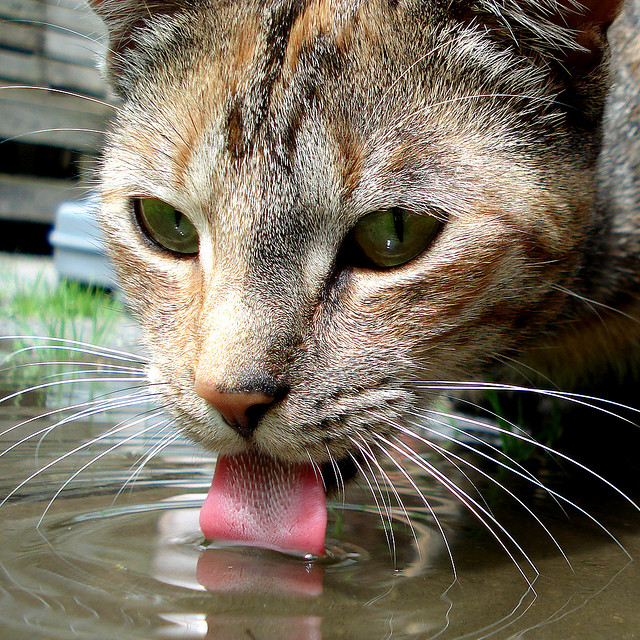 Let's imag­ine a thirsty dog or cat walk­ing up to the water bowl.  You could imag­ine them hur­riedly lap­ping up the water, using the tongue like a ladle, try­ing to scoop water into its mouth, right?  Well, research in the past cou­ple years has revealed that this isn't exactly how these beau­ti­ful ani­mals get water in their mouths!
Let's start with cats specif­i­cally… How do cats drink water?
Cats lap water so fast that the naked eye can't fol­low it fast enough to notice.  It wasn't until 2010 when researchers, using high speed pho­tog­ra­phy, dis­cov­ered the real­ity and were able to shed new light on the process.
When a cat is going to drink water, it will stick its tongue out, curl the tip of its tongue back­ward, not for­ward.  This curled tip will touch the liq­uid, barely pen­e­trat­ing the sur­face, then retract its tongue back into its mouth very, very fast.  The water sticks to its tongue and a mini-stream sub­se­quently shoots up into its mouth thanks to the power of adhe­sion and cohe­sion, respec­tively.  The cat will then close its mouth at exactly the pre­cise moment where the most water will be in its mouth, just before grav­ity starts to pull it down.
Here's a video of a cat drink­ing milk to help you under­stand what's happening:
They move their tongue at blaz­ing fast speeds of 3 feet per sec­ond which allows the aver­age house cat to make FOUR of these mini-streams per sec­ond.  All the other cats such as jaguars, tigers, lions, bob­cats, chee­tahs and leop­ards fol­low this same tech­nique as well.  The only dif­fer­ence is that the largest cats, such as the lions, do it slightly slower at about two times per sec­ond which allows their larger tongues to get more water.
What about dogs?
When this infor­ma­tion came out, it was thought that this tech­nique was unique to cats because dogs seemed to be much more sloppy. In 2011 how­ever, researchers in Har­vard used high speed pho­tog­ra­phy and con­firmed that dogs drink water using the same method as cats as well.  The dif­fer­ence is that dogs care­lessly plunge their tongues com­pletely into the water which is why there is so much more splash­ing occurring.
See how a dog drinks water in a sim­i­lar fash­ion, but with a lot less finesse:
It's almost as if cats have an instinc­tive under­stand­ing of fluid mechan­ics to be able to take the biggest sips the fastest way pos­si­ble.  This is great news for those who believe their cats are actu­ally geniuses trapped in super-agile-bodies.  This may also be a nerdy turn on for the fluid dynam­ics sci­en­tists.  Infi­nitely more so if they are cat lovers as well.
Since this arti­cle about ani­mals drink­ing water, I'll leave you with this cap­tioned pic­ture about how some pigeons have fig­ured out how to get water out of a foun­tain.  Oh and by the way, did you know pigeons are one of the smartest birds in the world?