Cul­ti­vat­ing good study skills is a very per­sonal process, espe­cially because dif­fer­ent kinds of con­tent calls for dif­fer­ent tech­niques.  You will have to try a mix of things until you find some­thing that works for you but these tips below will def­i­nitely steer you in the proper direction.
1. Review your notes within 12 hours of get­ting out of class.
Click to Expand
This is prob­a­bly the best tip out of the entire arti­cle because of how effec­tive it is.  When you get out of class, in just 24 hours you will for­get up to 80% of the details even if you under­stood every­thing just fine dur­ing the lec­ture.  How­ever, if you review your notes later that day, the infor­ma­tion will be stored in your long term memory!
When you go over your notes, improve upon them and cir­cle things you don't understand.  Find the answers to your ques­tions until you fig­ure out every­thing com­pletely before clos­ing the books.  When it comes time to study for the test, every­thing will be more like a review rather than some­thing you have to learn from scratch all over again.  This saves you time, reduces your stress, increases your con­fi­dence to ace the exam.
2. The impor­tance of find­ing a place free of distractions.
Click to Expand
Find a quiet place to study that's not full of dis­trac­tions.   If your home or fam­ily is full of crazy, then get out of there.  Study in your car.  Study on the lawn.  Study at the beach.  Study in the library.  What­ever works for you, go there, and study every­day.  If you're dis­tracted by peo­ple watch­ing, be hon­est with your­self and don't go in busy places.
The rea­son­ing: When I walk into the door of a class­room or library, my brain auto­mat­i­cally goes into work mode.  When I walk in my bed­room, my mind knows this is a place of relax­ation, leisure and sleep­ing.  This is the same idea as reserv­ing your bed only for sleep and sex so your mind asso­ciates your bed with only those things.  If you eat, sleep, and study all in the same place, then it's very dif­fi­cult to stay focused, and that's not even tak­ing into account the poten­tial dis­trac­tions from room­mates or fam­ily members!
3. How to avoid falling asleep while start­ing to read something.
Click to Expand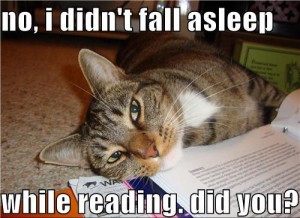 First of all your pos­ture is very impor­tant.  If you go and lie down on a couch to read a book, is it any mys­tery why you feel sleepy instantly?  You're lying on a couch!  Sit up in a chair and read on a table.  Imme­di­ately start to high­light, under­line or cir­cle key­words to keep your mind active.
If you have very intense read­ing to do, like a law stu­dent, go the extra step and write, rewrite, and sum­ma­rize each para­graph in the mar­gins.  The very process of reword­ing some­thing helps you under­stand the idea.  For words that are a mouth­ful, like "staphy­lo­coc­cus" or "the depo­lar­iza­tion of the mem­brane poten­tial," don't just skim over them!  Say them out-loud to help you know how to say them rather than fear them.
4. How to deal with music while studying.
Click to Expand
I used to think music helped me study, but all it did was pro­vide a dis­trac­tion for me to skip tracks or look for new music.    Get some ear plugs to reduce the audi­tory dis­trac­tions.  They work really, really, really well.
If you need music, find some­thing you can lis­ten to, but not be dis­tracted by.  Vocals will often detract from what you are try­ing to read so go for ambi­ent or instru­men­tal music. If you're into elec­tronic music, I rec­om­mend deep­mix radio, but like I said ear­lier, it might be bet­ter you don't lis­ten to music at all.
5.   How to mem­o­rize like a

MACHINE

.
Click to Expand
Flash­cards are incred­i­bly good at help­ing you mem­o­rize.  Just go buy stacks of index cards and start fill­ing them out with def­i­n­i­tions, words, chem­i­cal names, for­mu­las, any­thing you need no mat­ter how sim­ple or detailed!  They work really well because you are essen­tially test­ing your­self while you use them and it will raise your con­fi­dence level.
Use mnemon­ics to help remem­ber lists.  The most com­mon mnemonic is to take the first let­ter of each list item and make an acronym, sen­tence or name out of it.   For exam­ple, Roy G Biv is com­monly used to mem­o­rize the order of the seven col­ors of the rainbow.
6. Get a grip on procrastination.
Click to Expand
If you're hav­ing issues with pro­cras­ti­na­tion, stay focused with this web­site: www.magicworkcycle.com
Set the work time to 1 hour and the play time to 10 min­utes.  The idea here is to give your­self short breaks so you don't burn out.  You don't have to study for 3 hours non stop.  And guess what?  IT WORKS.
7. Always have water and some food with you.
Click to Expand
I don't know what it is about study­ing, maybe it's because the brain is 90% water, but I'm always drink­ing water when I'm doing it.  In addi­tion to drink­ing water more often, bring some food so that you could keep going when, not if, you get hun­gry.  If you go on for too long with­out food, your blood sugar drops and you will be eas­ily con­fused and study­ing becomes more dif­fi­cult than it needs to be.
8. Get the phone num­ber from at least

TWO

peo­ple in your class.
Click to Expand
This is very sim­ply so that if you can't attend class, you could ask some­one what you missed for that day.  The rea­son I say at least two is because if you get only one per­sons num­ber and that per­son hap­pens to be an idiot, then you have some­one else that could help you.  If you have trou­ble talk­ing to strangers, ask­ing some­one for their num­ber in case you can't make it to class is a pretty easy ice breaker in itself.
While we're on the topic of other peo­ple I'd like to add that study­ing in lit­tle groups is a great help as well.  Sur­round your­self with peo­ple who are in sim­i­lar sit­u­a­tions and have high goals.  It may take some effort to find a time and place (read: the library!) that works for every­one but it's usu­ally well worth it.
9. The insane stress of cramming.
Click to Expand
If you are study­ing on the day of the exam you will notice that you will feel like you are not catch­ing up no mat­ter how much you go over.  As test­ing time gets closer on that day, you will get more and more stressed out.   The amount of anx­i­ety and stress from cram­ming, even when you are quite pre­pared, is astounding.
Some­thing I learned from my brother is to not leave school until you fin­ish all your read­ing and home­work for the fol­low­ing day.  Stay in the library as long as you have to so that when you go home, you are FREE.  (This ties in nicely with #2!)
10.

ALL

THIS

MEANS

NOTHING

IF

YOU

DON

'T 

FOCUS

.
Click to Expand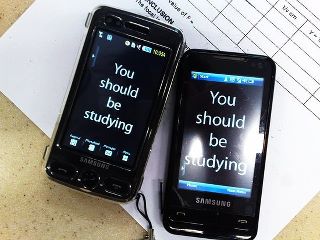 There's noth­ing more messed up with the young gen­er­a­tion than their short atten­tion span due to the flurry of dis­trac­tions every­where.  Peo­ple thought things got bad when TV came about but appar­ently that's noth­ing com­pared to the Inter­net and cell phones.  It's up to you to improve upon your­self and deal with it because these things aren't going to disappear!
You NEED to focus.  You MUST focus.  That means when it's time to study, you have to do that and only that.  You're not going to get any­where if you study for five min­utes then go on Face­book and then go back to studying.
I wrote an arti­cle on specif­i­cally how to increase con­cen­tra­tion, pro­duc­tiv­ity, and remove dis­trac­tions.  In there I rec­om­mend to reduce the clut­ter on your desk, put your phone away, and con­cen­trate for a solid hour on noth­ing but your work.  I also explain the con­cept of sub­con­scious sab­o­tage which I find most fascinating.
That's it!  Now go and study!
Now go ahead, set aside some study time and get to it!  Also, PLEASE remem­ber to get your sleep!  Your study time won't be worth much if you're tired all the time.  Even if you feel okay on just 5–6 hours of sleep, you may not real­ize that you're oper­at­ing at just 70% of your full ability!
Any­way!  Hope that helps!  If you have any more tips that work for you, please feel free to share it with us below!