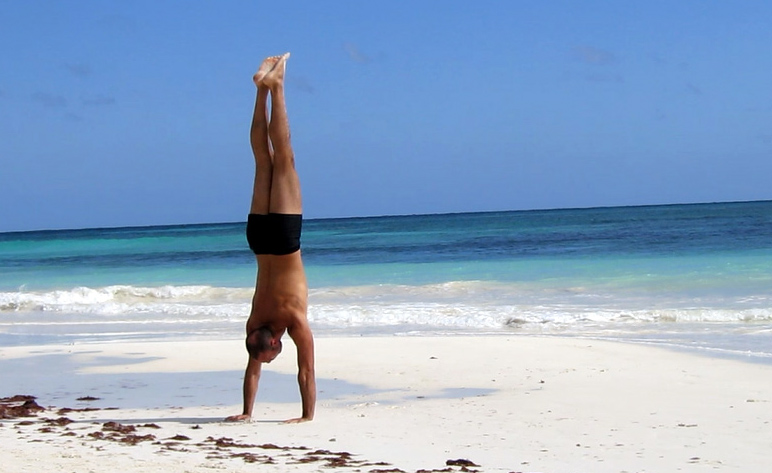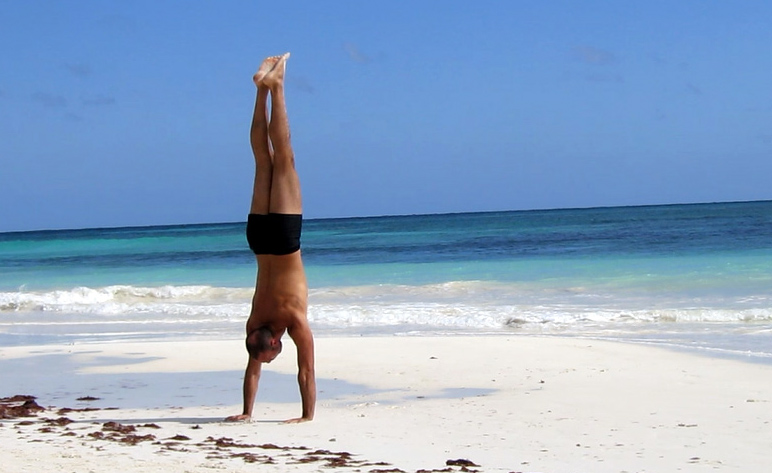 I often see people trying to kick up into a handstand over and over for weeks/months on end with their back to the wall or worse, with no wall. Unfortunately these futile attempts lead to nowhere. Achieving a freestanding handstand is NOT a straight-forward and linear journey like some other bodyweight exercises, but hopefully with the help of this article you will be one step closer to finding that floating feeling.
This tutorial emphasizes the following:
the wrist warm up
opening the shoulders
strengthening the core
the hollow body position
proper wall progressions
rebalancing drills of all kinds
proper ways to enter AND exit the HS
the neuromuscular aspect of balancing
and finally, the handstand with a flat-back.
I have put together as many photos and videos to demonstrate things perfectly to help you (and shot a couple of my own to fill the gaps). The strong point of this tutorial is not only that it is complete, but it includes LOTS of intermediary drills to help bridge the gap between the wall handstand and the freestanding handstand and get your brain working upside down.
Inspiration for this article stemmed from my want to help those participating in the Handstand Motivational Month. Most of the participants are rank beginners and we had a few users questioning the reasoning behind the progressions. Thank you for asking those questions because YOU inspired me to start putting together this article to help everyone understand WHY we are going for a straight handstand and WHY the progressions are setup the way they are.
Straight versus Arched HS
The goal of this article is to help you achieve a straight handstand with a flat back.
Wrist Flexibility and Warm Up
Warming up your wrists is probably the #1
most important thing when it comes to HS practice.
Basic Shoulder Mobility 101
If you can't bring your arms 180° overhead without your
lower back compensating for it, you're going to have a banana-back.
Basic Core Strength and the Hollow Body Position

If you cannot perform the hollow-hold, your back will arch
because your abs are weak, so it's really important you work on this!
Get Over the Fear with the Wall Plank
Basic Chest-to-Wall Handstand 101
We begin with the the chest-to-wall HS because starting with the
back-to-wall version WILL ingrain the wrong positioning with an arched back.

How to Bail Out of the Handstand
The handstand can be scary if you don't know
how to safely get out of it so here is some guidance.
Drills To Do In a Chest to Wall Handstand
When you could comfortably hold yourself up in a CTW-HS,
here are several drills that will help challenge you in that position.
How to Enter the Back-to-Wall Handstand
Now, to learn how to enter a handstand, like a boss.
Drills To Do In a Back-to-Wall Handstand
The more drills, the better, to increase movement
complexity and increase your ability to find your balance.

Close your eyes and imagine you're in a freestanding handstand
Let's do a quick visualization, shall we?

The Neuromuscular Aspect of Balancing a Freestanding HS
Some more tips to help you bridge the gap between the wall and freestanding.

Frequently Asked Questions
In conclusion…
Achieving a solid freestanding handstand is a long, non-linear journey for most people. For a long time I didn't even know what to do and I was deathly afraid of going upside down and my core was not strong enough so I put it on the back burner and just had fun with the Crow Pose because I didn't know what else to do. But hopefully you are empowered now with this information and you know what you need to do.
Last but not least: There's great, great, GREAT value in having a teacher correct you in person, so if you know of someone in your town that could help you, don't hesitate to hit them up!  Sometimes the simplest touch/adjustment in the right spot can make a world of difference!
So go ahead, warm up your wrists, follow the bodyline drills to wake up your core and go for it! Find that floating feeling! Also, since almost everybody has a camera phone of some sort, find a way to take video of yourself from the side during your practice so you know how you're looking! And if you want other premium programs that I offer, look below for what's available!