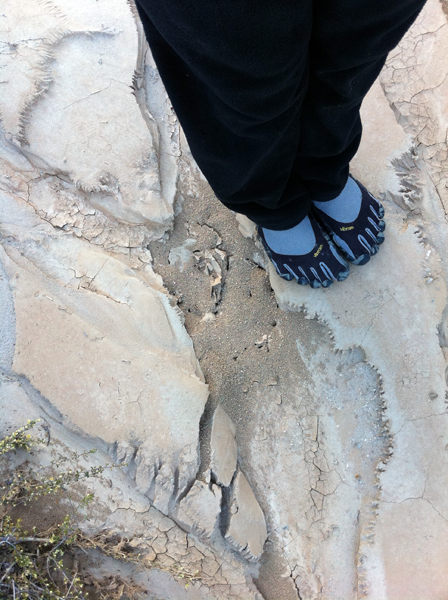 I've been wear­ing these Fivefin­ger Vibram KSO's since August 2010 and not a day goes by when I don't get some com­ments or ques­tions about them when I go out.  I'll share some of the things they ask and what I tell them!  You would prob­a­bly ask one of these ques­tions as well, haha.

Woah! Those are shoes?

Yes, they are shoes.  If you like being bare­foot, these are awe­some.  They help retain the barefoot-feel very well because the bot­tom is thin enough so I could feel the sur­face but it's thick enough so that if I step on sharp rocks, it doesn't hurt.
Wow that's really cool, are they for running?
Well these could be used for any­thing really… I wear them all the time, not just for exer­cise only.  As for run­ning, they are GREAT for run­ning!  I didn't even used to like run­ning but now I actu­ally enjoy it because it's become a com­pletely dif­fer­ent experience.
When we run with reg­u­lar shoes, our heel tends to strike the ground first.  When the heel hits the ground, it acts like a ham­mer to the heel.  This impact trav­els up to the knees and hips.  This is one rea­son why some peo­ple get knee or hip pain when they go run­ning!  Instead, when I run with the Vibrams on, I run the way I would if I were bare­foot, mean­ing, I land on the balls of my feet and my heel tends to stay up in the air (like in the pic­ture).  My heels don't even touch the ground until I start get­ting very tired because the entire foot behaves very much like a spring.  Instead of land­ing on my heel and com­ing to an abrupt stop, my feet are much more effi­cient in help­ing me to rebound back up for the next step.  Run­ning used to feel like a very crude expe­ri­ence before (one that I wanted to stop almost imme­di­ately after start­ing).  But now because it's so much smoother, I can eas­ily get in a nice flow with it.
How much did you pay for them?
I paid $100 with tax.  I've never paid $100 for a pair of shoes before, but it turns out they are worth every penny.  For the first few months, when I would go out with these shoes on, my aware­ness was con­stantly split between my con­scious­ness and this new kines­thetic aware­ness of the ground.  My brain was con­stantly pro­cess­ing new sen­sory input from some­thing I was always dis­con­nected to.  This awe­some expe­ri­ence, cou­pled with the fact that my feet were get­ting stronger from using them the way nature intended, make them totally worth it to me!
Where do you get them from?
I know that my local Sport Chalet and REI stores carry them.  You could totally try them on there.  The shoes go by european-sizes, so you should exper­i­ment with a cou­ple dif­fer­ent sizes at least.  Go for the nice, snug, fit.  When wear­ing them, press against your big-toe, there shouldn't be any play or loose­ness.  If there is try one size smaller.
There's a bunch of dif­fer­ent mod­els and I rec­om­mend the KSO model since that seems to be the most pop­u­lar and best for all around use.  My friend also uses the Bikila-model because she loves to go run­ning and those are specif­i­cally the best for run­ning. Another friend got the Trek­sports because they have a thicker sole and his bare feet feel very sen­si­tive.  The draw­back to that model is that ground can­not be felt as eas­ily. Just see what you like and go with the KSO if you are really unsure!
Well I hope that gives you a bet­ter idea why I wear these shoes! The ben­e­fits are aplenty. 

There are a few vibram-specific issues with them though.  You must know how to keep them clean, odor-free and what to use if you want to repair them eas­ily!  Luck­ily I've got­ten a good régime down for all these things and I share them in this follow-up article:
–Antranik