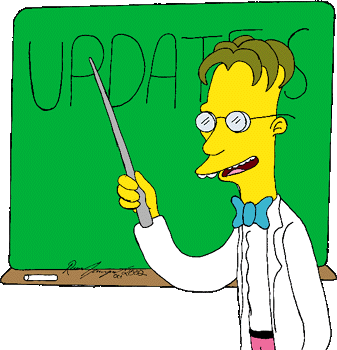 Hey guys, well, this web­site has been a lot of fun for me to cre­ate and main­tain since I started in March 2011.  I've got­ten a lot of feed­back from you guys, and I really appre­ci­ate all the sup­port!  Start­ing this site has def­i­nitely pushed my com­fort zone out there in new ways and your kind words mean a lot to keep me going.  The site is receiv­ing about 100 unique vis­i­tors a day and that is really fan­tas­tic news for me.  It's time to cel­e­brate by kick­ing things up a notch and adding a cou­ple new areas to the site.
The very top of the web­site now has a new top-menu that has spe­cial­ized projects rather than cat­e­gories of a typ­i­cal blog.
The Cus­tom Anto Forecast
This is the first thing you see on the top menu now.  I tend to update it about 2–3 times a week and I'll try to include a video-weather-forecast at least once a month or when­ever some­thing awe­some is about to hap­pen to the SoCal weather, which doesn't hap­pen much.
New endeavor: The Rooftop Project
This is for any­body who likes to drive up moun­tains (or get on rooftops) to catch nice views of the land­scape, hori­zon, the sun­set, sun­rise, clouds, etc.
If you're a pho­tog­ra­pher and like tak­ing land­scape shots, you're in for a treat.  See­ing things from a birds eye view can be very relax­ing and pro­vide some fresh moments of seren­ity, even if there is a bustling city under­neath you.
There are sev­eral beau­ti­ful moun­tain ranges in South­ern Cal­i­for­nia that offer amaz­ing views but some­times we don't have the time to get to them.  The next best thing would be to find a tall build­ing nearby and see if you could get to the roof of it.
The Rooftop Project will be a list and map of these cool hid­den view points of Los Ange­les and beyond.  I'll explain how to get to each and try to include a photo of how the view looks from there.
In the next cou­ple weeks I'll be imple­ment­ing a sys­tem where any­body could add their own view points as well.  You know your area best, so it would be awe­some to get some con­tri­bu­tion.  It will be a cou­ple weeks until I can imple­ment a way for users to sub­mit their own view­points and embed­ding it with the rest of the site seamlessly.
New Cat­e­gory: Sci­ence!  (Biol­ogy Notes)
The third link in the top-menu has a new Sci­ence menu with Biol­ogy as a sub-category.  I recently took a Biol­ogy class.  I learned a lot of inter­est­ing info about how life works and want to share the fas­ci­nat­ing things I learned and hope­fully you will find them fas­ci­nat­ing as well.  I will add arti­cles over the weeks to that area as well.  As I take more classes in the future, I will add new sub-categories (such as micro­bi­ol­ogy, anatomy, phys­i­ol­ogy, health, etc!).
All in all, I am very excited to be expand­ing my site like this and hope it pro­vides more value for my visitors.