First here's an intro­duc­tion to our hero's.  To your right you will see Claude Bernard (1813 – 1878).  Happy, smil­ing, jovial, buoyant, racon­teur Claude Bernard.  He is regarded as the father of mod­ern phys­i­ol­ogy.  He reformed the entire study of phys­i­ol­ogy at the Uni­ver­sity of Paris.  In fact there's a boule­vard named after him.  One of the most famous indi­vid­u­als in micro­bi­ol­ogy is Louis Pas­tor, also a French­man, with boule­vards named after him too.  Claude Bernard said the body seems to stay con­stant with its body temp, pH, sugar lev­els and called it the "con­stancy of the inter­nal milieu."
On the left here is Wal­ter B. Can­non (1871 – 1945) who was an Amer­i­can who trav­eled to study next to the great Claude Bernard and really devel­oped mod­ern phys­i­ol­ogy.   Water B. can­non wrote the clas­sic book on phys­i­ol­ogy called "The wis­dom of the body" and intro­duced the word home­osta­sis which means con­stant state.
Much of phys­i­ol­ogy is the descrip­tion of home­o­sta­tic reflexes.  What is a home­o­sta­tic reflex?  An auto­matic, stereo­typed (means typ­i­cal) response to a "stim­u­lus."  There are both innate (built-in) and learned home­o­sta­tic reflexes.
Some exam­ples of innate home­o­sta­tic reflexes:
Body tem­per­a­ture (37°C or 98.6°F)
Blood pres­sure (nor­mal is around 120/75mmHG)
Breath­ing rate (15 breaths/minute)
pH (7.35−7.45, any­thing lower is aci­do­sis, higher is alka­lo­sis)
O2 level (100mmHg)
Blood sugar level (100mg of glucose/dL of blood)
Exam­ple of learned home­o­sta­tic reflex:  Blad­der con­trol.  None of us are using dia­pers any­more, but it was a learned reflex.
Any­time there's a stress ("stim­u­lus") that changes any of the con­trolled con­di­tions (men­tioned above) will "trig­ger" (cause) a "con­trol cen­ter" in your body to acti­vate a home­o­sta­tic reflex to com­pen­sate for the stress and return the con­di­tion back to the "nor­mal" level.
Two quick exam­ples.  If you become too hot, the home­o­sta­tic reflex is to sweat to cool down.  If your blood sugar level drops, glucagon is released to bring it back up.  When you go in a dark movie the­ater, your pupils dilate to be able to see in the dark.  Now, because the reflex response is in the oppo­site direc­tion of the prob­lem, it's called a "neg­a­tive feed­back" response.  It's called neg­a­tive because it's caus­ing some­thing to go in the oppo­site direction.
Com­po­nents of a home­o­sta­tic reflex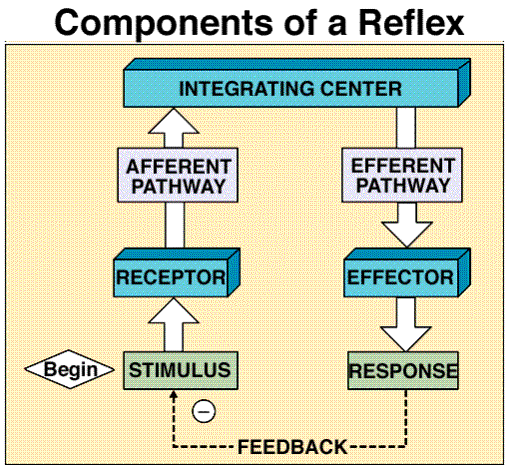 This is our model and there is always a con­trol cen­ter or reflex cen­ter and it is usu­ally in the ner­vous sys­tem and some­times in the endocrine sys­tem.  There is a con­cept of a set point, just like the ther­mo­stat in your home that reg­u­lates every­thing.  There's sen­sor recep­tors called sen­sory neu­rons that are mon­i­tor­ing every­thing in your body.  It's like the idea of a mod­ern car with all these sen­sors that are feed­ing the info into the "brain."  The tem­per­a­ture info goes to a tem­per­a­ture cen­ter or pH info to a pH cen­ter.  The infor­ma­tion that is being sent is called the INPUT sig­nal and it goes through the sen­sory (affer­ent) path­way.  All the con­trol cen­ter does is it COMPARES the actual tem­per­a­ture of your body with the desired tem­per­a­ture of your body.  If they match, it's a beau­ti­ful thing.  If it doesn't match, this con­trol cen­ter sends an OUTPUT sig­nal through the motor (effer­ent) path­way to pro­vide a response through effectors.
Mnemonic to remem­ber affer­ent vs effer­ent?  A comes before E, you have the input first before you have the out­put.  The effer­ent path­way goes to any of the organs that could cor­rect the prob­lem.  What­ever the effec­tors (the organs such as your mus­cles and glands) do, is the reflex.  What­ever the sen­sors pick up ini­tially is the stim­u­lus or stress.
What's the con­trol cen­ter?  It's job is to main­tain a con­di­tion, called a para­me­ter, con­stant at the set point.
All the organs in our body con­tract or secrete or the com­bi­na­tion of the two.  All mus­cles (con­tract), gall blad­der (squirts bile), stom­ach (con­tracts and secretes), kid­neys (secrete waste prod­uct).  The brain, though, is not con­sid­ered an effec­tor, because it doesn't do any­thing that doesn't man­i­fest itself phys­i­cally.  Your brain acti­vates the effec­tors.  You express your thoughts through your phys­i­cal actions.  If you cut the nerves between your brain and dif­fer­ent parts of your body you will stop being able to respond.   When Stephen Hawk­ing stops being able to con­vey his thoughts through the twitch­ing of his one eye, we will lose all con­tact with him. Rel­e­vant: The Div­ing Bell and the Butterfly
Three types of home­o­sta­tic reflexes
1. Neural reflex.  For exam­ple the con­trol of body tem­per­a­ture and the knee-jerk effect.  Most sen­sory neu­rons do not pass directly into the brain, but synapse in the spinal cord. This char­ac­ter­is­tic allows reflex actions to occur rel­a­tively quickly by acti­vat­ing spinal motor neu­rons with­out the delay of rout­ing sig­nals through the brain, although the brain will receive sen­sory input while the reflex action occurs.
2. Hor­monal (endocrine) reflexes.  Exam­ple: Con­trol of blood sugar.
3. Neural-hormonal (endocrine) reflexes.  Exam­ple: con­trol of water balance.
Next up… learn about the reg­u­la­tion of body tem­per­a­ture, a home­o­sta­tic reflex!
Basic Phys­i­ol­ogy Primers

The Prin­ci­ple of Homeostasis