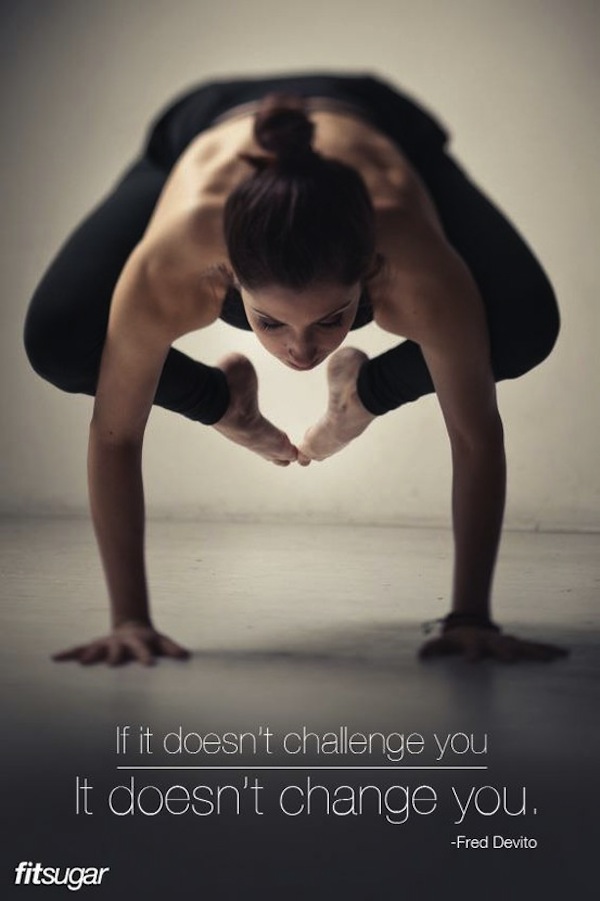 I fig­ured out how to hold 'Crow Pose' (pic­tured above) a cou­ple months ago and it felt like suu­u­u­u­u­u­u­u­u­uch an accom­plish­ment.   It took weeks of prac­tice but now look­ing back, I real­ized why it took so long.
In the begin­ning I wasn't able to hold the pose for more than a sec­ond because my wrists, fore­arms and shoul­ders weren't strong enough.
As they got stronger, I real­ized I kept falling back because when you start to fall for­ward, your head goes upside down and it feels scary.  It's almost a ter­ri­fy­ing feel­ing because it's totally against your instinct.
Then a cou­ple more weeks passed and every­thing came together when I real­ized I had to engage my core really hard and be very active in the pose to hold it for more than a few seconds.
Now it is such a great thing because my arms are strong enough to now start learn­ing how to do hand­stands! Life is so cool!!!
Want to try crow pose?  Fol­low Esther Ekhart's beau­ti­ful 3 minute instruc­tional video:
To make the pose eas­ier, point your big toes together (like in the photo above).
To make the pose harder:
Do it with arms straight (elbows bent is a good vari­a­tion for beginners)
Put the knees up higher on the tri­ceps.  The higher it is, the higher your cen­ter of grav­ity will be and the more chal­leng­ing the pose will be.
Try to delib­er­ately (and care­fully) rock back and forth or side to side.  At this moment, doing that even the slight­est makes me lose my bal­ance almost instantly, but that too will change with practice.