How does this pic­ture make you feel?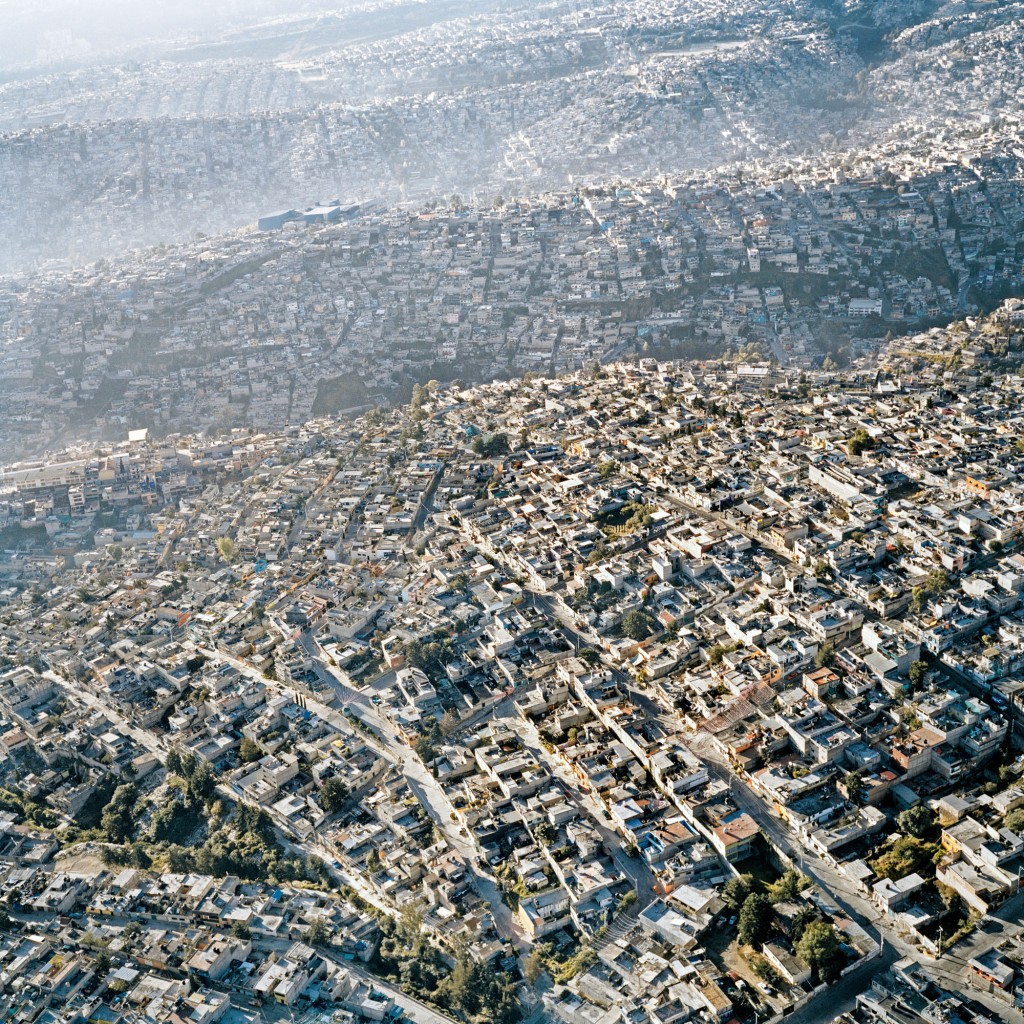 Off the bat, most peo­ple would say, "Damn, that's crazy."  It looks like some­one dumped a bunch of trash onto the hills.  Is it the end of human­ity?  Is it a shot from the Incep­tion movie where the sur­face of the Earth is turn­ing into mov­ing waves?  Nope.  This is just a part of Nau­cal­pan de Juárez, a large sub­urb north­west of Mex­ico City.
For per­spec­tive, you're only see­ing about 2 square miles in this photo.  That's all.  You're not see­ing a city.  You're see­ing just a tiny sliver of one of Mex­ico City's sub­urbs, hous­ing prob­a­bly fewer than 50,000 peo­ple.  In total, Greater Mex­ico City houses 400 times that many peo­ple: 21 million.
How does this com­pare to other areas?
Mex­ico City Met­ro­pol­i­tan: 21 mil­lion spread to 4,900 sq mi. (4,300 peo­ple / sq mi)
Los Ange­les Met­ro­pol­i­tan: 13 mil­lion in 4,800 sq mi. (2,700 peo­ple / sq mi)
Mex­ico City proper: 9 mil­lion spread to 600 sq mi. (16,000 peo­ple / sq mi)
Man­hat­tan: 1.6 mil­lion spread out to just 23 sq mi. (69,000 peo­ple / sq mi)
Would you pre­fer American-style sub­urbs instead?  In the United States, we are used to build­ing with very low den­sity since we have so much land but this US sprawl is much more con­sum­ing of resources, infra­struc­ture and land per capita.  Unfor­tu­nately, when you think of how we're going to house 7+ bil­lion peo­ple and not destroy our home planet, it seems like low den­sity US sub­urbs are not going to work out very well.
Think about Man­hat­tan.  If you live and work in the same place, then you don't waste much energy (gas) going to work or run­ning errands because every­thing is near and there's an awe­some sub­way sys­tem that helps you prac­ti­cally remain car-free.
Some say that dense megac­i­ties that build ver­ti­cally up like Man­hat­tan are the way of the future due to their eco­nomic and energy effi­ciency, but what about the human ele­ment?  Urban plan­ners need to some­how find a way to meet the needs of the peo­ple while min­i­miz­ing the suf­fer­ing from over­crowd­ing, envi­ron­men­tal mis­ery (smog!) and social inequal­ity (ghetto's and slums).  Good luck, humans.
If you asked me I'd say just make sure to have bike-paths and sub­ways EVERYWHERE.  I can only dream that one day Los Ange­les will have pub­lic trans­porta­tion as good as Man­hat­tan.  ::dreams::
Oh by the way, today, Sun­day April 28, 2012, marks the open­ing of the Expo Line!  We are one tiny step closer to that dream.