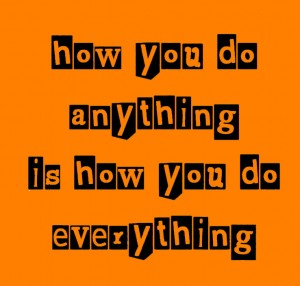 How you han­dle and man­age any sit­u­a­tion, chal­lenge or expe­ri­ence in your life is prob­a­bly how you han­dle all of them.  You could extrap­o­late the process behind how you do any one thing, and use it as a sign of how you prob­a­bly do any other thing.
Since how you do any­thing is how you do every­thing, it's impor­tant to be hon­est about how you do 'any­thing.' As adults, no one is really watch­ing your every move so you have to catch your­self in the act.  I'm just try­ing to nudge you to become a lit­tle more aware of these things.
<Nudge Nudge>
1. Do you often get to work a few min­utes late or just barely on time?  Then you're prob­a­bly late to all other engage­ments as well, right?  Like social events or classes or your own wed­ding.  Next time you see the time and notice you should start get­ting ready to leave, get up and get ready.
2. If some­one asks you to join come to an event, is your answer always, "I can't afford it?"  What you have in your life is what you believe and expect. Maybe you should turn the phrase around and ask "How can I afford it?" to at least get your mind think­ing of options rather than dead ends.
3. Do you look at your trash can, notice it's full, tell your­self that you should throw the trash out, but then do some­thing entirely dif­fer­ent? Then it's likely you are doing the same exact pro­cras­ti­na­tion for many other things as well.  The solu­tion is to just do it right then and there.
4. What are your rela­tion­ships like?  Do you keep attract­ing the same kind of person/relationship?  Do you just enjoy 'the chase' (the cat and mouse game) and then get bored after a month and just move to the next tar­get? If you don't do the hum­bling inner work and pay atten­tion to the details, you're going to be repeat­ing his­tory over and over and over again.
5. Do you have trou­ble doing some­thing but when you do start, you must fin­ish it all the way through?  Or maybe you do the oppo­site? Like you start new projects all the time, but don't see them through all the way. If you have lots of unfin­ished projects or ideas, then that's you.  Slow your roll.  Do your research.  Think in the long-term. (Hint: Think about how you deal with read­ing books.  Do you start them but never fin­ish them?  Or do you rarely read but when you do, you go all the way if you do?)
6. Have you got­ten good with telling lit­tle white lies at work?  ("Oh I didn't get the email.")  Then you prob­a­bly have got­ten good with telling 'white lies' in your per­sonal rela­tion­ships too. ("I had lunch with a [really hot] friend [that I'm super attracted to].")  Telling white lies to keep oth­ers happy and our­selves in good graces seems like a good enough rea­son, but white lies stem from inse­cu­rity.  When a lie is uncov­ered it can shat­ter every shred of trust that was built between a man and a woman.  Do every­thing with integrity so your heart stays light.  It's much eas­ier to tell the truth and be real with peo­ple and not have to keep track of lies.
7. Do you over-react in gen­eral?  If some­one insults you, do you imme­di­ately lash out at them?  Or do you bite your tongue and take the high road?
8. How do you approach chal­lenges? Do you com­mit to some­thing 50% or 100%? Do you often say you're going to go some­where and then flake last minute?
9. Is your room always messy?  Then your car is too, prob­a­bly.  Get orga­nized.  Stop buy­ing junk or hoard­ing. Clean your draw­ers out.
10. How do you treat a waiter/waitress?  If you treat them like shit, you prob­a­bly treat most peo­ple like shit. Dat­ing Tip: If the per­son you're dat­ing is act­ing nice to you but is treat­ing the waiter, a com­plete stranger, like shit, that's a big warn­ing sign.  It's only a mat­ter of time until you'll be treated like shit even­tu­ally too. Trust.
In con­clu­sion…
Once you under­stand how you do "any­thing," you can make grand changes for your life in gen­eral.  Per­haps now is the time to break old pat­terns and set new stan­dards for your­self.  The way you eat, the way you spend money, the way you have rela­tion­ships is an expres­sion of who you are and what you believe.  Look at what you're doing and instead of try­ing to fix prob­lems or make them go away, become inter­ested in them as an oppor­tu­nity to learn what's really going on.  Hope that helps.
–Antranik