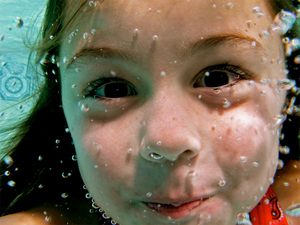 For about 14 years of my life I wore contact lenses every day until I got laser eye surgery to correct my nearsightedness. I learned the trick to swimming with soft contact lenses on and not losing them by just following a few simple rules.  By the way, only do this with soft, disposable contact lenses that you could clean or replace after swimming.
You have to first get your lenses wet and used to the new water environment. When you go underwater for the first time, simply open your eyes for a moment without swimming or moving and then close them. This allows your eyes and lenses to get fully wet and used to the water.
Now you can open your eyes underwater again but do it only when you're moving slowly. The forward water pressure against your eyes is much stronger than air pressure so your lenses will never float off your eyes but if you open them while swimming fast or against a strong current, they may get dislodged.
Refrain from rubbing your eyes directly at all times. I know you want to, and you could, but just do it very softly around the eye.
If you follow these few tips, you shouldn't run into much trouble with opening your eyes in the water.  It would be a good idea to always have an extra pair of lenses though just in case they get lost somehow.  And like I said before, it's highly recommended that you do this only with disposable soft contact lenses so that you may throw them away or disinfect them afterwards. If you have any tips I'd love to hear them as well! 🙂