Psy­chol­o­gists have dis­cov­ered that humans are not built to multi-task. Our brains are really built to focus.  Even though it feels like we're being more effi­cient when we are jug­gling many tasks at once, work­ing in a scat­tered way makes it dif­fi­cult to stay on track and you may end the day with many things started and noth­ing completed.
Surely you could com­bine some tasks, like those that use dif­fer­ent senses or dif­fer­ent parts of the body like…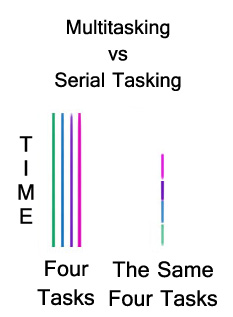 Read­ing on an exer­cise bike
Lis­ten­ing to a pod­cast while walk­ing the dog or driving
Water­ing the gar­den while talk­ing on the phone
Boil­ing water while cook­ies are bak­ing in the oven.
But what do you notice about all of these activ­i­ties? These are super sim­ple tasks.
Doing two things at once turns the per­son with the cog­ni­tive capac­ity of a Har­vard MBA down to an 8 year old.  No mat­ter how much you think you can mul­ti­task, the fact remains that you could ulti­mately focus on only ONE thing at a time. The moment you split your aware­ness up, you're sac­ri­fic­ing time, qual­ity and the abil­ity to think deeply.
Most peo­ple seem to be oper­at­ing in an envi­ron­ment of multi-distractions under the false impres­sion that they're pro­duc­tive just because they're busy!  It's far bet­ter to focus on one sig­nif­i­cant task and get a chunk of it fin­ished before start­ing a new one.
So… if you're run­ning around like a head­less chicken try­ing to get a bunch of things done at once…

STOP

.
1) Take a breath. Cen­ter yourself.
2) Remind your­self that you can get a lot more done if you focus on

ONE

thing at a time. Multi-tasking is often multi-distracting.
3) Whip up a

to-do-list

real quick.
This way your brain doesn't have to worry about for­get­ting any­thing OR keep hav­ing to repeat­edly think about things to not for­get them.
4) Pri­or­i­tize the list!

Due to subconscious-self-sabotage, you will want to put off the hard­est (or most fright­en­ing) task off until later (or for­ever).  So the solu­tion is to do the most fright­en­ing or chal­leng­ing task on your list FIRST.  If you get that chal­leng­ing thing done first, you will feel great about your­self and the rest of the day will feel like a breeze.
5) Go out there and attack that list, one at a time.