I usu­ally update this page only when there is going to be a sig­nif­i­cant event, which is not too often in 

LA

.
For every­body in South­ern California
Last updated: May 1, 2013
Wooo! We finally have some roller­coaster LA weather changes com­ing our way…..
Today (Wednes­day) = Same as yesterday…
But Thurs­day + Fri­day = HOTTEST WEATHER OF THE YEAR (eas­ily 100–110+ in the valleys)
Sat­ur­day will be start being cooler.
Sun­day and onto next week, high's in the 70′s with lots of clouds, actu­ally. (70′s even for the valleys)
Los Ange­les Weather Fore­cast
Today
Wednes­day
Thurs­day
Fri­day
Sat­ur­day

Partly Cloudy

77°/59°

Partly Cloudy

72°/57°

Partly Cloudy

72°/54°

Partly Cloudy

70°/52°

Partly Cloudy

70°/54°
Pre­vi­ous update from March 6, 2013
Scat­tered Light Show­ers will affect SoCal between Wednes­day and Fri­day.  Pre­cip­i­ta­tion totals will be around 0.5-.75″ which is NOT MUCH con­sid­er­ing this is spread out over 3 days time.  Snow (4–8″) will fall any­where above 5000 feet.  The strongest impulse of the storm will arrive as early as Thurs­day morn­ing and as late as Fri­day day.  Most likely, know­ing LA, most of the pre­cip­i­ta­tion will fall Thurs­day night overnight.
Here is the hydro­logic out­look for this win­ter sea­son in Cal­i­for­nia (it's not good).
Pre­vi­ous update from Feb 19, 2013
We had a very warm Fri­day and Sat­ur­day, but the cool­ing trend started Sun­day.  You prob­a­bly noticed yes­ter­day it was quite over­cast.  We got a frigid lit­tle storm com­ing our way.
Now it's Tues­day and there's a chance of rain but not much.  The real fun starts overnight where we have a pos­si­bil­ity of 1/3 to 2/3″ of rain.  And in the moun­tains? Snow resorts are going to get dumped on with 6–12 inches of snow! The storm is so cold even places like the Santa Mon­ica and Santa Clarita Moun­tains can see a light dust­ing of snow.  The storm should taper off on Wednes­day after­noon but we'll see!
Oh and it's gonna remain quite chilly like this for pretty much the whole week.
Pre­vi­ous Update from Feb 8, 2013
FOR ANYONE THINKING OF GOING TO BIG BEAR OR MOUNTAIN HIGH FOR SKIING:
THE WINTER STORM WARNING IS NOW IN EFFECT UNTIL 10 PM PST THIS
EVENING.
* TIMING…HEAVIEST SNOW WILL OCCUR DURING THE DAY TODAY.
* SNOW ACCUMULATIONS…FOUR TO EIGHT INCHES ABOVE 4000 FEET…
WITH ISOLATED AMOUNTS UP TO TEN INCHES POSSIBLE ABOVE 6000
FEET…MAINLY ALONG THE COASTAL SLOPES. UP TO FOUR INCHES OF NEW
SNOW ARE POSSIBLE AS LOW AS 3000 FEET.
Pre­vi­ous Update from Jan 23, 2013
We got a 30% chance of show­ers between Thurs­day and Mon­day.  Note that I didn't say a 100% chance of rain so don't just tell peo­ple "YA I HEARD IT'S GONNA RAIN ALL WEEKEND." There's just a 30% chance of show­ers which is insignif­i­cant in regards to precipitation.
The highs are low­er­ing grad­u­ally every­day.  By Sun­day and Mon­day the highs are going to be just barely in the 60′s so yeah, it's going to be cooler again, but it's not ter­ri­ble.

Pre­vi­ous update from Thurs­day, Decem­ber 20, 2012
Here's your Mayan weather fore­cast (end of the world is com­ing, remember?)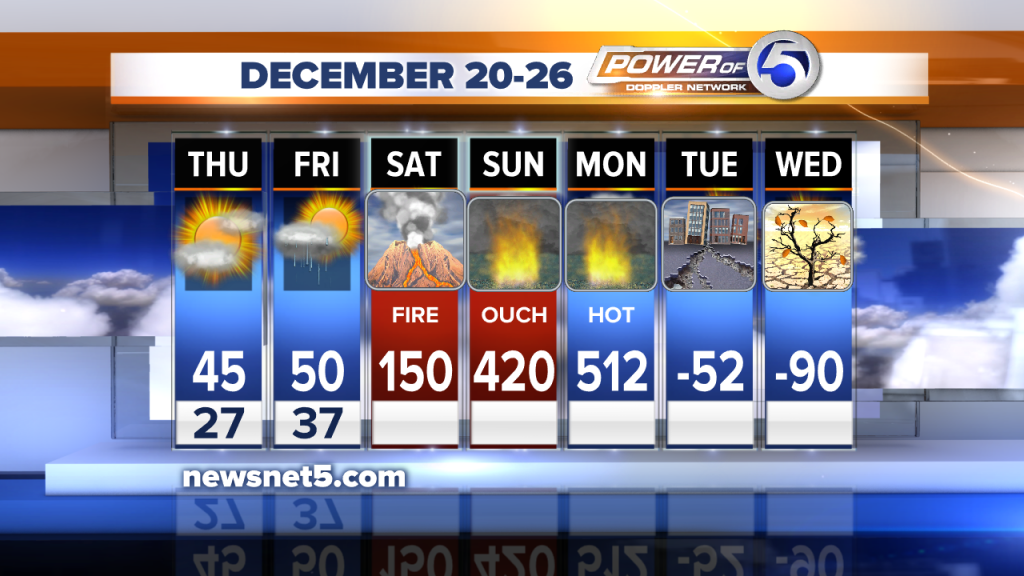 Okay no but seri­ously, we've been hav­ing much colder nights than usual for South­ern Cal­i­for­nia this week.  There's a cou­ple cold fronts com­ing our way for the week­end to change things up.  This will be bring­ing clouds, cooler tem­per­a­tures for the day time and a chance of some precipitation!
So there's a chance of showers/rain on Sat­ur­day and Sun­day.  The highs will be in the low 60′s but the low's will be in the 50′s, so not bad!  You could thank the clouds for that! (The cold­est nights are the clear ones!)
Pre­vi­ous update from Thurs­day, Octo­ber 11, 2012
Well there's finally a hint of Autumn on the way!  On Thurs­day (MY MOTHER FUCKING BIRTHDAY), a lit­tle [thunder]storm of a show­ery nature (not big gob­lets of rain), will touch down on the South­ern­Cal­i­for­nia coast and bring a lit­tle sprin­kle, a driz­zle, a lit­tle sumtin' sumtin' to turn that dust on your car into mud.  A tenth inch of pre­cip­i­ta­tion.  Moun­tain tops above 7,000ft will be painted white.  Vari­able, tran­quil show­ers, on my mother fuck­ing birthday.
All will clear out Fri­day… Sat­ur­day will be back to nor­mal.  Sun­day and Mon­day will start heat­ing up ever so slightly.  Enjoy those crys­tal clear days.
Pre­vi­ous update from August 8, 2012
FORECAST: IT'S HOT AS FUCK.  But you know that already.  This hap­pens in August every year. Want to read more shit ver­i­fy­ing how hot it is? check out this arti­cle: July 2012 was hottest US month since records began
Pre­vi­ous update from Fri­day March 23, 2012
For this week­end: Looks like we're going to have some show­ers and rain com­ing our way for SUNDAY into SUNDAY NIGHT. The coast­line and val­ley areas are expected to receive 0.5–1.0″ which is quite a bit of rain for a one-day-event.
Since this is a southerly flow­ing sys­tem (mean­ing, the sys­tem is going to spi­ral around and come from the south), the moun­tains… well, specif­i­cally the south­ern fac­ing slopes may get sub­stan­tially more rain (2–4″!) due to oro­graphic lift (read below for under­stand­ing!).  Places like big bear will most likely get at least a foot of snow.
Long term: More low pres­sure sys­tems are expected to move through for the next few weeks.  The next weather "dis­tur­bance" may be as early as next Thurs­day but it's too early to tell.
WHAT

IS

OROGRAPHIC

LIFT

YOU

 

ASK

?
When clouds encounter a moun­tain, they can­not go through them so they are forced to ascend due to the topog­ra­phy of the Earth.  As they ascend, they cool adiabatically.
What does adi­a­bat­i­cally mean?  Air pres­sure decreases as you go up in alti­tude.   The cloud is los­ing energy not because of heat trans­fer, but because it needs to expand in vol­ume to make up for the decrease in the sur­round­ing air pres­sure, caus­ing it to cool dramatically.
Okay, back to oro­graphic lift:  The colder air gets, the less water vapor it can hold.  So as the cloud goes up the moun­tain and (adi­a­bat­i­cally) cools down, the air will reach its sat­u­ra­tion point.  In other words, the air will be com­pletely sat­u­rated with water and no more water can be sus­pended in the air.  At this point, the con­densed water vapor has no choice but to fall down from the cloud and pre­cip­i­ta­tion occurs.
The direc­tion of the wind deter­mines which side of the moun­tain will expe­ri­ence this oro­graphic lift­ing.  In the case for Sun­day, it will be the south-facing slopes because the sys­tem is going to come from the south.  What are some south fac­ing slopes?  Well there are sev­eral east-west trans­verse ranges in SoCal such as the Santa Mon­ica moun­tain range and the San Gabriel moun­tain range that runs par­al­lel to the 210 free­way.  That's one of the rea­sons why it's a desert on the other side of that moun­tain range.
Pre­vi­ous dis­cus­sion from Fri­day March 16, 2012
Video taken from Run­yon Canyon show­ing Saturday's impulse of rain just after sun­set com­ing from the ocean
Fore­cast from Fri­day March 16, 2012: A very pow­er­ful and cold storm is here mainly just for Saturday.
Totals? The foothills and moun­tains will get 1–2 inches of rain and the high ele­va­tion moun­tains will receive at least half a foot of snow.
Okay here's the deal!  Most of the rain will be falling on Sat­ur­day.  The heav­i­est pre­cip­i­ta­tion will occur around the late morn­ing today and again around sun­set time.  A few hours after it's been dark already, the pre­cip­i­ta­tion will taper off dra­mat­i­cally into just inter­mit­tent showers.
It may be driz­zling, just barely, around 2am and 3am on Sun­day morn­ing but by 4-430am, the show­ers will be incon­se­quen­tial and the storm may be com­pletely over with.
If you like rid­ing bikes, try a new expe­ri­ence on Sun­day morn­ing at 4AM, join the the Wolf­pack Hus­tle: Marathon Crash Race that hap­pens before the LA marathon to take advan­tage of the 26 miles of road that's closed to cars early in the morn­ing with all that FRESH AIR.  Note: Last year, 500+ cyclists showed up and it had a very sim­i­lar weather pat­tern!  This time we expect 1,000+ to show!
If you like run­ning, go run/jog/walk/jog/run/walk in the LA marathon on Sunday.
If you're look­ing for­ward to snow­board or ski, Sun­day and onward will be amaz­ing at the local ski resorts.
END TRANSMISSION
Wanna go in the ocean? I rec­om­mend you check the water qual­ity report before you go in the water because most beaches are super clean while oth­ers are con­sis­tently questionable.
Are you inter­ested in mete­o­rol­ogy or weather? Want to delve a lit­tle deeper and find out what's really going on? Check these tips out: Weather Lovers: Get Deeper Fore­cast Info
To see the last weather video I had taken, click here.
There could be lin­ger­ing moisture/instability in the moun­tains and ante­lope val­ley on sat­ur­day, but Dry weta­her can be expected EVERYWHERE by Sat­ur­day night.